Alderson praises Collins' performance, team's improvement
Mets manager remains under contract through 2015 season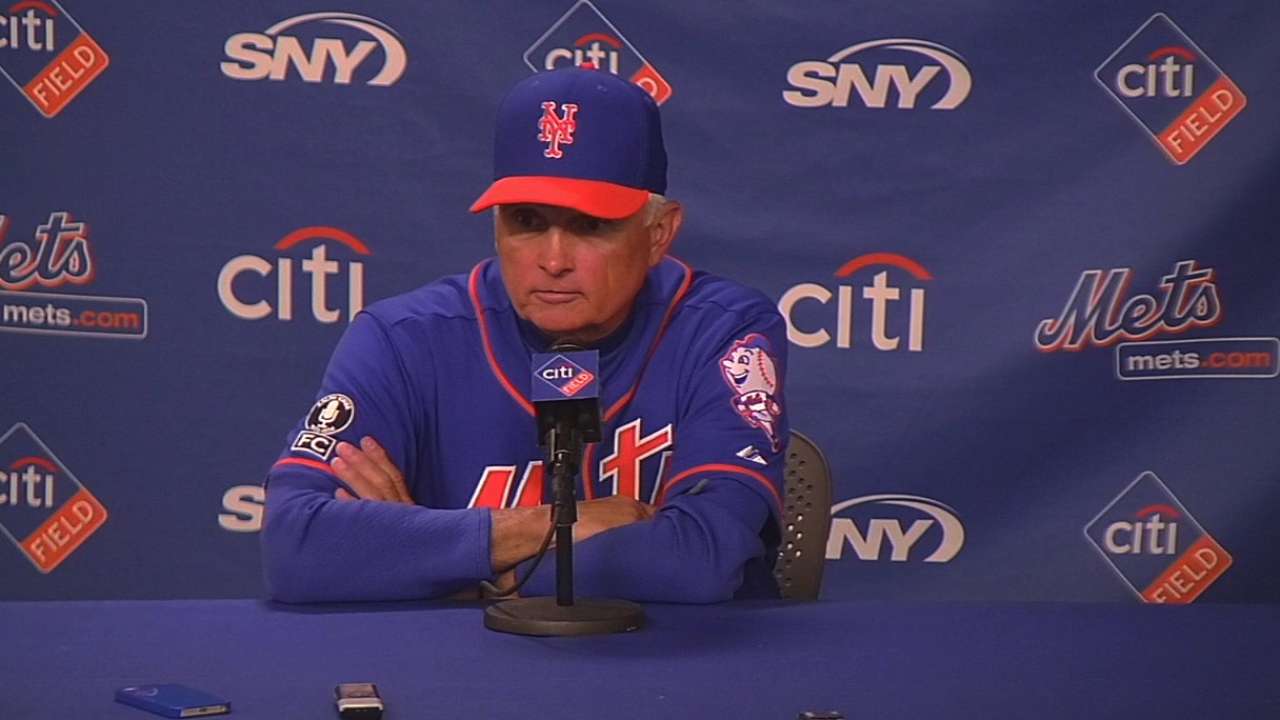 NEW YORK -- General manager Sandy Alderson plans to sit down with manager Terry Collins this weekend in Atlanta and discuss, among other things, the manager's future in Flushing. Yet Alderson's comments on Monday left little intrigue for Collins, who remains under guaranteed contract for one more season.
"I don't frankly think the last 12 games have a lot to do with evaluating Terry," Alderson said before his team's 151st game of the season. "I think we've played well to this point and through the first half of September, even the latter part of August. I think the team has responded pretty well."
Entering Monday's play, the Mets were on pace to finish with 78 wins, their highest total since Alderson and Collins came aboard after the 2010 season. Injuries to Matt Harvey and David Wright hurt the Mets, as did a lack of production from Curtis Granderson and most of the offense. But Alderson praised Collins for helping to cultivate the team's youthful core.
"I think Terry's done a fine job this season," Alderson said. "I think we've improved in a lot of areas. We've seen growth in our young players. Particularly with our pitching, in the rotation and the bullpen, I think that's been well-managed. We're positioned well for 2015."
Alderson, for his part, is also technically in flux, with the Mets holding a 2015 team option on his contract. But the GM is already talking openly about next year in public press conferences; most around the team consider his return at this point a mere formality.
"I'd like to be back, but I try not to anticipate anything," Alderson said, "There are too many vagaries in the game."
• The Mets officially recognized their 2014 Minor League Sterling Award winners prior to Monday's game against the Marlins. Among the winners were infielder Dilson Herrera, left-handed pitcher Steven Matz and outfielder Brandon Nimmo.
Anthony DiComo is a reporter for MLB.com. Follow him on Twitter @AnthonyDicomo. This story was not subject to the approval of Major League Baseball or its clubs.