White Sox 'pen burned by KC's speed in ninth
Petricka's wild pitch, walk-off infield single spoil Danks' fine start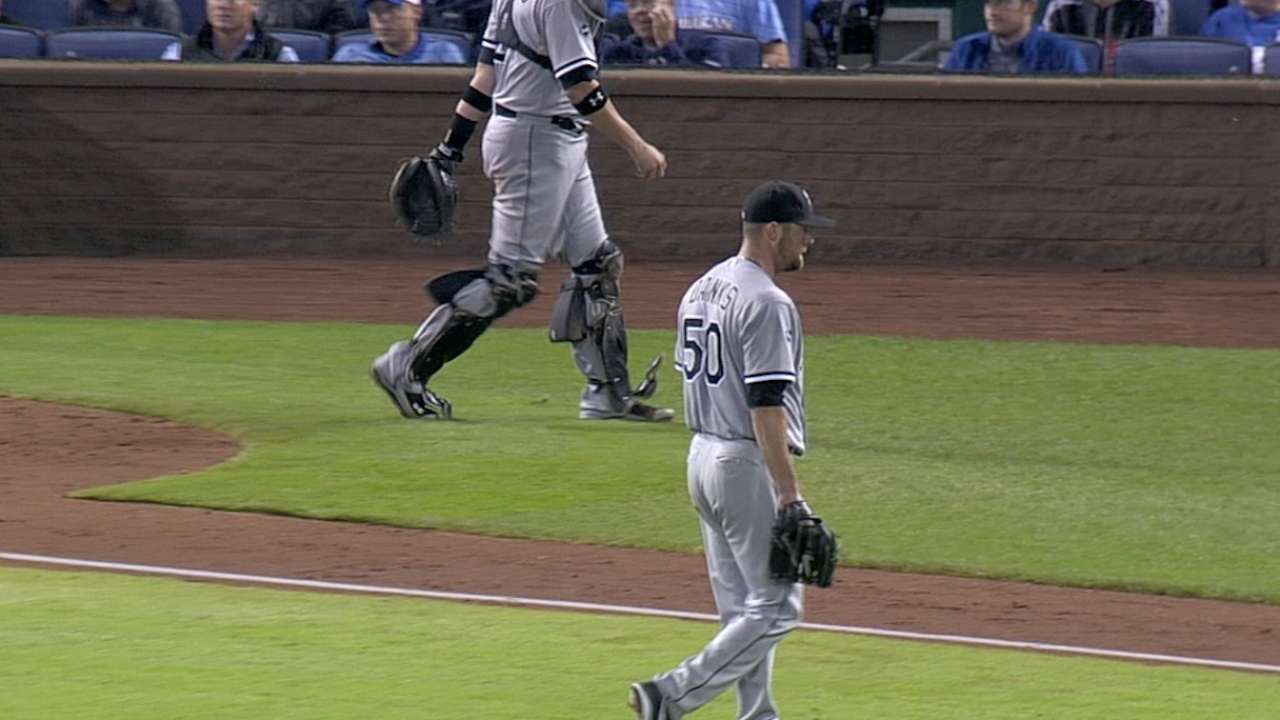 KANSAS CITY -- Amidst the blur of ninth-inning craziness, there was only one pitch that White Sox closer Jake Petricka wanted back on Monday night.
Working with a one-run lead and two outs, Petricka looked back to see the ultra-speedy pinch-runner Jarrod Dyson perched at second for a Royals' team that had been battling uphill all evening. It was almost a given that Dyson would try to steal third, but Petricka didn't care. His focus was getting Nori Aoki for the 27th out. Only problem was, Petricka delivered a fastball that landed short of the plate as Dyson took off for third. When the ball bounced away from catcher Tyler Flowers, Dyson easily scored the tying run. Aoki then doubled, Terrance Gore pinch-ran and Lorenzo Cain's infield chopper through the middle was elusive enough for a streaking Gore to score from second to hand the White Sox a 4-3 loss.
When you think of a team literally being run out of the ballpark, you don't think about it happening this way. Two pinch-runners with sprinter speed scored from second on plays where the ball never left the infield.
"I can't say I've seen it twice in one inning, but there it was," Petricka said after the series opener at Kauffman Stadium.
The wild pitch, coming on a play where Dyson stole third, was a dagger. Petricka just wanted a chance to retire Aoki when he still had the lead.
"It was a tough-luck inning, but it comes down to the first pitch to Aoki," Petricka said. "I can't come up short on a fastball [resulting in a wild pitch]. Looking back at the inning, the only thing I regret is that one pitch. Everything else, I made my pitches."
The comeback win was huge for the Royals (82-67) in their quest to reach the postseason for the first time since 1985. Unable to mash Chicago pitching, the Royals erased a 3-0 deficit over the final three innings with a couple of well-timed opposite-field hits from lefties Eric Hosmer and Mike Moustakas and speed galore that put the pressure on the White Sox's defense.
"Speed can do a lot of things," White Sox manager Robin Ventura said.
Left-hander John Danks extended his unbeaten streak against the Royals to 15 games by delivering six shutout innings. The White Sox racked up 10 hits over seven frames against James Shields, but they failed to get tack-on runs after scoring once in the first and twice in the third.
Thus, the Royals were still in position to scratch out a win without much authoritative hitting once Chicago's bullpen got into the mix.
"We never hang our heads," Dyson said. "Like tonight, we got behind, but we were able to make some things happen late in the game and the speed was key for us at the end."
On the play that produced the tying run, Dyson had a big jump toward third as Petricka concentrated on the batter. That made it convenient for him to round the base and score without a play as Flowers chased down the wild pitch.
"It was just the defense playing back," Dyson said. "They aren't going to run any pickoff moves there, so just get a jump and go in. I kind of peeked in and I saw it kick. It took a big 'ol hop and I saw that."
The White Sox had five multi-hit innings, but they managed just the three runs as Shields avoided the knockout punch.
"We had a lot of opportunities," Ventura said. "We never got the one big hit to put it out of reach."
The White Sox (68-82) just wished they could have rewarded Danks with a victory. The veteran left-hander came in 0-5 with a 7.01 ERA over his previous eight starts. The only two hits Danks allowed were singles by Aoki, who finished 4-for-4 and was on base five times. The glitch for Danks was four walks.
"Command wasn't where I wanted it to be, but I was able to make enough pitches at the right time to get out of some stuff," Danks said. "I am going to compete and do what I can to give us a chance."
Robert Falkoff is a contributor to MLB.com. This story was not subject to the approval of Major League Baseball or its clubs.