Royals' running men spark wild walk-off victory
Dyson scores on wild pitch, while Cain's infield hit plates Gore to win it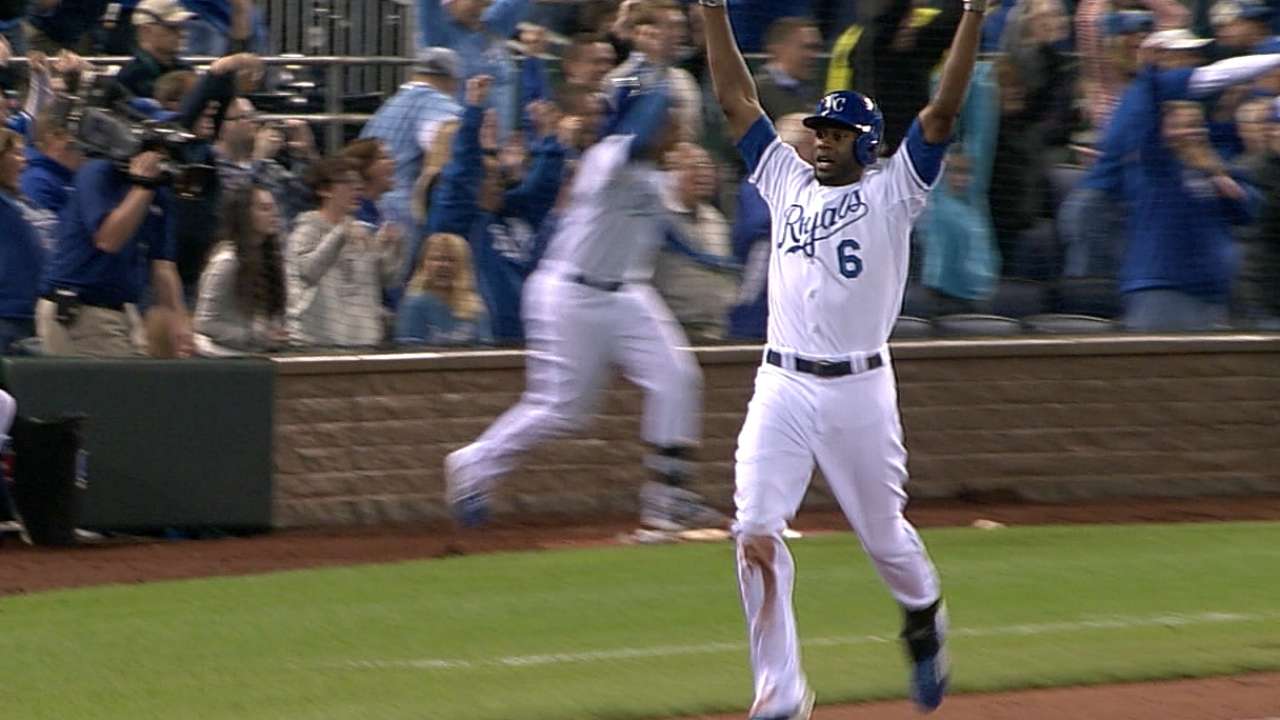 KANSAS CITY -- Imagine this: two swift pinch-runners scoring from second base -- without the ball leaving the infield. And in the ninth inning to win a game. A very important game.
It seemed almost magical to the Royals, who unleashed Jarrod Dyson and Terrance Gore on the Chicago White Sox to pull out a 4-3 walk-off victory on Monday night at Kauffman Stadium. The upshot was that Kansas City was able to stay within 1 1/2 games of first-place Detroit in the American League Central. The Royals also moved within one game of the A's for the top AL Wild Card and strengthened their hold on the second Wild Card, opening a two-game lead on the Mariners.
"Magic was in the air, that's right," Gore said.
"I always want to be in the moment, man," Dyson said.
These two guys just might be the fastest players in the baseball. Who's to say?
Never mind that, though, it's immaterial. This is about the Royals staying in the postseason chase. For most of Monday night, they'd looked dead and gone. Obituaries were being composed. It had been a lively run but, well, too bad.
And then everything at Kauffman Stadium kicked into blazing action on the legs of two swift pinch-runners, Dyson and Gore, in a ninth-inning frenzy.
"We never hang our heads and we keep battling," Dyson said. "Like tonight, we got behind, but we were able to make some things happen late in the game and the speed was key for us at the end."
Was it ever.
Trailing 3-2, the Royals' ninth began with right-hander Jake Petricka retiring Omar Infante. But Mike Moustakas drilled a double down the left-field line and Dyson went into run for him. Alcides Escobar bounced into the second out and then trouble enveloped Petricka.
Dyson, who had been picked off in a similar situation last Tuesday night at Detroit, nevertheless was off and running on the first pitch to Nori Aoki.
"Dice is daring, Dice has got larceny in his blood," manager Ned Yost said.
Petricka's delivery to Aoki bounced away from catcher Tyler Flowers and rolled to the screen, and Dyson was steaming into third base.
"I had to round it real hard because I was still in stride and I knew it kicked away from him so I had to keep going," Dyson said. "When I looked up, he still had his back turned to me so I kept going."
It was scored a stolen base and a wild pitch, the score was 3-3 and now Aoki lined a double into left field, his fourth hit. Gore, groomed in the Minors this summer for this job, was sent to pinch-run for Aoki.
On an 0-2 pitch, Lorenzo Cain hit a bouncer past Petricka and shortstop Alexei Ramirez couldn't handle it.
"I was definitely going to be safe," Cain said. "I pretty much put it in play and ran. They bobbled it and Gore was able to score."
Gore, off with the pitch, was going full throttle and headed for home to end the game with third-base coach Mike Jirschele urging him on.
"When I stole, I saw that he hit the ball and saw that he was charging the ball, and I had no doubt in my mind that Cain was going to be safe," Gore said. "So I was like, 'I'm going anyway no matter what.'"
And with that the crowd of 21,290 rocked the stadium and the Royals converged in a pile of celebration on the field with Dyson and Gore at the bottom.
"It's awesome, it's great," Gore said, laughing. "It hurts a little, but it's nice."
Two runners scoring from second base without a ball leaving the infield?
"I can't say I've seen it twice in one inning, but there it was," Petricka said.
All of that excitement came after the Royals dragged through six innings against left-hander John Danks. The lefty had not won in his last eight starts, but this was different. He was facing the Royals and his career record against them was 6-0 with a 2.58 ERA. Four of the wins had come at Kauffman.
"I don't know what it is with Danks and this park here but we can't do anything with him, he just shuts us down," Yost said. "We had a few opportunities, and couldn't capitalize."
When Danks departed after six innings, the Royals had just two hits and trailed, 3-0.
Royals starter James Shields gave up three runs, 10 hits and no walks in his seven innings. Not that he was hit very hard.
"They found a lot of holes, especially in the infield," Shields said. "I was executing my pitches the way I needed to and it's unfortunate they were finding holes, but they did."
The Royals picked up a run in the seventh off right-hander Javy Guerra on Eric Hosmer's double and Infante's single. They got a second run in the eighth off righty Zach Putnam. Aoki got a chop hit that third baseman Conor Gillaspie threw past first base. Aoki took second and scored as Alex Gordon dropped an RBI single into center field.
That made it 3-2 and, just maybe, magic was in the air and speed was on the bases.
"At the end of the day," Dyson said with his slogan, "that what speed do right there."
Dick Kaegel is a reporter MLB.com. This story was not subject to the approval of Major League Baseball or its clubs.