Freeman, Fredi tossed after Stras K's slugger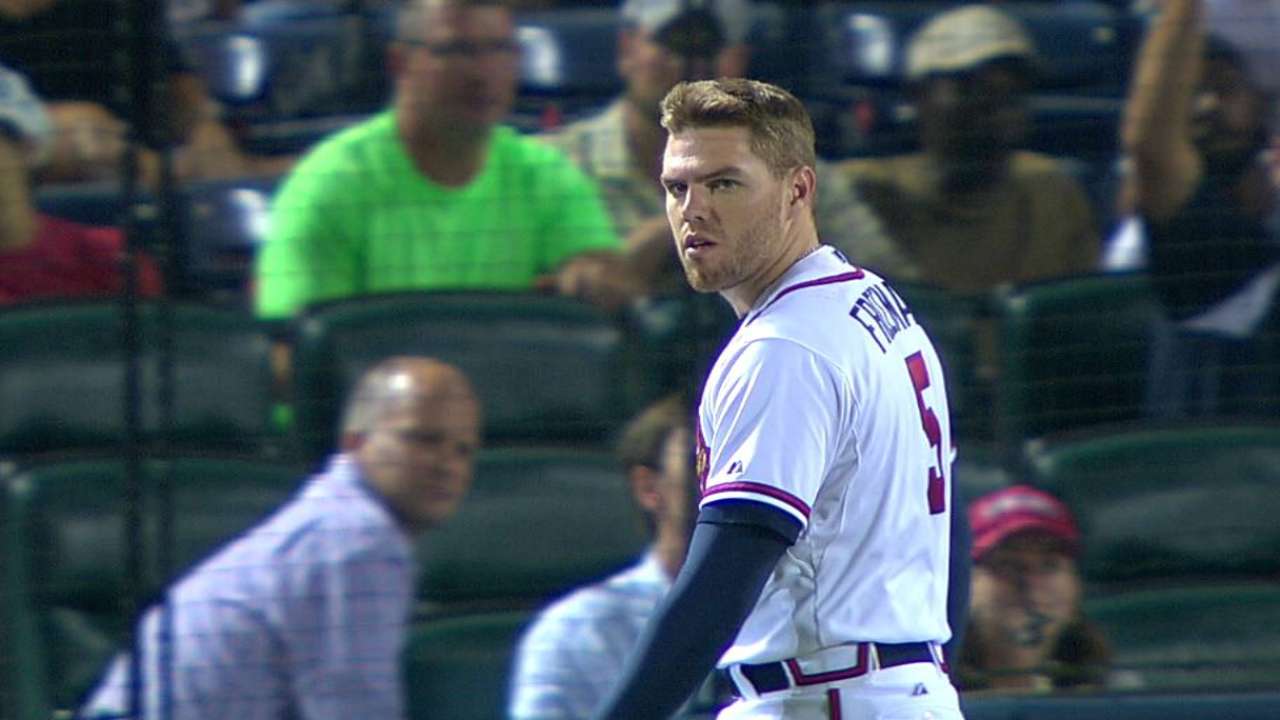 ATLANTA -- Braves first baseman Freddie Freeman and his manager Fredi Gonzalez both displayed some frustration when they were ejected by plate umpire Tim Timmons during Monday night's series opener against the Nationals at Turner Field.
Freeman was tossed when he slammed his bat and broke it in objection to a called third strike Timmons awarded Stephen Strasburg on a 3-2 pitch to end the sixth inning. Though Freeman simply looked at the veteran umpire in a disdainful manner without seemingly saying anything, Gonzalez rushed toward the plate to express his feelings. After providing a few choice words for Timmons, Gonzalez kicked the bat that was laying in the batter's box and subsequently was ejected.
"I think it was just ball four," Gonzalez said. "Really all he did was slam the bat and broke it. He never said a word to Tim. ... I was trying to get out there and keep [Freeman] in the game. I came up short. I said what I said. They could play the game without the manager, but it's hard to play the game without your three-hole hitter."
Now 4 1/2 games behind the Pirates in the battle for the National League's second Wild Card spot, the Braves know they can't continue to squander opportunities like the one Freeman gained after Andrelton Simmons had doubled with one out in the sixth.
Nor could they afford to lose Freeman, who has batted .470 (31-for-66) against the Nationals this season.
"I didn't say a word, not even, 'Are you serious, Tim?' Or anything like that," Freeman said."Not a word came out of my mouth. He's usually pretty good about that stuff. But he had a quick one tonight. I guess I shouldn't have slammed my bat."
After getting tossed, Freeman and Gonzalez watched the remainder of the game together in the clubhouse.
"I've never really heard [Gonzalez] in the game like that," Freeman said. "He was rooting for the players. It was kind of cool to see. It's nice to see he has our back. Even though he's not managing the game up in the dugout, he's still fighting for everybody."
Mark Bowman is a reporter for MLB.com. This story was not subject to the approval of Major League Baseball or its clubs.