MLB.com Columnist
Bill Ladson
Battery charges Nationals toward NL East crown
Strasburg, Ramos lead way vs. Braves as magic number reaches 2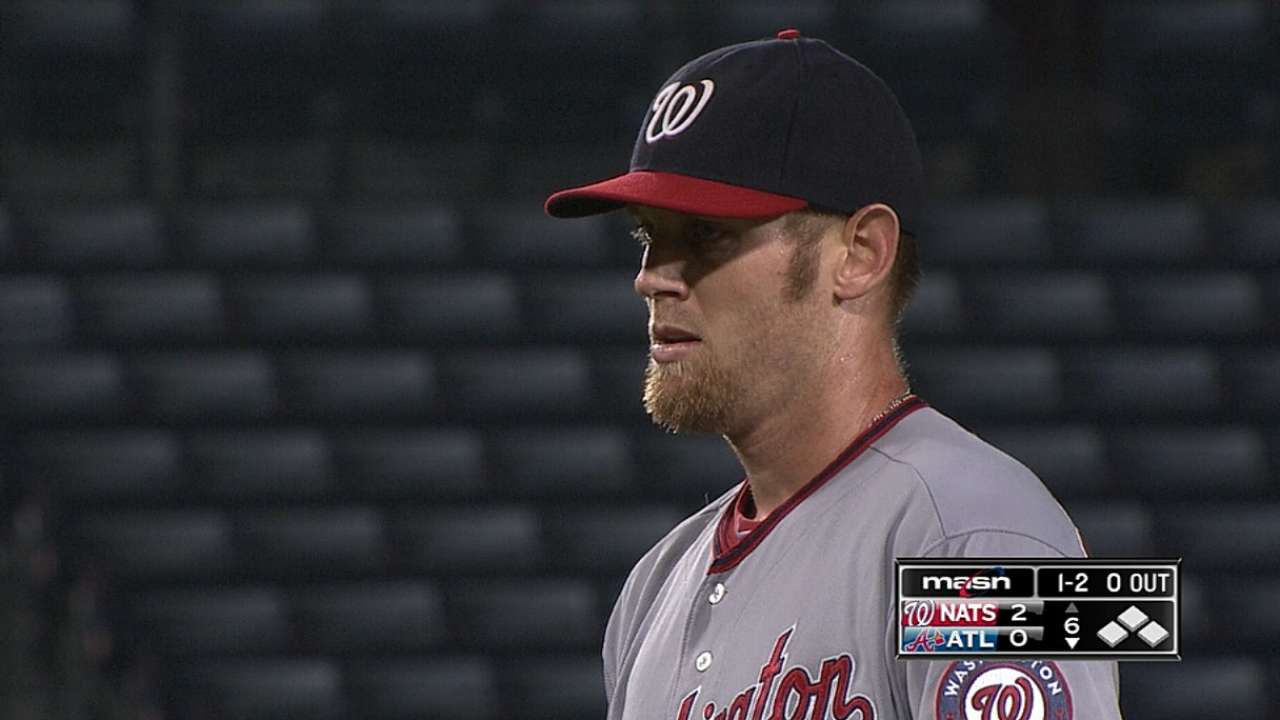 ATLANTA -- The magic number is now 2. That is the combined number of Nats wins and Braves losses needed for the Nationals to win the National League East after Monday night's 4-2 Washington victory at Turner Field.
The Nationals could win their second division title in three years on Tuesday.
"We still have a lot of work to do," shortstop Ian Desmond said. "We are up against a tough pitcher [Aaron Harang] tomorrow. We get there when we get there, but right now, we'll just focus on day by day and try to play clean baseball."
Nationals right-hander Stephen Strasburg usually has serious problems against the Braves. Entering Monday's action, Strasburg was 3-7 with a 4.61 ERA during his career. It was even worse dealing with Atlanta this season, as Strasburg was winless in four prior starts and had a 7.17 ERA.
But on this night, despite pitching with neck stiffness, Strasburg was dominant, pitching seven shutout innings, allowing five hits and striking out seven batters.
"He was throwing it where he wanted it," manager Matt Williams said about Strasburg. "He threw some good balls in to Justin [Upton]. He got Freddie Freeman a couple of times. ... He was in control. He had a little bit of a tight neck tonight from sleeping, but he battled through that. He wasn't on his 'A' game, but he sure pitched like it."
Strasburg said he was able to locate his pitches better against Atlanta. He understands where the outs are in the lineup, he is being smarter, and he's not putting himself in hitter's counts.
"It didn't work too well in the past," Strasburg said.
Atlanta's best chance to score off Strasburg occurred in the fifth inning. After Jason Heyward singled to right field to start the inning, Strasburg threw the ball away while trying to pick off Heyward, who advanced all the way to third base on the error.
But Strasburg managed to get out of the inning, as Chris Johnson struck out, Christian Bethancourt grounded out to third baseman Anthony Rendon, and B.J. Upton struck out to end the threat.
"It was a little frustrating throwing that ball away. It feels like I've done that against them, too, so it was a similar situation," Strasburg said. "I just wanted to go out there and pitch like there's nobody on. ... I wanted to stay within myself, and if they scored, they scored."
Although Strasburg has struggled against the Braves, Atlanta manager Fredi Gonzalez is convinced Strasburg is one of the best pitchers in the game.
"I've never seen him pitch bad against us," Gonzalez said. "You see the numbers, the seven-plus ERA his last four starts here. … He's a pretty darn good pitcher every time we face him. I know those numbers don't bare that. But he's a guy that we respect. He's a guy who has been a big pitcher for them."
Strasburg also reached a personal milestone by pitching 200 innings in a season. Strasburg hadn't reached that magic number until now because he'd been on innings limits or was dealing with arm injuries.
"It feels great," Strasburg said. "I'm just glad the routine I've been working on, especially in between starts and the lifting program that I have been doing, has put me in a good position to make every start."
The Nationals would give Strasburg enough run support to win his 12th game of the season.
Right-hander Ervin Santana started for the Braves, and in the second inning, Denard Span gave Washington a 1-0 lead when he doubled down the right-field line, scoring Wilson Ramos.
Two innings later, Ramos homered over the left-center-field fence to make it a 2-0 game. It was the second straight game that Ramos hit a homer.
Strasburg then helped himself in the seventh inning, when he singled off Luis Avilan, scoring Asdrubal Cabrera.
The Nationals scored their final run in the top of the eighth inning, when Nate Schierholtz -- who entered the game in the fourth inning after Bryce Harper exited feeling lightheaded -- sent Desmond home with a single to right-center.
But the Braves made it interesting in the ninth. Williams decided to bring in Rafael Soriano to close it out, but Soriano -- who lost his closer's job a few weeks ago -- let the Braves get back in the game.
After Soriano allowed Justin Upton's RBI double with one out and walked Johnson with two outs to bring the tying run to the plate in the ninth, Drew Storen entered and allowed Bethancourt's RBI single.
Storen then threw a wild pitch to put runners on second and third before inducing B.J. Upton to hits a hard ground ball to Desmond at shortstop. Desmond bobbled the ball but managed to throw out Upton to end the game.
"I was trying to keep the ball in front and give Drew another shot, but I looked up and he is still coming down the line. I had a chance. I might as well try it. But one heck of a job by Drew coming in right there," Desmond said.
At 86-63, 11 1/2 games ahead of the Braves, the Nationals have the largest lead of any D.C. baseball team in history.
Bill Ladson is a reporter for MLB.com and writes an MLBlog, All Nats All the time. He also could be found on Twitter @WashingNats. This story was not subject to the approval of Major League Baseball or its clubs.