Bullpen can't hold lead on deGrom's record night
Rookie ties Major League mark with eight K's to begin game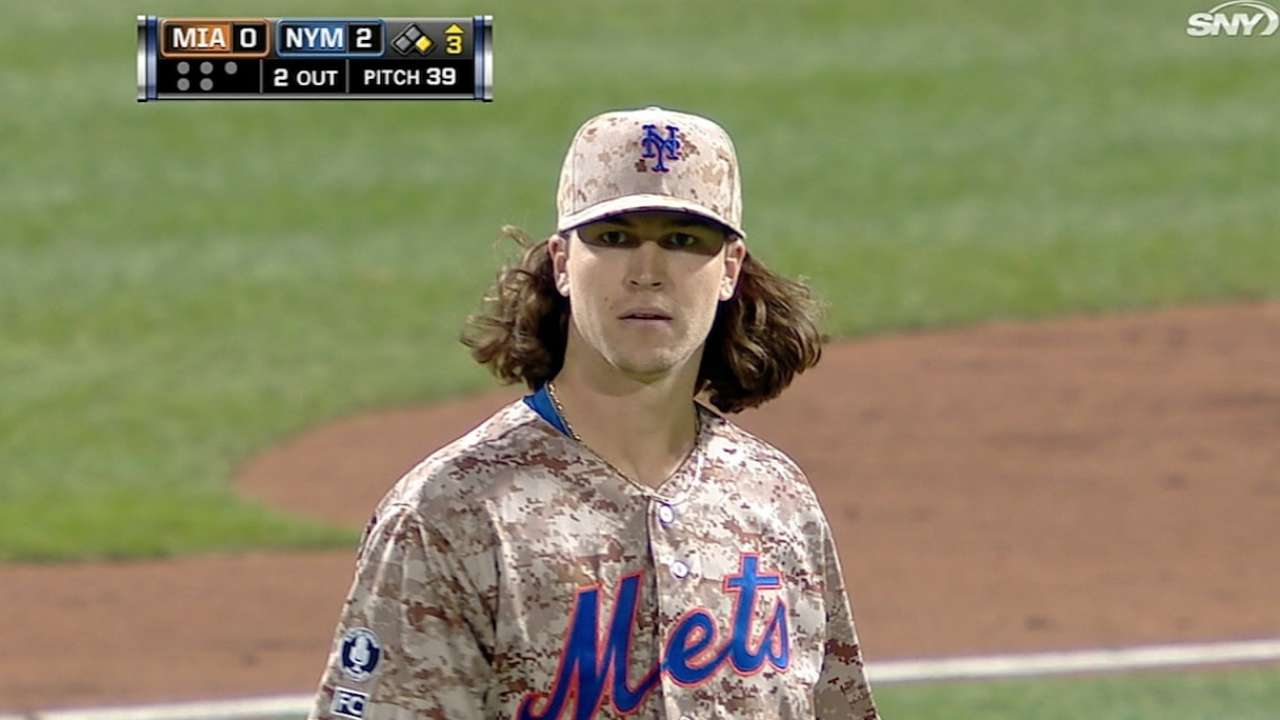 NEW YORK -- Over the weekend, the Mets drifted away from the shoot-the-moon hopes they once harbored for a playoff spot. They always knew that was a long shot; such dreams have since faded.
Instead, a slew of front-office types stood in the dugout Monday as Matt Harvey threw his final rehab fastballs, curves and changeups of the summer. Moments later, about a dozen of the organization's brightest young prospects took batting practice at Citi Field, a reward for establishing themselves as the best of a rapidly improving farm system. Then they all watched as Jacob deGrom's record-tying strikeout performance went to waste in a 6-5 loss to the Marlins, which only dampened what was otherwise a forward-thinking day.
"There's some good arms here, and that's what makes this so interesting," manager Terry Collins said. "This game's about pitching. When you've got it, you're going to give yourself a chance to win a lot of baseball games, and that's why we're sitting where we are right now. Our pitching keeps us in games."
For most of the night, Collins-style enthusiasm permeated every crevice of the ballpark -- from a front-office laptop tracking Harvey's pitches to the deGrom-style wig that Mr. Met donned before the game. All of it hinted at the bigger, bolder, appreciably better things the Mets expect in 2015.
Of particular significance was deGrom, who owes at least a portion of his success to Harvey. Had the latter pitcher been healthy this summer, the Mets may never have given much of a look at the rookie, who tied a 28-year-old Major League record on Monday by striking out the first eight batters he faced in succession. DeGrom finished with a career-high 13 strikeouts over seven innings, walking just one.
"Once I get two strikes on a guy -- it's 1-2 or 0-2 -- I'm trying to strike them out," deGrom said. "I had all those guys with two strikes, so I was trying to strike them out."
Sounds simple. Yet deGrom did eventually relinquish his lead in the seventh inning, when Jordany Valdespin hit a game-tying two-run single and Reed Johnson added a pinch-hit sacrifice fly. An inning later, after the Mets reclaimed control with a three-run rally, Jeurys Familia gave up four consecutive hits to tie the game once more. Collins turned from there to closer Jenrry Mejia, who served up a go-ahead single to Jeff Mathis before escaping the inning.
"Just a bad day," was how Familia described it. "They made good swings."
With deGrom cruising, the Mets took an early lead when Wilmer Flores doubled home two runs in the first inning, then a late one when Daniel Murphy, Travis d'Arnaud and Curtis Granderson all drove in runs in the seventh. Neither lead proved big enough.
"Early, I think everybody was kind of expecting a pitcher's duel with how we'd both been throwing," said Marlins starter Jarred Cosart, who broke up deGrom's strikeout streak with a third-inning single and added six innings of two-run ball on the mound. "I stunk in the first. The way he started out was pretty incredible."
The Mets tried not to let their eventual loss dampen too much of their optimism. Even deGrom, disappointed as he was at giving back a would-be victory, admitted that he sometimes lets his mind drift to the Mets' 2015 rotation.
Harvey will be in it. So will deGrom and Zack Wheeler, who each emerged from the clubhouse Monday afternoon to watch Harvey's throwing session. By the end of next season, Steven Matz -- one of the Mets' Minor League honorees who once rehabbed from Tommy John surgery alongside deGrom -- could even play a major role.
The Mets don't have all the pieces they want in place for next year just yet. But they have enough -- deGrom included -- for excitement to become a regular thing.
"We've talked about it a little bit," deGrom said. "Next year should be a really fun year."
Anthony DiComo is a reporter for MLB.com. Follow him on Twitter @AnthonyDicomo. This story was not subject to the approval of Major League Baseball or its clubs.