Tanaka faces Minor Leaguers, may return this weekend
If righty reports no discomfort over next 24 hours, he could oppose Jays at Yankee Stadium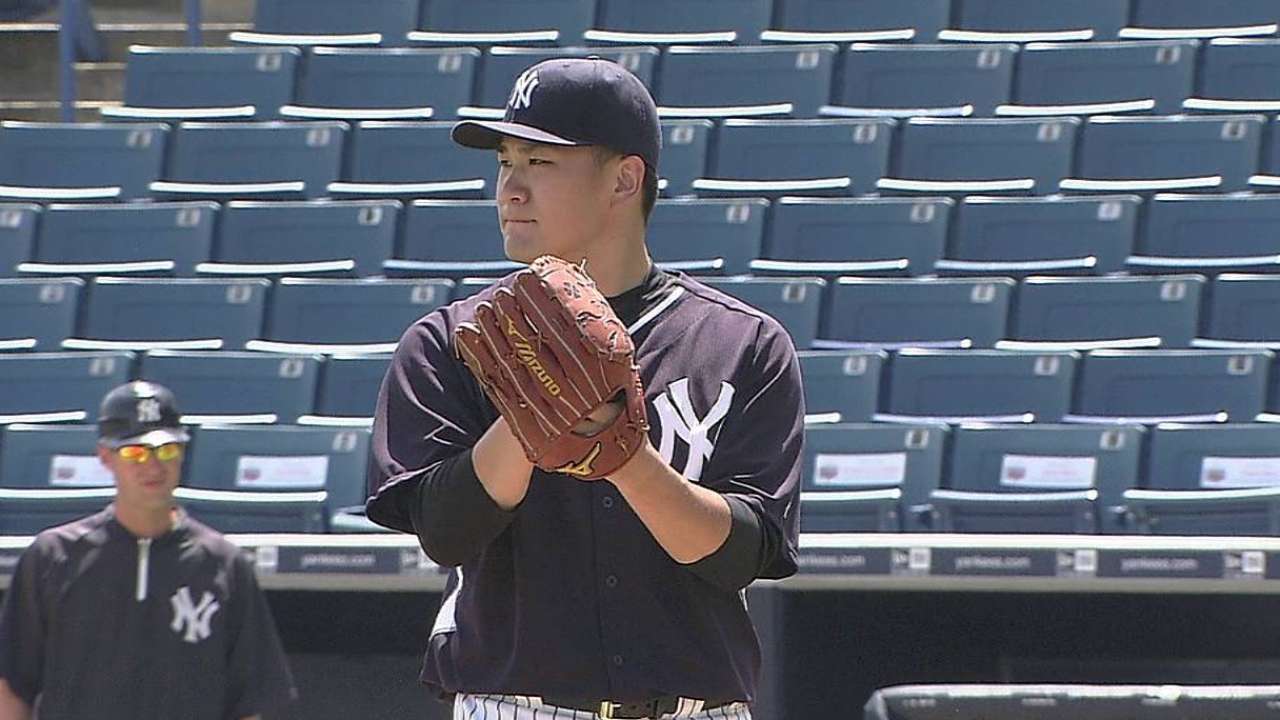 TAMPA, Fla. -- The Yankees are absorbing the results of Masahiro Tanaka's five scoreless innings against a lineup of Minor Leaguers on Monday afternoon, which could be the final hurdle for the right-hander's return to a big league mound.
Tanaka permitted six hits, some of them hit hard, and recorded four strikeouts in an instructional league game played at George M. Steinbrenner Field. If Tanaka reports no discomfort within the next 24 hours, he could be slotted to start this weekend against the Blue Jays at Yankee Stadium.
"As far as my performance goes, I think it's gradually getting better," Tanaka said through an interpreter. "It's not really a regular-season-game atmosphere, so it's a little bit hard for me to get myself up to there. But I do feel good."
Tanaka has not pitched in a big league game since July 8, when he was removed from his worst start of the season in Cleveland and was diagnosed with a partially torn ulnar collateral ligament. He was reluctant to declare himself ready to pitch in the Majors.
"It's hard to say right now," Tanaka said. "Obviously we'll look and see how I feel tomorrow. ... For myself, I do feel that I'm getting closer to game-ready."
Tanaka's outing was watched closely by manager Joe Girardi and pitching coach Larry Rothschild, among others. Girardi said that he thought the ball was coming out of Tanaka's hand well and that it is "very possible" Tanaka could be ready to start in the big leagues.
"We're going to have to get to a point where he's in a real game and there's normal preparation, and there's people in the stands and his adrenaline is flowing," Girardi said. "But I was pleased."
"I thought he was good," Rothschild said. "I said all along, if he comes out of it healthy, it's good. You could see he really tested it to make sure that he could throw the ball the way he wants, and he threw the ball pretty well."
Tanaka gave up two hits in the first inning, but got out of it on a double play. He opened an 18-pitch second inning with a strikeout before allowing two hits, one of them a weak bloop single to center field.
The 25-year-old picked up a strikeout and gave up another hit in the third, recording the other two outs on a weak popup and a hard-hit fly ball to left.
Tanaka finished the fourth inning at 56 pitches and came back out with a 1-2-3 fifth inning to reach his 65-pitch limit. He said afterward his fastball was clocked at a maximum of 92 mph.
"It's been a while since he's been able to get out there and throw to that extent and with that much force," Rothschild said. "As the game went on, you could see the last inning he was dialed up and threw the ball the way that we've seen him throw it this year."
Girardi said that after so much professional success, both in Japan and in the Majors, it may have been difficult for Tanaka to summon the same intensity early in the outing. That could be one explanation for his strong finish.
"I think he just turned it up a notch," Girardi said. "It's a simulated game and as much as you want to simulate that feeling that you get inside as a player, it's not the same.
"... So you do your best and that's why I don't get too caught up in the results. I get caught up in velocity and how he feels and how the ball is coming out. That's what helps you make your decision."
Bryan Hoch is a reporter for MLB.com. Follow him on Twitter @bryanhoch and read his MLBlog, Bombers Beat. This story was not subject to the approval of Major League Baseball or its clubs.