Owens waiting his turn to get a taste of the Majors
Boston's top prospect understands why he wasn't called up this year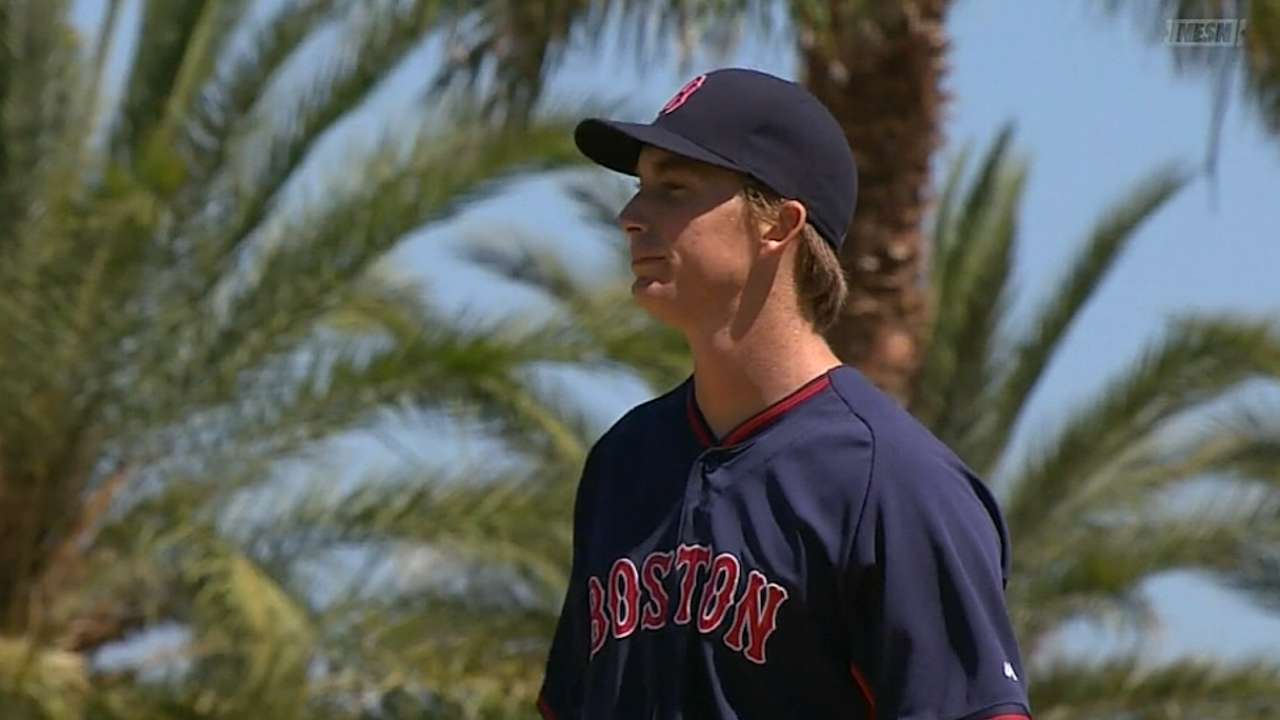 "I haven't been throwing well, so I didn't really deserve it," said the lanky lefty starter. "At the same time, I understand that. Maybe if I was pitching better or had a less amount of innings, I'd be up there. I'm proud of the fact that I've remained healthy and logged a lot of innings. Hopefully next year, I can pitch not only in September, but October as well."
This year, Owens has lived vicariously through good friends like Ranaudo and Barnes.
"It's pretty surreal and awesome at the same time," said Owens of watching those players get their first shots at the highest level. "I texted Ranaudo on his birthday, but I didn't even realize he was also pitching that night, so it was kind of funny. I watched him between innings of our game."
Ever the competitor, Owens wishes he could have joined them for their first foray into life in the big leagues.
"I was definitely hoping I would get an opportunity, but it didn't come," said Owens. "I'm not disappointed. I'm not mad."
If Owens is disappointed about anything, it's that he didn't pitch better following his promotion to Triple-A in early August. On Aug. 4, his first start with Pawtucket, Owens was nothing short of dazzling, allowing no runs and just two hits in 6 2/3 innings, with nine strikeouts.
When that start was complete, Red Sox fans were already buzzing about Owens' imminent move to Boston. But the next few starts revealed a pitcher who still had work to do, mainly with his fastball command.
Inconsistency might have been the best thing that could have happened to Owens; going through adversity taught him invaluable lessons.
"I'd say I learn something from every single outing I pitch in," said Owens. "You learn more in the ones you fail than the ones you just kind of cruise through. When you're succeeding at a high level, you don't really think you're doing anything wrong. There's always something to be learned in this game."
Pawtucket pitching coach Rich Sauveur probably had the perfect temperament to help guide Owens through a somewhat rough patch.
"[Owens has] got a very high ceiling -- there's no doubt about that," said Sauveur. "He's human, and that's actually what I said to him the the second outing, when he gave up four runs in an inning in Charlotte. I came out just to loosen things up, and I said, 'You are human, huh?' He laughed.
"I think he's ahead of schedule. He was a youngster coming out of high school. I think he's far ahead of schedule, and I love the guy."
There's much to love. Owens' fastball is currently in the high 80s to low 90s, but it should improve as he continues to grow into his body. The changeup is already a certifiable weapon and, without question, his best pitch. The curveball is the separator. If Owens can consistently flip those into the strike zone, he could become an upper-echelon starter in the Majors.
"You've got to command the fastball and learn how to pitch, learn how to use your secondary pitches. That's something [Owens has] got to do," said Sauveur. "He's got two very good secondary pitches with the curveball and the changeup. The changeup, I think, is way ahead of the curveball, because it's that good. But I don't want him to fall in love with it. It's a pitch that he can get people out with at any time, and he throws it to lefties and righties.
"I just don't want him to fall in love with it, because If you're not commanding the fastball, then he's going to start throwing the changeup. If a smart hitter is up there and sees that he doesn't command the fastball, he's going to sit on the changeup. That's what good hitters do."
Sauveur has seen a lot of prospects during his years in player development, but he gets noticeably animated when he talks about Owens.
"There's no doubt in my mind he's going to gain some velocity, and he's going to get a sharper breaking ball," said Sauveur. "Don't misunderstand me. That first night he pitched here, I gave him a plus curveball in the report. It was a better-than-Major League-average curveball. It hasn't been consistent."
The one thing extremely consistent with Owens is his demeanor. Talk to him for a few minutes and there's no air of overconfidence or arrogance. But Owens has a firm belief in who he is and what he can be.
"I feel like all three of my pitches are ready to play at the next level," said Owens. "It's just a matter of executing and competing at the same time."
Keep in mind that Owens was drafted out of high school in 2011, so his development is probably right on schedule. Jon Lester was drafted by the Sox in June '02, and he made his debut in the Majors in June '06.
What has Owens heard from his friends at the next level?
"I've heard the spread is a lot better, before and after games," quipped Owens. "No, our clubbie does a great job. Everyone says the same thing -- the big leagues is far superior to the Minor Leagues, and I look forward to getting an opportunity some day."
Ian Browne is a reporter for MLB.com. Read his blog, Brownie Points, and follow him on Twitter @IanMBrowne. This story was not subject to the approval of Major League Baseball or its clubs.