Grand Central stretch for Brew Crew
Trailing in races, Milwaukee set to visit rival Cards, Pirates, Reds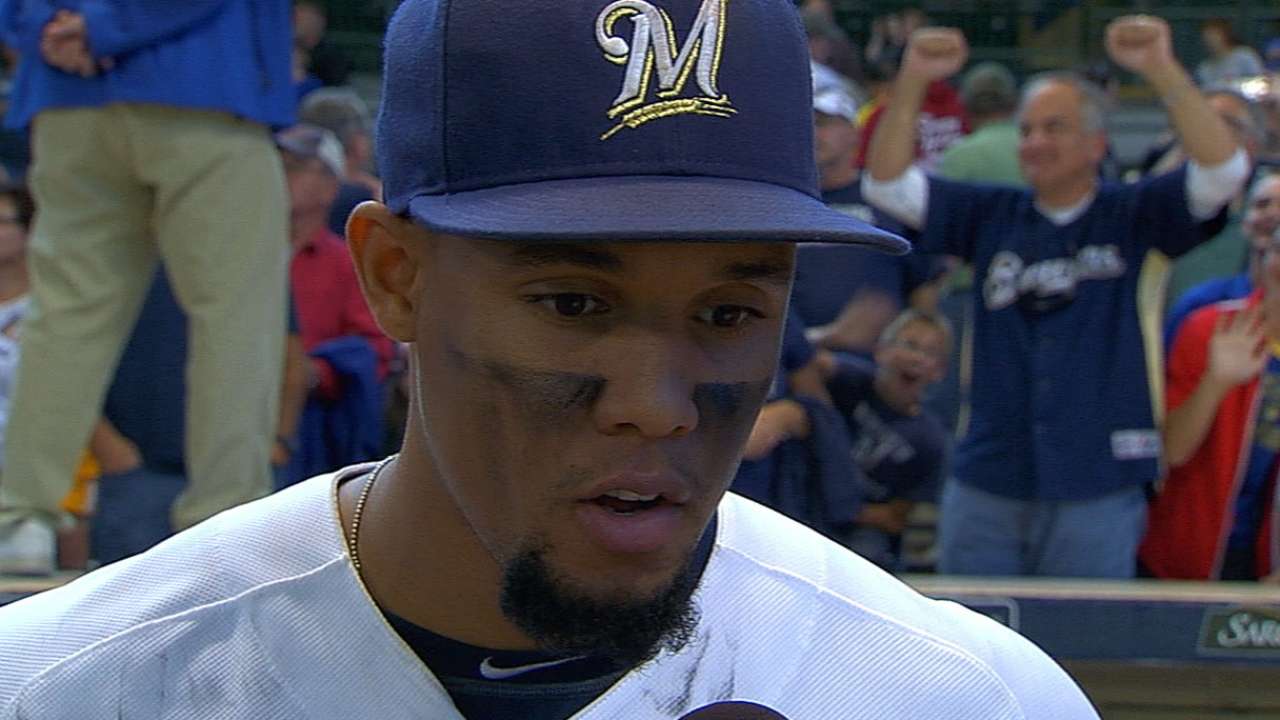 MILWAUKEE -- Given the marathon nature of Major League Baseball, one could see this coming, since the 2014 schedule was released more than a year ago. One way or another, either as a postseason contender or playing spoiler, the Brewers' 10-day, nine-game swing through St. Louis, Pittsburgh and Cincinnati would be packed with meaningful games.
And that is indeed the case. The Brewers will begin the regular season's final trip on Tuesday, trailing the Cardinals by five games in the National League Central standings, and the Pirates by 1 1/2 games in the chase for the league's second Wild Card berth.
"It's everything or nothing," said Milwaukee center fielder Carlos Gomez.
"The good thing is we're part of the playoff picture right now," third baseman Aramis Ramirez said. "From now on, every game counts, and we're in the division. That's the way it should be. That way, you can control your own destiny."
Here's a series-by-series look at the Brewers' long trip:
Tuesday-Thursday at St. Louis
Record vs. Cardinals this season: 6-10, minus-15 run differential
Regular season vs. Cards under Ron Roenicke: 26-42
Regular season at Busch Stadium under Roenicke: 13-20
Key 2014 moment at Busch
On Aug. 1, Wily Peralta tied for the Major League lead with his 13th victory, Aramis Ramirez finished a triple shy of the cycle and Ryan Braun and Jonathan Lucroy emerged from extended slumps to beat Adam Wainwright and the Cardinals, 7-4, extending Milwaukee's lead in the division to 2 1/2 games. But trouble was on the horizon: Kyle Lohse would suffer a sprained ankle the following night that caused a slump from which he is still trying to emerge, and Matt Garza suffered a rib-cage strain the day after that, leading to a month-long stint on the disabled list. This will be the Brewers' first trip back to Busch Stadium since that series.
Players to watch
Peralta, who takes the mound for Milwaukee in Tuesday's series opener opposite Lance Lynn, is 3-1 with a 2.08 ERA in four starts against St. Louis this season. ... Catcher Jonathan Lucroy is only hitting .207 against the Cardinals this season, but half of his 12 hits have been doubles. No primary catcher has ever led his own league, much less the Major Leagues, in doubles, but Lucroy entered the week tops in MLB with 51 doubles, six more than runner-up Miguel Cabrera of the Tigers. ... Over the past 10 seasons, Ramirez's .570 slugging percentage against the Cards ranks seventh highest among St. Louis' regular opponents. ... On Wednesday, Brewers right-hander Mike Fiers is scheduled to make his first start since he struck Marlins star Giancarlo Stanton in the face with a pitch. He draws Cardinals ace Wainwright. ... Lohse is scheduled to work opposite Shelby Miller in the series finale.
Friday-Sunday at Pittsburgh
Record vs. Pirates this season: 11-5, minus-13 run differential
Regular season vs. Bucs under Roenicke: 41-24
Regular season at PNC Park under Roenicke: 17-12
Key 2014 moment at PNC
In this case, it's plural -- moments. After losing the opener of a four-game series on April 17, the Brewers won the next three days thanks to borderline magical moments. On April 18, catcher Martin Maldonado literally knocked the cover off the ball on a ground-ball single to confused Pirates third baseman Pedro Alvarez. On April 19 and 20, Ryan Braun belted tying ninth-inning home runs off then-Bucs closer Jason Grilli, a pitcher who hadn't allowed a Brewers run since June 2007, when he was pitching for the Detroit Tigers and Braun was three weeks into his Major League career.
"Great series. We could have easily been swept," Braun said after Milwaukee won the series finale in 14 innings. "We really could have -- and arguably should have -- lost each of the last three games, so to find a way to win all three of those games on the road is very encouraging moving forward."
They found a way to win more, improving to 20-7 before April was finished.
Players to watch
Lined up to start the series opener, Yovani Gallardo is 12-5 with a 2.67 ERA in 25 games (24 starts) against the Pirates. His 9.59 strikeouts per nine innings is third-best all-time among qualifying pitchers against the Bucs, trailing Kerry Wood (10.75) and Wandy Rodriguez (10.08) and ahead of Pedro Martinez (8.77) ... Scooter Gennett is batting .366 with a .407 on-base percentage in 41 at-bats against the Pirates this season. ... Lefty reliever Zach Duke has surrendered one run on four hits in six appearances against Pittsburgh this year.
Sept. 23-25 at Cincinnati
Record vs. Reds this season: 8-8, minus-7 run differential
Regular season vs. Reds under Roenicke: 31-35
Regular season at Great American Ball Park under Roenicke: 11-23
Key 2014 moment at GABP
Delivering exactly the sort of start that prompted the Brewers to open their pocketbook in January, Garza retired the first 12 Reds he faced and allowed only two hits over all nine innings of the Brewers' 1-0 win at Great American Ball Park on July 5 to snap a four-game losing streak. Garza's first shutout since his no-hitter for the Rays against the Tigers in 2010 boosted Milwaukee's lead in the NL Central back to five games over the second-place Cards.
"We were talking earlier today that we needed one of our pitchers to have a big game," said Roenicke that day. "That was a big game."
Unfortunately for Roenicke, seven straight losses followed, dropping Milwaukee into a tie with the Cardinals atop the division. Since then, it's been a battle for the Brewers.
Players to watch
Ramirez, who has played his whole career in the NL Central, ranks 35th all-time with 34 career homers against the Reds. A pair of former Milwaukee Braves top that list, with Hank Aaron leading the way (97 home runs at the Reds' expense) followed by Eddie Mathews, in a tie with Willie Mays at 76. … Mark Reynolds has homered four times in 10 games this season against Cincinnati. … Gomez is only a .196 hitter in 34 career games (24 games started) at Great American Ball Park.
But talking about the trip, Gomez said, "I'm excited, especially because I'm starting to get better and healthier. I'm feeling good. I feel good at the plate, see the ball really good after I missed one week. The team I getting some W's. Now we're going out there against the team that leads the division and the team we're behind [in the Wild Card race]. It's going to be intense and interesting. People are going to want to watch."
Adam McCalvy is a reporter for MLB.com. Read his blog, Brew Beat, and follow him on Twitter at @AdamMcCalvy. This story was not subject to the approval of Major League Baseball or its clubs.