Zobrist's walk-off hit in ninth plates game's lone run
Colome, bullpen stifle Yankees, notch Rays' MLB-best 21st shutout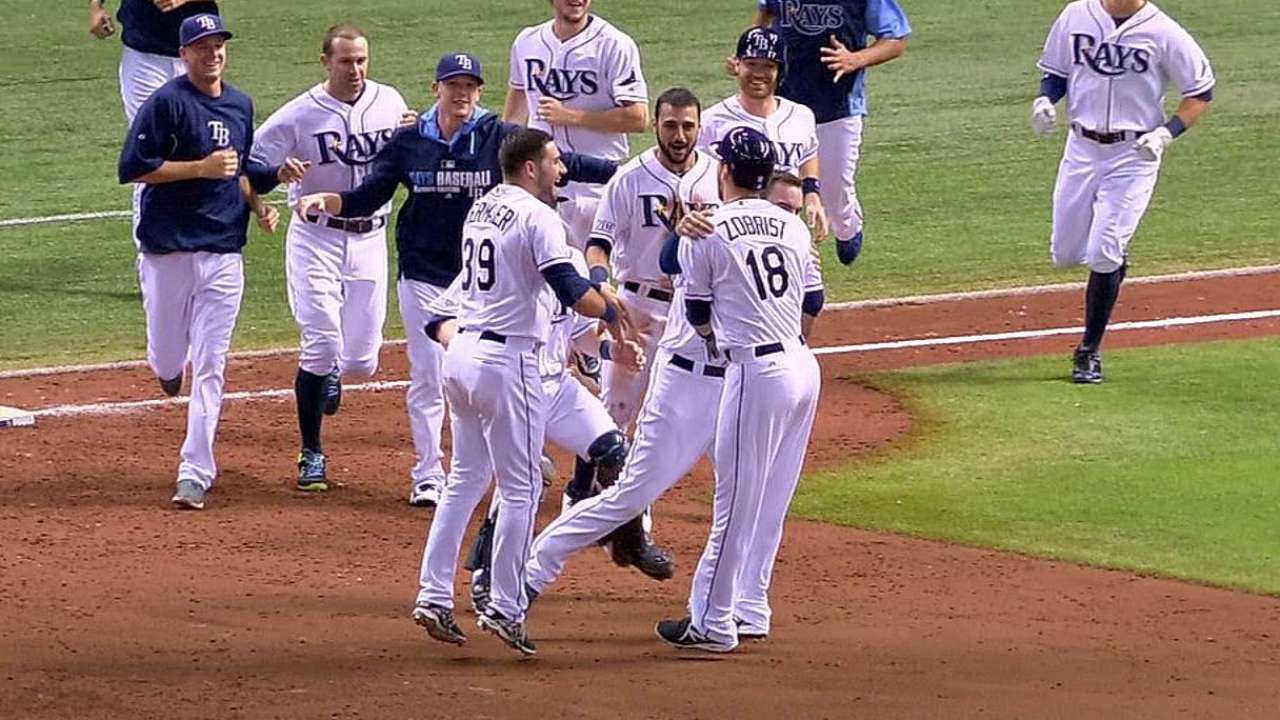 ST. PETERSBURG -- The Rays' offense waited until the last minute to produce, and when they did, one run proved to be enough in a 1-0 walk-off win over the Yankees on Monday night at Tropicana Field.
The Rays claimed their 21st shutout, extending their club record and passing St. Louis (20) for the most in the Major Leagues.
"Really well-pitched on both sides and what's that, our second 1-0 win in several days now," said Rays manager Joe Maddon, who included Friday night's 1-0 win over the Blue Jays. "So, good stuff and it also indicates the fight in our group."
After 8 1/2 scoreless innings, the Rays finally got busy with one out in the bottom of the ninth.
Logan Forsythe singled to left off Shawn Kelley and James Loney followed with a single to center to put runners at first and second. Kelley then struck out pinch-hitter David DeJesus before pinch-hitter Matt Joyce walked to load the bases for Ben Zobrist.
Entering the game, Zobrist was 0-for-11 with the bases loaded this season and 1-for-20 since the start of 2013. This time Zobrist came through, lining a 1-1 fastball into right field for the walk-off win.
"Matty had a good at-bat to get it to me and I was fortunate that I got that fastball in the middle of the plate and was able to get it out there," Zobrist said. "You've got to be thankful in those situations any way you can get them and I was just fortunate to come up in that situation and be able to get it done this time."
Zobrist's fifth career walk-off hit was his first since July 10, 2013, when he defeated the Twins with an RBI single in the 13th.
Entering the game, Kelley had allowed one earned run in 9 2/3 innings in nine appearances against the Rays this season.
"Every time we pitch, the game's on the line," Kelley said. "I've got to go out there and put up a zero, whether it's nothing-nothing or 10-nothing."
Tampa Bay righty Alex Colome started after being recalled from Triple-A Durham and pitched 6 2/3 scoreless frames before finding two-out trouble in the seventh.
Ichiro Suzuki doubled and John Ryan Murphy walked to chase Colome. Right-hander Steve Geltz took over to face Brian McCann, and the recent callup retired McCann on a weak popout to center field to end the threat.
Colome threw a career-high 113 pitches in his fifth career start, paralleling the excellence displayed by Nathan Karns, who made his first Rays start Friday night. Karns got the decision in a 1-0 Rays win and his performance, along with Colome's, bodes well for the future.
Colome "was really good and we just had Nathan do almost the same thing the other night," Maddon said. "... He had really good stuff. He threw a strike when he had to. And that was a big part of his success tonight. [Colome] and Nathan did the same thing. You're always looking for starting pitching depth."
Colome is out of options, so the Rays are looking at him as a starter or a bullpen piece.
"Next year, I don't have an option -- I have to be better than ever," Colome said. "But the only thing I want is that they give me the ball. And I do what I can do."

While Colome had a strong outing, Yankees starter Chris Capuano showed tangible improvement over his last start against the Rays. Wednesday night in the Bronx, the Yankees' left-hander came away with a no-decision after allowing four earned runs in only one-third of an inning. Monday night, he pitched six scoreless innings, allowing two hits and four walks while striking out four.
"It's called baseball," said Maddon of the the difference in Capuano. "I thought he was more aggressive in with his fastball against our righties. I think that might have been the difference."
After Geltz's work in the seventh, Jeff Beliveau, Kirby Yates and Joel Peralta held the Yankees scoreless over the final two innings, with Peralta gaining his third win of the season.
Monday night's win gave the Rays their third win in four games to move to 73-78. Tampa Bay needs go 9-2 to finish with its seventh consecutive winning record, or 8-3 to go .500, which would be quite an achievement considering the team once stood 18 games below that mark.
"I'm still looking for us to get back to .500," Maddon said. "We still have the opportunity to be the first team to be 18 under .500 and get back to .500 in the same season. ... So there's still some realistic, tangible goals to be met. That one would be kind of impressive."
Bill Chastain is a reporter for MLB.com. This story was not subject to the approval of Major League Baseball or its clubs.