Yankees' Wild Card hopes dealt another big blow
Amid hitting woes, NY drops six back as Rays walk off with shutout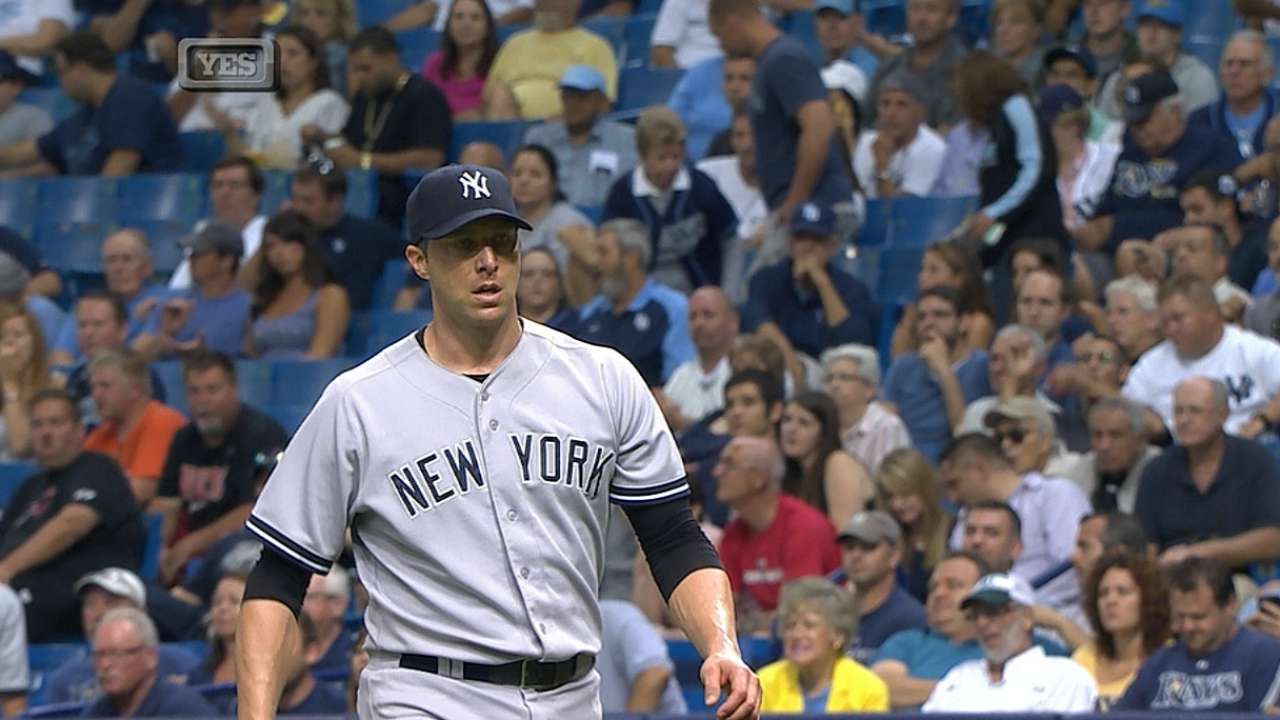 ST. PETERSBURG -- When Derek Jeter was asked what he would miss about playing at Tropicana Field, he stammered for a few moments before producing a diplomatic response. The Rays, he said, have been fielding good teams for a while and always seem to give his Yankees trouble under the roof.
Outcomes like this, all too familiar in recent years, will not inspire much nostalgia for the retiring captain. Ben Zobrist connected for a game-winning single off Shawn Kelley in the bottom of the ninth inning, lifting the Rays to a 1-0 victory over the Yankees on Monday night.
With Jeter watching from the bench, New York absorbed its fourth loss in five games, officially eliminating them from contention for the American League East title. Now six games out of the Wild Card chase, the Yankees' odds of reaching any level of postseason play are dwindling toward zero.
"I feel like things have been slipping away for a few weeks," Brett Gardner said. "To be honest, I haven't looked at the standings the last couple of days because at this point they don't really matter. We've got to win every day."
The Yankees' scuffling lineup was unable to break through against Alex Colome and four relievers, including Joel Peralta, who pitched a scoreless top half of the ninth for the victory.
New York had just one runner reach third base -- Mark Teixeira, on a second-inning wild pitch -- and there was not much cap-tipping coming out of the visiting clubhouse.
"For whatever reason, we're not hitting," manager Joe Girardi said. "It's frustrating. Eventually I think it's got to turn, but it better turn pretty quickly here."
Kelley took over as the third Bombers pitcher of the evening, trying to force the game into extra innings after Chris Capuano and Adam Warren combined for eight blank frames.
"Every time we pitch, the game's on the line," Kelley said. "I've got to go out there and put up a zero whether it's nothing-nothing or it's 10-nothing."
Logan Forsythe and James Loney knocked one-out singles against Kelley, who recorded a strikeout but then walked pinch-hitter Matt Joyce. That loaded the bases and set up Zobrist's decisive line drive to right field that fell in front of Ichiro Suzuki.
"Obviously we want to [play spoiler]," Zobrist said. "I think we're just trying to win. We're just trying to play the best way we can play and create that winning Rays culture."
The math is bleak; with 13 games remaining on the schedule, the Yankees have 76 wins. It would take a 13-0 run to get to 89, generally thought of as a benchmark for Wild Card clubs. Gardner's frustration was evident as he stared straight ahead from his locker in silent contemplation for several minutes.
"All we needed to get was just one or two runs and we couldn't even get that," Gardner said. "It's just really frustrating. Guys are working really hard. Guys are trying. Guys are putting in the effort. For one reason or another, we're just not getting it done."
Chase Headley's temper also flared, but for a different reason. He returned to the lineup for the first time since being hit in the chin with a 97-mph fastball last week, still sporting some yellow and purple bruising, but his night ended prematurely.
Headley was ejected by home-plate umpire Marty Foster with an 0-1 count on him in the seventh inning; Headley said that Foster had been the aggressor in the situation.
"I'm going to stand up for myself when I feel like I've been wronged, or I feel like a guy is responding to me in a manner that I didn't respond to him," Headley said. "I wish I would've stayed in the game, but on the same token, sometimes you've got to stand up for yourself."
There was, at least, a moral victory for Capuano. One turn after being knocked out in the first inning by the Rays, an outing that he called the worst start of his career, Capuano bounced back by handcuffing the Rays to a pair of hits over six scoreless innings.
"I thought Capuano did a great job moving the ball around," Zobrist said. "He doesn't have overpowering stuff, but he really placed it well. That's all it took."
But then again, despite injuries to the majority of their Opening Day rotation, pitching really hasn't been the Yankees' problem -- and it won't be the reason that, in all likelihood, the lights will be dark in the Bronx next month.
"As well as we've pitched, we didn't need to be great, we just needed to be good," Gardner said. "And we haven't been."
Bryan Hoch is a reporter for MLB.com. Follow him on Twitter @bryanhoch and read his MLBlog, Bombers Beat. This story was not subject to the approval of Major League Baseball or its clubs.