MLB.com Columnist
Roger Schlueter
MLB Notebook: Kershaw stands tall against Giants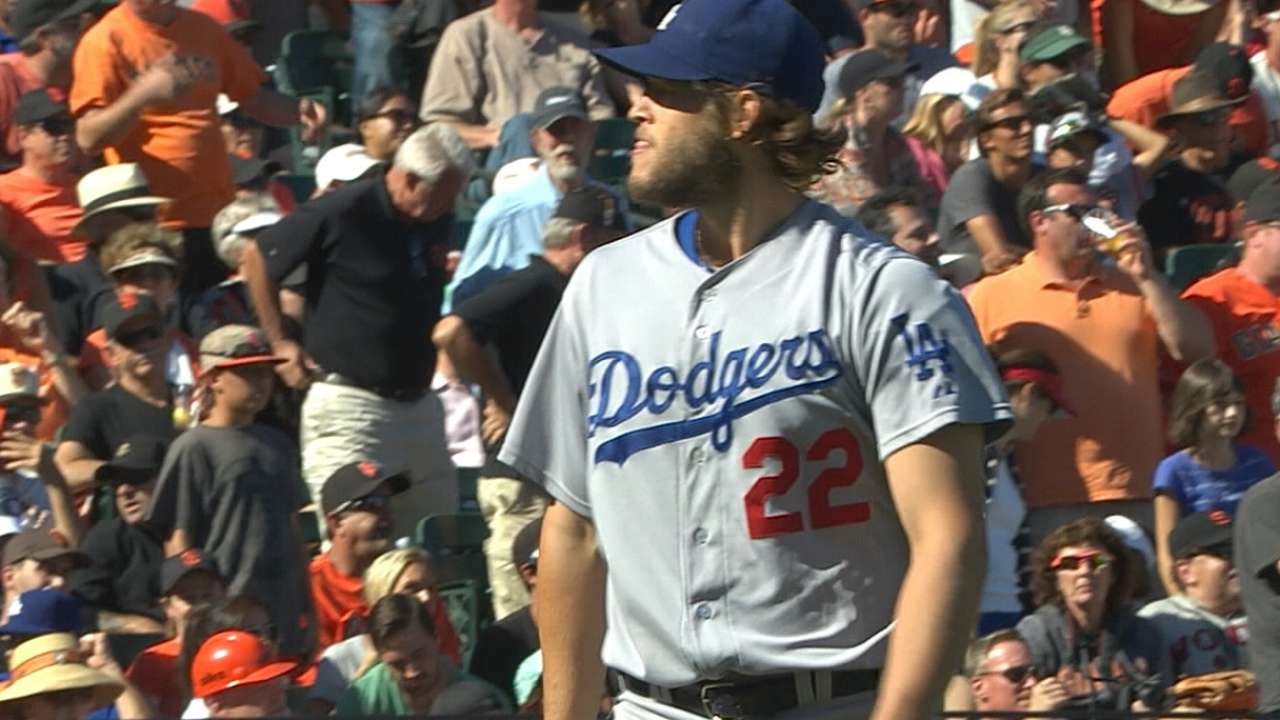 With less than a month remaining in his seventh big league season, Clayton Kershaw carries a career 2.48 ERA. This mark -- built over 1,365 1/3 innings -- is the second lowest in the live-ball era for all pitchers with at least 1,000 innings through their first seven years. It rests just ahead of Whitey Ford's 2.60 and just behind Tom Seaver's 2.38, and it has more than a little something to do with how Kershaw has fared when facing the San Francisco Giants.
The Dodgers, behind the otherworldly talents of Kershaw, defeated the Giants, 4-2, on Sunday. Kershaw allowed two runs in eight innings to see his ERA rise to 1.70, but he did pick up his 19th win and increased his strikeout total to 219. Leaving aside Kershaw's historical pursuits (including the push for a Triple Crown that has him first in ERA and wins and four K's behind National League leader Stephen Strasburg), a focus on his career work against the Giants seems to be in order.
In Kershaw's 25 career games against San Francisco (24 starts), the left-hander is 13-5 with a 1.44 ERA. There have been 109 pitchers since 1914 to have at least 20 starts against the Giants through their first seven seasons, and among the hurlers' numbers, Kershaw's ERA, compiled over 181 innings, is by far the lowest. Rounding out the top five: Wilbur Cooper (2.13 ERA, 169 innings), Pete Alexander (2.14 ERA, 176 1/3 innings), Bill Doak (2.27 ERA, 166 1/3 innings) and Bob Veale (2.34 ERA, 154 innings).
Zimmermann zips along
In the Nationals' 3-0 win over the Mets, Jordan Zimmermann went the first 6 2/3 innings to lower his ERA to 2.83 (in 30 starts). Zimmermann is one of three Nats pitchers with a sub-three ERA and at least 20 starts; Tanner Roark owns a 2.96 in 29 starts and Doug Fister holds a 2.55 in 23 starts. The Expos/Nationals franchise has never had three pitchers each make at least 25 starts and finish the year with an ERA below 3.00.
Among NL pitchers with at least 500 innings since the beginning of the 2012 season, Zimmermann's 3.02 ERA is tied with Madison Bumgarner for the second lowest, behind Kershaw's 2.04 mark.
Triple the fun
On Sunday, third baseman Josh Harrison and second baseman Neil Walker represented two-thirds of the Pirates' triple-play conversion -- only part of the story for this pair as they helped Pittsburgh to a 7-3 victory over Chicago:
• The triple play was the first for the Bucs since they turned one against the Reds on April 12, 2009.
• Harrison singled and doubled to maintain his average at an NL-leading .317. Since the All-Star break, Harrison is batting .341 (73-for-214). The last four Pirates to have at least 250 second-half at-bats and produce a batting average of at least .340: Jason Kendall in 2003 (.348), Dave Parker in 1978 (.351), Parker in 1977 (.349) and Al Oliver in 1974 (.346). Parker won the batting title in both his referenced seasons.
• Walker popped his 20th home run of the season in a 3-for-4 effort in which he fell a triple shy of the cycle. The 20 are the most for a Bucs second baseman, eclipsing the 19 collected by Bill Mazeroski in 1958. With No. 20, Walker also became the eighth switch-hitting second baseman to reach the 20-homer plateau.
Abreu having a blast
In the White Sox loss to the Twins, Jose Abreu hit his 35th home run of the year. His 72 extra-base hits leave him two shy of Earl Averill's total from 1929 for the seventh most for a first-year player; the 72 leave him two shy of Averill and Hanley Ramirez (2006) for the 14th most by a rookie.
Abreu's 35 homers leave him two shy of Albert Pujols' total from 2001 for the third most by a first-year player, and it ties him with Hal Trosky (1934), Rudy York ('37), Ron Kittle ('83) and Mike Piazza ('93) for the sixth most for a rookie. Abreu and Kittle are also tied for the White Sox rookie record.
Reynolds on the mark
In the Brewers' 9-2 victory over the Reds, Mark Reynolds clubbed his 22nd home run, a solo shot in the eighth that produced his 45th RBI of the year.
• Reynolds finished the game 1-for-4, leaving his batting average at .196 for the year. The 31-year-old -- who finished the 2010 season with 32 blasts and a .198 average -- has the chance to become the first player in history to have multiple 20-homer seasons that have accompanied a sub-.200 average. Prior to this season, it had been done once each by seven individuals, with Reynolds joined by Rob Deer (1991), Ruben Rivera ('99), Mark McGwire (2001), Carlos Pena ('10), J.P. Arencibia ('13) and Dan Uggla ('13).
• Reynolds also has a chance to join Deer and few others in another trivial club. His HR/RBI ratio now stands at .489. There have been 10 players in history to have a season with at least 20 homers and a ratio above .480: Carlton Fisk (1984, 21/43 HR/RBI ratio), Kevin Maas (1990, 21-41), Rob Deer ('92, 32/64), Chris Hoiles ('92, 20/40), Ron Gant (2000, 26/54), Barry Bonds ('01, 73/137; '03, 45/90), Mark Bellhorn ('02, 27/56), Chris Duncan ('06, 22/43), Alfonso Soriano ('06 46/95) and Hanley Ramirez ('08, 33/67).
Extra, extra
The Tigers completed a three-game sweep of the Indians, defeating Cleveland, 6-4. J.D. Martinez homered in this contest, and he produced three extra-base hits (two homers and a triple) in 12 plate appearances in the series. For the season, Martinez has 52 extra-base hits in 429 plate appearances, for a 12.12 extra-base hit percentage. The last five Tigers to finish a season with at least 450 trips to the plate and extra-base hit percentage this high: Miguel Cabrera, 2010, 84 in 648 (12.96); Curtis Granderson, '07, 84 in 676 (12.43); Hank Greenberg, 1946, 78 in 604 (12.91); Greenberg, '40: 99 in 670 (14.78); and Rudy York, '40, 85 in 686 (12.39).
O's A-OK with slim wins
Down, 2-1, going into the bottom of the ninth, the Orioles rallied for two runs and defeated the Yankees, 3-2. Baltimore -- which overcame a 1-0 deficit in an 11th-inning walk-off win on Friday -- improved to 30-21 (.588) in one-run games this season. In 2012, when the O's reached the postseason for the first time since 1997, the club went an historic 29-9 in one-run games for the best winning percentage in the modern era. In 2013, when the Orioles dipped to 85-77 and finished third in the American League East, the team was 20-31 in one-run games, ranked 28th in the Majors. This year -- as the O's are just games away from clinching their first AL East title since 1997 -- the team's .588 mark stands as the second best in the Majors.
Roger Schlueter is senior researcher for MLB Productions. This story was not subject to the approval of Major League Baseball or its clubs.