Rankings reflect playoff pursuit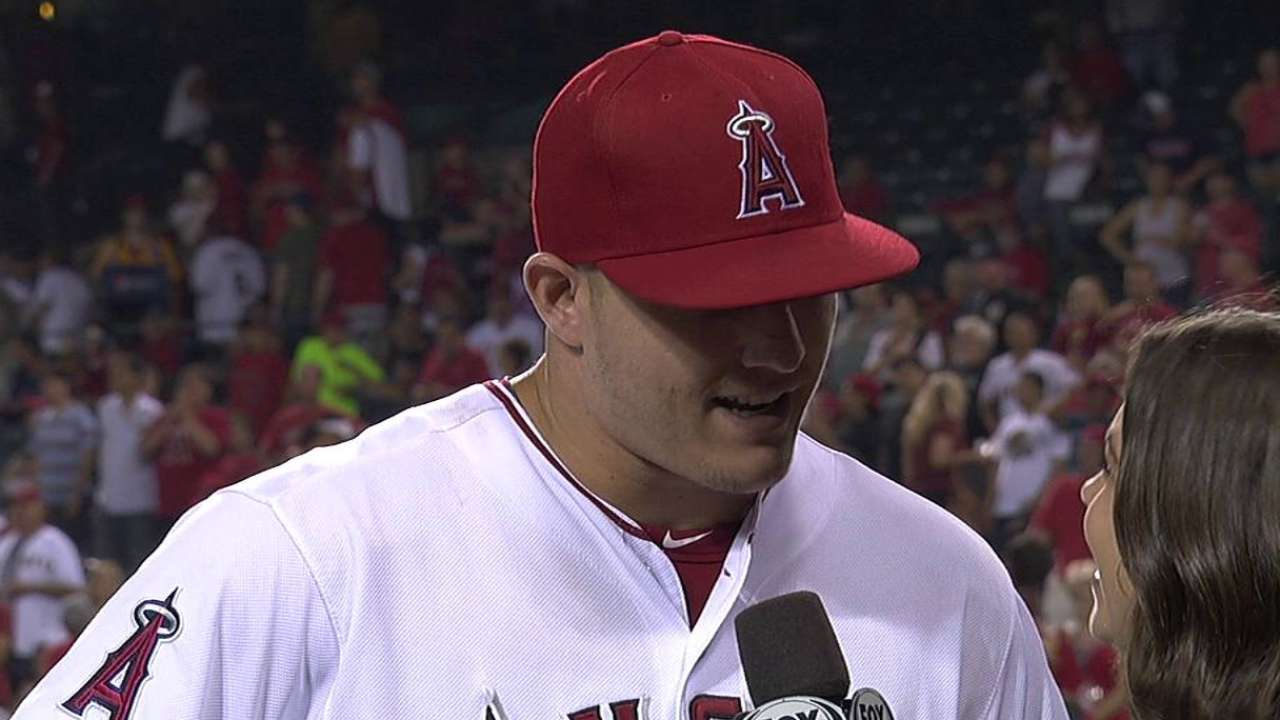 We've reached that point in the season where we learn who's in and who's out, with a handful of teams knocking on the door and set to clinch postseason spots.
Those clubs -- led by the Angels, who are ranked the top team in baseball for the third consecutive week -- lead the way in the MLB.com Power Rankings.
The Halos not only pace the field, they set the trend, with the following four teams -- the Orioles, Nationals, Dodgers and Athletics -- also unchanged from last week, with some neighborhood rivals bunched together near the top. The two Beltways clubs (Baltimore and Washington) occupy two of the top three spots, and California teams take up four of this week's top six.
For the fourth consecutive season, MLB.com has set up a panel of experts to vote on the top 15 teams each week. The group includes MLB.com vice president and executive editor Carlton Thompson, executive editor Matthew Leach, columnists Mike Bauman, Hal Bodley, Anthony Castrovince, Richard Justice, Tracy Ringolsby, Phil Rogers and Lyle Spencer along with reporters Alyson Footer and Jesse Sanchez.
What do you think? Agree, disagree? Have your opinion counted by submitting your own Power Rankings.
1. Angels: They're the top California team in the MLB.com Power Rankings, but, most importantly, they're still tops in baseball. The Halos can also be the first team to clinch a playoff spot, needing only a win against the Mariners on Monday night. This is all thanks to a 10-game winning streak that ended Sunday night.
Last week: 1
2. Orioles: No one has a more commanding lead in their respective division than the Orioles, who are up 11 1/2 games in the American League East over Toronto. Their earliest potential clinch date is Tuesday, with a playoff magic number of 3. But how much will the O's miss Chris Davis, who's been suspended for 25 games? The slugger has belted 112 homers over the last three seasons.
Last week: 2
3. Nationals: This team in Washington is living up to its billing, and rookie manager Matt Williams has done a masterful job to bring them within inches of a division crown. They have the smallest magic number in the National League at 4, with a playoff clinch possible as early as Tuesday. Wilson Ramos, who hit an important two-run homer Sunday, has been key down the stretch after missing the Nats' last playoff run in 2012 because of a knee injury.
Last week: 3
4. Dodgers: How good is Clayton Kershaw? The Dodgers ace became the first in the Majors to 19 wins on Sunday. To do so, he held the Giants to two runs on seven hits and one walk while striking out nine. The remarkable thing? In giving up two runs over eight innings, Kershaw's ERA actually rose to 1.70. The lefty has won 16 of 17 decisions, and he is 11-1 within the division and 10-1 on the road.
Last week: 4
5. A's: Around the time of the Trade Deadline, it would have seemed implausible for the A's to be out of the AL West race, but with just a couple weeks remaining in the season, they find themselves a whopping 10 games back of the Angels in the division. They've still got a hold on the top AL Wild Card spot, but it's not a foregone conclusion, with Kansas City and Seattle both within striking distance.
Last week: 5
6. Giants: A series loss at home this weekend to the division-rival Dodgers dropped San Francisco to three games back in the NL West, but the Giants will get one more crack at Los Angeles in a week. That'll be the end of a three-city, nine-game trip, and the Giants are just hoping that they'll be playing for the division crown. They currently lead the Pirates by three games for the top NL Wild Card.
Last week: 7
7. Tigers: Is Detroit finally clicking on all cylinders again? If so, it couldn't have come at a better time. While the Royals were underperforming against the Red Sox in Kansas City, the Tigers swept the Indians to more or less put Cleveland out of contention. Detroit leads the Central by 1 1/2 games, but still has some issues -- a runner has been picked off five times in the last six games -- to sort out.
Last week: 10
8. Cardinals: With a sweep of the Rockies this weekend, St. Louis held on to its 3 1/2-game lead on the Pirates in the NL Central. Jhonny Peralta homered again, extending his club record for most home runs in a season by a Cards shortstop to 21. The pitching staff also tied a season high with 16 strikeouts. An important series agains third-place Milwaukee looms.
Last week: 9
9. Royals: Kansas City picked an inopportune time to drop three of four to the last-place Red Sox. Over the weekend, the Royals went from leading the AL Central by a game to trailing the Tigers by 1 1/2. They've lost six of nine, with only AL Central opponents ahead of them for the rest of the season (including seven against the White Sox, beginning Monday).
Last week: 8
10. Pirates: The first triple play in PNC Park sparked a come-from-behind victory against the Cubs on Sunday, and the Bucs maintain a 1 1/2-game lead against division-rival Milwaukee for the second NL Wild Card spot. And they may be peaking at the right time, having won eight of 10, with surprise NL MVP Award candidate Josh Harrison in the middle of it all.
Last week: 12
11. Mariners: Their nemeses continue to change, but the situation remains largely the same for the Mariners: a quest for an AL Wild Card spot, as they continue to battle it out with whichever team -- Kansas City or Detroit -- finishes second in the AL Central. But as the A's continue to tumble, it could be three teams competing for two spots. The road will not be easy, with seven games remaining against the first-place Angels.
Last week: 6
12. Blue Jays: The margin for error is growing slimmer and slimmer for the Jays, who dropped an important extra-innings game Sunday. They've got their work cut out for them, beginning with a Monday series against the first-place Orioles. Rookie Marcus Stroman will throw on two days' extra rest.
Last week: 13
13. Brewers: Now is the time for Milwaukee to strike back. Leading the NL Central for most of the season, the Brewers have seen their perch taken over by the perennial favorite Cardinals, and they likely need a series sweep of Redbirds this week to get back in the division hunt . Otherwise, their consolation? A shot at an NL Wild Card spot. They trail the Pirates by 1 1/2 games.
Last week: NR
14. Indians: Do the Indians have another run in them, similar to last year's incredible late-season push? If so, they're going to need it now. After a weekend sweep at the hands of the Tigers, Cleveland sits 6 1/2 back in the AL Central and five back in the AL Wild Card. And the Tribe may have lost another regular to injury with Ryan Raburn going down Sunday with a hyperextended left knee.
Last week: 11
15. Yankees: Barring a late streak, it appears the final legs of Derek Jeter's farewell tour will not involve the postseason. The Yanks trail Kansas City by five games for the final AL Wild Card spot, and they still have four-game series against both the Orioles and the Blue Jays.
Last week: 15