MLB.com Columnist
Tracy Ringolsby
A's regain destiny, right on schedule
Oakland won't look ahead, but has favorable slate going forward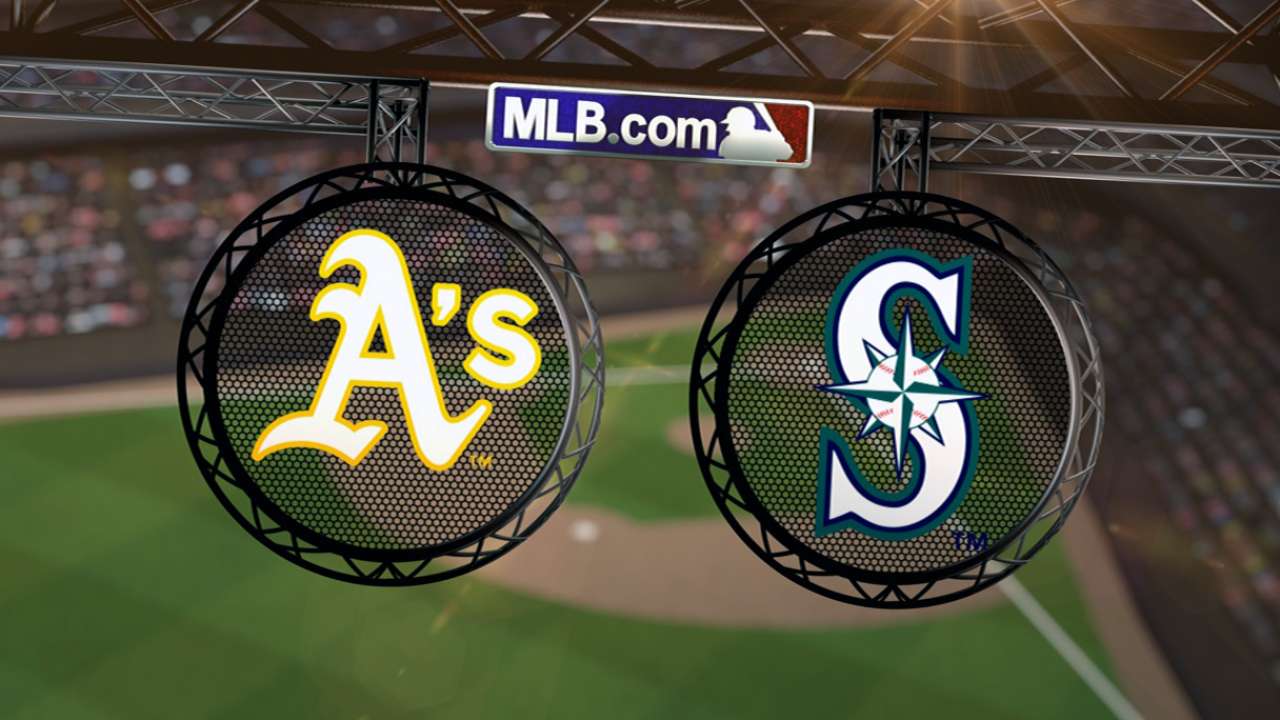 SEATTLE -- OK, there are two weeks left in the regular season, and there are 13 games remaining on the Athletics' schedule. And yes, the A's did put themselves in control of the American League Wild Card race with back-to-back wins against the Mariners on Saturday and Sunday.
But manager Bob Melvin said he's not looking at what should be a promising schedule for Oakland in the final two weeks of the regular season. His focus, he said, is on Tuesday night's game against the Rangers. It is the opening game of a nine-game homestand that is a prelude to a season-ending four-game trip to Texas for another matchup with the team that has a big league-worst record of 57-92.
"The schedule means nothing," said Melvin, whose team had lost 22 of 31 games prior to claiming back-to-back wins for the first time in three weeks, and had seen a four-game AL West lead turn into an 11-game deficit. "Our schedule looked good at the start of the second half. Our travel was better than it had been [before the All-Star break], but it didn't help us."
Maybe not, but it's apparent that while Melvin and his staff are adamant they aren't looking ahead, they are peeking a little bit. They did, after all, juggle the rotation for the stretch run, and with the adjustment, it just happens to be lined up so that Sonny Gray would start the final game of the regular season, which would put postseason-proven Jon Lester in line to start either a Game 163, if a tiebreaker game is necessary, or the AL Wild Card Game that opens the postseason.
What cannot be denied is that the Athletics regained control of their own destiny with those wins against the Mariners, which included a 3-2, 10-inning victory in a game that Felix Hernandez started on Saturday night.
"All told, when you [do that], you can get to feeling better about yourself," Melvin said. "You lose a tough first game [in the series on Friday], and then you face Felix."
Felix escaped with a no-decision, but what mattered to the A's is that the Mariners didn't win that game -- which would have allowed Seattle to slip ahead of Oakland in the AL Wild Card race. And then the A's managed a 4-0 victory on Sunday, when Lester battled his way through six shutout innings and Brandon Moss homered for the first time in 39 games.
"If there was a series we needed to win, it was this one," said Moss. "You don't want to be sitting a half-game out with these guys and then Detroit [leading the Royals in the Central] and Kansas City playing the way they're playing.
"You don't want to depend on other people to take care of your business for you. You want to go out and win the games you're supposed to win and take care of your own business. It was a big series."
And the A's do have the most promising schedule of the serious AL Wild Card contenders. They have the nine-game homestand that includes visits by the Rangers, Phillies and Angels, and then Oakland finishes with that four-game trip to Texas. The Mariners, meanwhile, have only three remaining games at home -- a season-ending series against the Angels -- and embark on an 11-game road trip on Monday that takes them from Anaheim (four games) to Houston (three games) to Toronto (four games).
Did the Mariners have an inkling last summer? They did file a request that their schedule be reworked to avoid such a disjointed journey in the final days of this season, but the slate wasn't changed.
And then there are the Tigers and the Royals, battling for the AL Central title with the hope if they can't win the division, they can at least earn one of the AL Wild Card spots. Detroit has only three of its remaining 13 games against a contender -- a weekend visit to Kansas City -- while playing home-and-home series with Minnesota and three games against the White Sox.
Kansas City, meanwhile, has three-game visits this week from the White Sox and Tigers, and then it heads on the road to end the season with three games at Cleveland, where the Royals also will complete a suspended game in which they trail 4-2, and then three at Tampa Bay.
Not that any of the contenders are looking that far down the road.
What matters is today, although peeking at what lies ahead is allowed.
Tracy Ringolsby is a columnist for MLB.com. Read his blog, Write 'em Cowboy. This story was not subject to the approval of Major League Baseball or its clubs.