MLB.com Columnist
Richard Justice
Cards making pitch in surge to postseason
Rotation dominant in September with club poised to make October special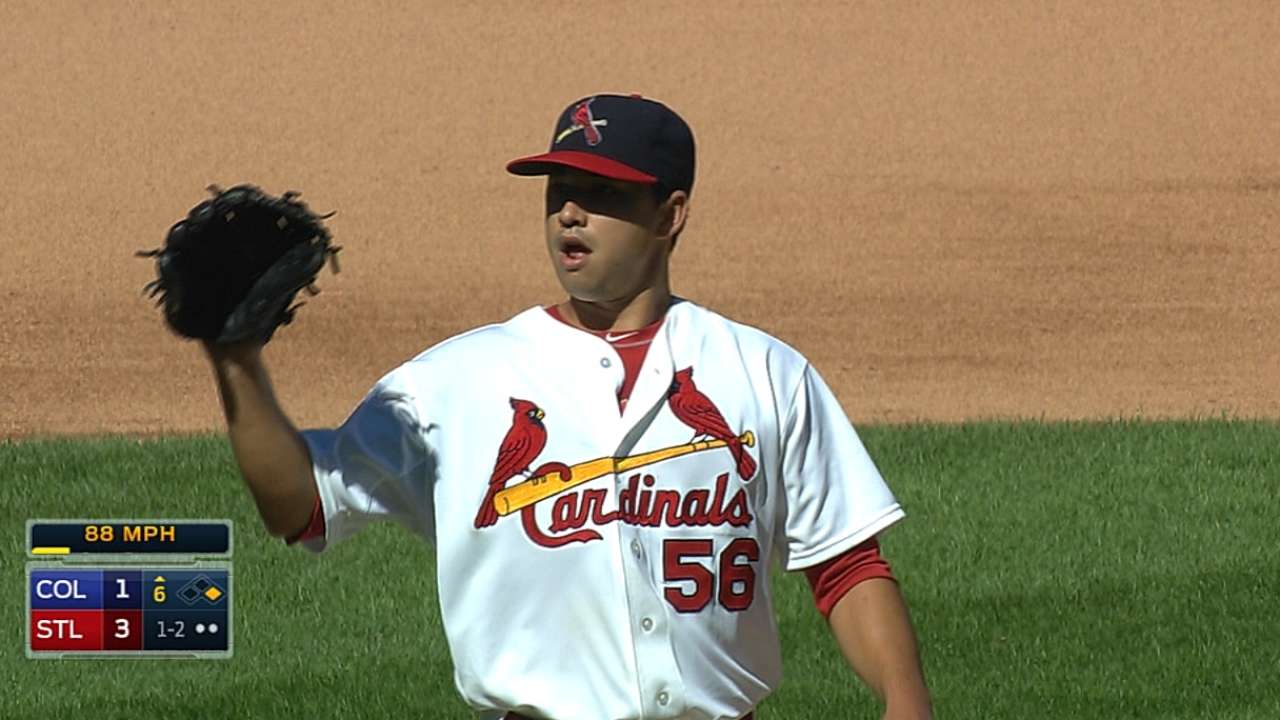 If it's September, it must be time for the Cardinals to assert themselves. That's what they're doing, and that's an indication that October might again be special in St. Louis.
In 2011, the Cardinals went 18-8 in the final month of the regular season to clinch a Wild Card berth on the final day. They kept right on going in the postseason and won their 11th World Series.
Last season, it was the same thing. The Cards went 19-8 in September to win the National League Central to finally wrestle a division championship from the Pirates and Reds. They kept going, wining their 19th NL pennant before losing a six-game World Series to the Red Sox.
Here we go again. The Redbirds are 10-4 in September, and after being tied with the Brewers on the final day of August, they have opened up a 3 1/2-game lead with 12 to play. Manager Mike Matheny has lined up his three top starters -- Lance Lynn, Adam Wainwright and Shelby Miller -- to pitch a three-game series against Milwaukee beginning Tuesday at Busch Stadium.
Ah, pitching.
The Cardinals have a 2.66 staff ERA this month, second only to the Dodgers (2.65) in the NL. This, too, is a positive indicator. In 2011 and '13, the Cards had tremendous pitching down the stretch, rolling up a 3.13 ERA in '11 and a 2.71 ERA in '13.
The Cardinals won't remember this as an easy season. Last season, they had one of the most extraordinary offensive seasons ever, leading the NL in runs despite finishing 13th in home runs (125).
The Cards did it by hitting an incredible .330 with runners in scoring position, a historically high number. That number was so high that general manager John Mozeliak knew it probably wouldn't be repeated.
They haven't. Only the Royals have hit fewer home runs in the Majors this season, and the Cardinals are hitting a middle-of-the-pack .254 with runners in scoring position. As a result, their offense has declined from 4.83 runs per game to 3.85.
Mozeliak prepared for this issue with an aggressive offseason that included the signing of free-agent shortstop Jhonny Peralta, shifting Matt Carpenter from second base to third and inserting rookie Kolten Wong at second.
When Allen Craig struggled, he was traded to the Red Sox for John Lackey. That move deepened the rotation, but it also freed up playing time for rookie Oscar Taveras.
Wong and Taveras have had the usual rookie ups and downs. Given that the bottom line is all that matters, the Cards have ended up where they hoped to be. That is, first place.
Mozeliak also shook up his pitching staff by acquiring Justin Masterson and Lackey for the stretch run. Neither has been dominant. At the moment, Masterson is pitching out of the bullpen and Lackey has been moved back to put the top three -- Lynn, Wainwright, Miller -- against the Brewers.
It's these three -- and rookie left-hander Marco Gonzales -- that give the Cardinals optimism about what's ahead. Even with last year's September-October star, Michael Wacha, working his way back from a shoulder injury, the Cards have to feel good about their pitching.
Lynn has a 2.06 ERA since the All-Star break, and Miller has allowed one run in three starts this month and appears to be as good as ever.
And there's Gonzales, a 2013 No. 1 draft pick out of Gonzaga. He allowed one run in 5 2/3 innings against the Rockies on Sunday and has given up just three in his last 14 innings.
Lackey almost certainly will get the final spot in the postseason rotation, but Gonzales will give Matheny another interesting option for the late innings.
Again, it's not perfect. Nothing has come easy offensively for the Cardinals. Scoring is up slightly this month, to 4.01 runs per game. But with Yadier Molina off the disabled list and Matt Holliday having a big month, it may be enough.
There is no favorite in the NL. The Nationals appear to be the deepest team. The Dodgers have answered every test. The Pirates and Giants are tough, resilient teams.
And there's that little club in St. Louis. We've seen the Cards so much in October in recent years that they're like old friends back for another visit. This September is starting to have that feel again.
Richard Justice is a columnist for MLB.com. Read his blog, Justice4U. This story was not subject to the approval of Major League Baseball or its clubs.