MLB.com Columnist
Anthony Castrovince
With playoffs on the line, all eyes on Yost's handling of Royals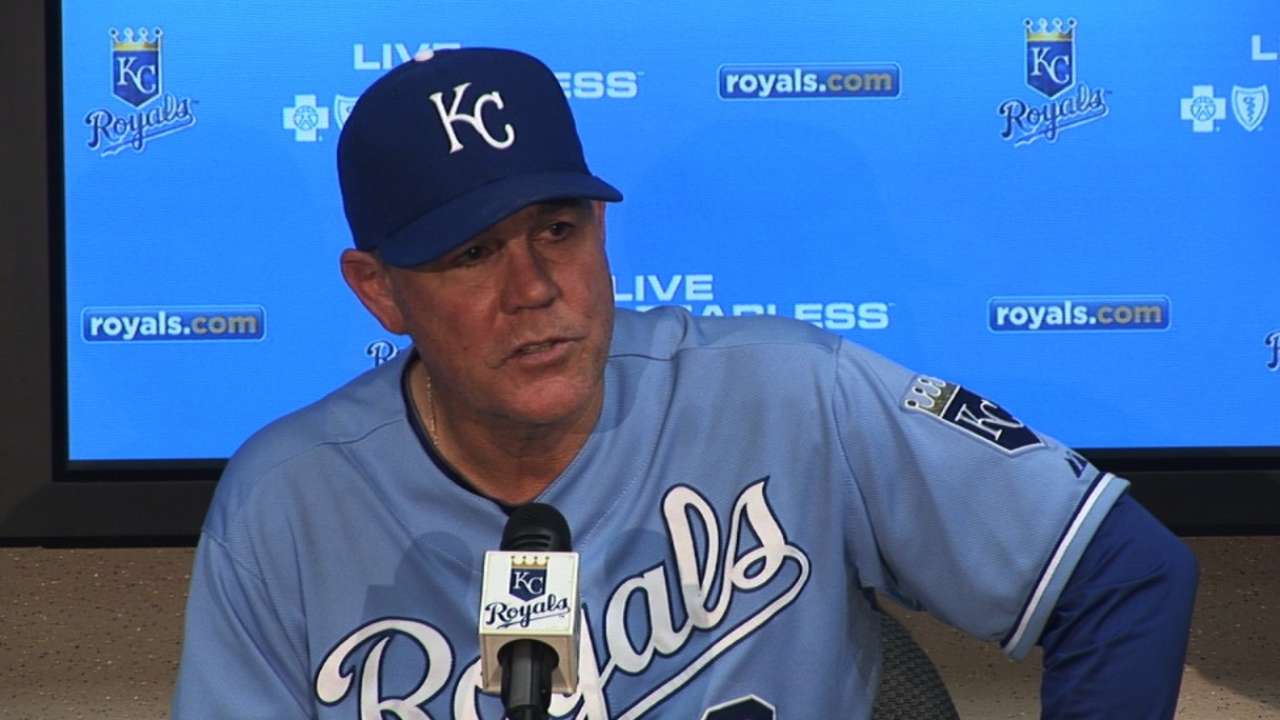 By now, we can agree that the trade for James Shields and Wade Davis worked out far better for the Royals than many of the analysts anticipated.
By now, we can agree that the onus placed upon 2014 by a long-suffering Kansas City organization was, in many ways, justifiable.
By now, we can agree that the Royals are not just an interesting upstart but a legitimate threat to the Tigers' annual ownership of the American League Central.
But what we still don't know, with just 14 games separating Kansas City from the finish line, is whether Ned Yost can be the one to guide this club to and through October.
Manager impact is overrated. We hear this all the time. They get too much credit for winning teams and too much blame for losing teams. And yes, there is plenty of truth in that statement. It's true, in some measure, in Yost's case, as well.
Yet as the season draws toward a close, with the Royals and their 29-year October drought a firm focus, Yost very well might be the Central's most fascinating figure.
You combine his history (dismissed by the Brewers with just 12 games remaining in their 2008 playoff bid) with his team's penchant for close calls (48 percent of the Royals' games have been decided by two runs or less) and the decades-long drama that has forged a frazzled fan base, and Yost, whether he likes it or not (I'm guessing not), is a man in the crosshairs.
Well, you probably know where this conversation is leading. Yost had a bad day Sunday. A sixth-inning Daniel Nava grand slam sent the Royals to an 8-4 loss in the finale of a frustrating four-game set against the Red Sox. The Tigers, meanwhile, wrapped up a three-game sweep of the Indians, which means a Royals team that had a two-game lead on the Tigers a week ago is now a game back in the loss column (technically, two games back, as Kansas City is down 4-2 to Cleveland in the ninth inning of a suspended game that will be completed next week).
So, yeah, bad day.
And it was a day that Yost, frankly, only made worse with his postgame explanation (or lack thereof) for why he let Aaron Crow face Nava in that sixth-inning jam.
It wasn't even Yost's decision to stick with a right-hander to face the switch-hitting Nava (who had a .747 OPS against right-handers and a .393 mark against lefties) that drew the ire of Royals fans, because Scott Downs has certainly had his ups and, um, downs this season. It was the use of this particular right-hander. Yost said he wanted a strikeout in that situation, yet he let Crow, who is striking out a career-low five batters per nine innings this year, go for the throat while sterling setup man Kelvin Herrera (7.8 K's per nine) or even the veteran Jason Frasor (9.2 K's per nine) waited in the wings.
"It's frustrating that we were one out from getting to Kelvin Herrera," Yost told reporters.
This led to the obvious question: Why not use Herrera in the first place?
"Aaron Crow's inning is the sixth inning," Yost explained. "Kelvin's is the seventh."
This was obviously not an artful explanation, and that's what we've come to expect from Yost. He's simply not media savvy, and this only adds to the perception among his detractors that he's strategically overmatched. That's not always a fair perception, but, in this particular instance, the detractors were right.
The sooner managers (and, for that matter, relievers) get away from the thinking that certain guys own certain innings, the better. In a high-leverage situation, Yost went with a low-leverage option -- a guy whose regression this year is well-documented -- while the best arms in one of baseball's best bullpens sat untouched. The only guy warming while the inning got away from Crow was mop-up man Louis Coleman. It was a stunning, inexcusable sequence, and it inspired memories of the tactical mistakes that directly preceded Yost's Sept. 15, 2008, ouster by the Brew Crew.
But the biggest tests still lie ahead for Yost, because the stakes are continually on the rise for teams in the hunt this time of year. They likely won't be higher than they'll be next weekend, when the Tigers come to town.
To his credit, Yost has been mindful all year of the need to avoid overworking his big three in the bullpen -- Greg Holland, Wade Davis and Herrera. Holland, though, has pitched just three times in September because of triceps soreness that may or may not linger in the coming days, which is an obvious challenge. More to the point, Sunday's game made it clear that Yost has to show a greater sense of urgency with his setup men now that every inning is of such pivotal import.
Kansas City has another, potentially bigger issue, of course, and that's the club's lack of run production in this final month. Here, Yost acted accordingly and shook up the batting order over the weekend, finally moving Omar Infante down from the No. 2 spot where he had long struggled and opting for more speed at the top in Alcides Escobar, Nori Aoki and Lorenzo Cain. We'll see how long this lineup sticks (and works), but at least Yost came a long way from his stubborn stance mere days earlier, when he said it would be "kind of dumb" to even consider dropping Infante down in the batting order.
This is a time when Yost has to be open-minded and aggressive, and this is a time when it is legitimately fair to analyze and scrutinize every decision he makes. Because the fact of the matter is that, here in the September stretch run, both the Royals and Yost are trying to overcome a stigma, trying to reinvent a reputation.
All eyes are on the Royals. And whether he likes it or not, all eyes are on Yost, too.
Anthony Castrovince is a reporter for MLB.com. Read his columns and follow him on Twitter at @Castrovince. This story was not subject to the approval of Major League Baseball or its clubs.