Postseason Picture for Monday, Sept. 15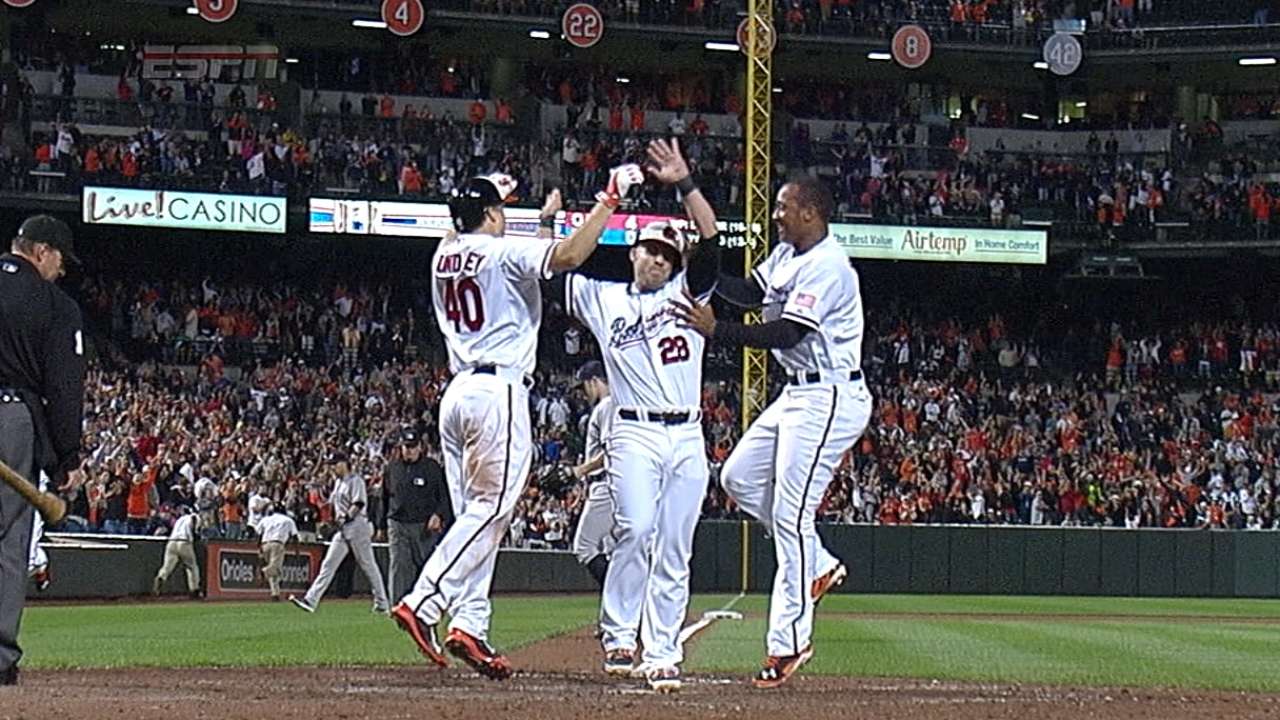 The Baltimore Orioles are the closest to clinching. The Oakland A's looked like they might be in serious postseason trouble after Friday's series-opening loss to the Mariners, but two wins in a row in Seattle have them back in good shape. The Detroit Tigers have to be feeling good about their recent play, too.
Those weekend developments have made the American League situation a bit more clear with two weeks remaining in the regular season. Kansas City still holds the second Wild Card spot and has a one-game lead over the Mariners entering Monday as the Pulse of the Postseason ticks ever closer to Game No. 162.
In the National League, the strongest contenders are holding court. Washington is rolling to an NL East title while St. Louis is still looking good in the Central and the Dodgers did what they had to do over the weekend to keep their somewhat comfortable cushion over the second-place Giants. San Francisco and Pittsburgh remain in the driver's seat for the Wild Cards, although Milwaukee is only 1 1/2 games behind the Pirates.
IF THE POSTSEASON STARTED TODAY ...
American League
Wild Card: Royals at A's
Division Series: Wild Card at Angels | Tigers at Orioles
National League
Wild Card: Pirates at Giants
Division Series: Wild Card at Nationals | Cardinals at Dodgers
It took a while in Baltimore, but the Orioles walked off winners over the Yankees and trimmed their magic number to three. Kelly Johnson's RBI hit in the bottom of the ninth had Camden Yards celebrating and the Orioles one day closer to looking forward to an eventful October.
Kelly Johnson has been officially initiated by @SimplyAJ10. #Birdland pic.twitter.com/EAxcu4wAXX

- Baltimore Orioles (@Orioles) September 15, 2014
There was a reason the A's traded their cleanup hitter, Yoenis Cespedes, for starter Jon Lester, and Oakland fans -- and Seattle fans -- saw it first-hand at Safeco Field on Sunday. The A's needed a win to solidify their position as the top Wild Card team in the AL, and Lester delivered with six shutout innings.
The Oakland bullpen added zeros in the last three and the A's exited the Pacific Northwest with two straight wins, a series victory, and a 1 1/2-game lead over Kansas City in the Wild Card standings.
"If there was a series we needed to win, it was this one," said A's outfielder Brandon Moss, who homered in the game. "You don't want to be sitting there a half-game up or whatever it might be on those guys, especially with Detroit and Kansas City playing the way they're playing.
"You can't depend on other people to take care of your business for you. You have to go out and win the games you're supposed to win. We did a good job of that this series."
Detroit did that, too, winning three in a row over the Indians to grab a 1 1/2-game lead over Kansas City in an AL Central division that has evolved into one of the most extreme see-saw battles in the entire pennant race.
.@JDMartinez14 and @IKinsler3 each homer as #Tigers sweep Indians. Recap: http://t.co/pAQS92FG7n pic.twitter.com/T1RkeGncR0

- Detroit Tigers (@tigers) September 14, 2014
The Mariners are nowhere near out of the postseason picture, but they need to start winning again and must do it away from Seattle.
#Mariners drop the series finale to #Athletics. Final: 4-0. An 11-game roadtrip starts tomorrow night in Anaheim.

- Seattle Mariners (@Mariners) September 14, 2014
In the NL, the Pirates have found themselves again at the right time and seem to be playing their best baseball now that the playoff prize is in sight. On Sunday against the Cubs, they got a good start from Edinson Volquez, a homer from Neil Walker that set the franchise record for long balls in a season (20) by a second baseman, a little bit of everything from Josh Harrison and a triple play.
"You could feel it right away, as soon as we turned the triple play," Harrison said. "Then Walker hits the home run. We do a good job of not letting whatever happened affect us. We just kept pushing."
The same went for the Dodgers, whose ace, Clayton Kershaw, solidified his case for another Cy Young Award with his league-leading 19th victory of the year. The day after beating the Giants in San Francisco by a score of 17-0, winning by a 4-2 score was enough.
"We got the crowd out of these last two games, and that's the key to having success at AT&T Park," Dodgers outfielder Matt Kemp said. "We put runs up, they kind of hush up. That's what we did for two games. They beat us up the first game, the next two we came back."
This week, while the Orioles work on making it official, the Nationals can clinch the NL East with two quick wins against the Braves in Atlanta. The Angels can clinch the AL West soon, too, depending on what they do against the Mariners and what the A's do beginning Tuesday against the Rangers.
TODAY'S KEY GAMES TO WATCH (all times ET)
Nationals (Strasburg, 11-11) at Braves (Santana, 14-8), 7:10 p.m. Preview
Strasburg can get his personal record over .500 while cutting the Nationals' magic number in half. The Braves will lean on one of their most consistent starters this year, Ervin Santana, to stay alive.
White Sox (Danks, 9-11) at Royals (Shields, 14-7), 8:10 p.m. Preview
"Big Game James" Shields has pitched to his nickname of late, and the Royals are looking for another huge effort from him at home as they keep trying to catch the Tigers in the AL Central.
Tigers (Scherzer, 16-5) at Twins (Milone, 6-4), 8:10 p.m. Preview
The Tigers need to go on the road with their AL Central lead to protect, but they're up against a sub-.500 club, and they've got their ace, Max Scherzer, on the mound, so they've got to like their chances.
Mariners (Iwakuma, 14-7) at Angels (Shoemaker, 15-4), 10:05 p.m. Preview
An Angels win would reduce their magic number to three, and it would be fitting if it was accomplished by Matt Shoemaker, who has been a savior for manager Mike Scioscia's starting rotation this year.
MAGIC NUMBERS
To calculate a team's magic number, take the number of games it has remaining and add one. Then subtract the difference in the number of losses between that team and its closest pursuer.
AL East: Orioles 3 over Blue Jays
AL Central: Tigers 13 over Royals
AL West: Angels 4 over A's
AL Wild Card 1: A's 13 over Royals
AL Wild Card 2: Royals 14 over Mariners
NL East: Nationals 4 over Braves
NL Central: Cardinals 10 over Pirates
NL West: Dodgers 11 over Giants
NL Wild Card 1: Giants 11 over Pirates
NL Wild Card 2: Pirates 12 over Brewers
TIEBREAKER SCENARIOS
A tiebreaker game will be played to determine a division winner, even if the tied clubs are assured of participating in the postseason. If a division championship tiebreaker is necessary, the head-to-head record between the clubs will determine home-field advantage. If the head-to-head record is tied, then division record will be the next tiebreaker.
If two clubs are tied for the two Wild Card berths, home-field advantage will be determined by the head-to-head record between the clubs. If the head-to-head record is tied, then division record will be the next tiebreaker.
Doug Miller is a reporter for MLB.com. This story was not subject to the approval of Major League Baseball or its clubs.