Hamilton eyes Wednesday return after 'breakthrough' day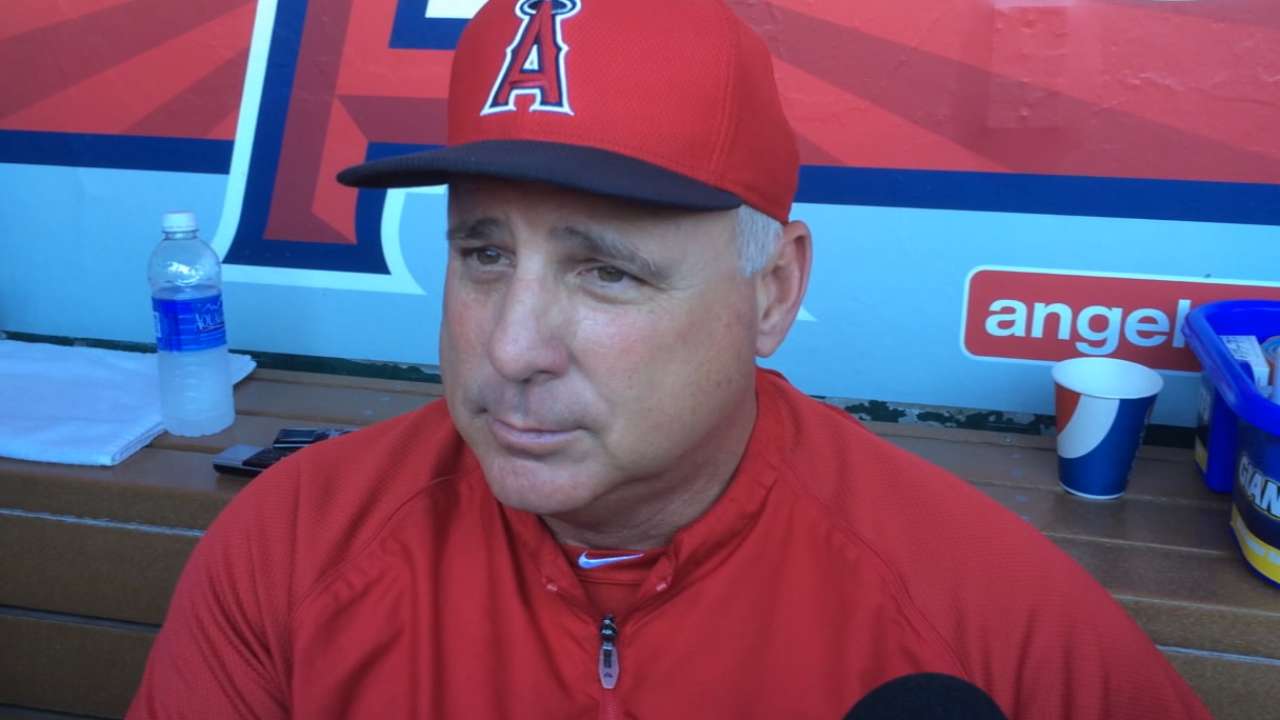 ANAHEIM -- The Angels can finally exhale: Josh Hamilton should return soon.
Hamilton, who hasn't played since Sept. 4 with an injured right AC joint (shoulder area) and trapezius muscle, took swings off a tee indoors before taking three rounds of batting practice outside. He said there was "no pain, no soreness, just a little tightness."
Both Hamilton and Angels manager Mike Scioscia said the 33-year-old outfielder could return as soon as Wednesday, depending on how he feels on Tuesday.
"If I do what I did today tomorrow, and you come back the next day feeling like I came in today, then I wouldn't see a problem with at least DHing the first couple of games," Hamilton said.
One day after expressing excitement about Hamilton's progress, Scioscia lauded Hamilton's workout.
"Hopefully it's a breakthrough day for him as far as his health because his workout was incredible," Scioscia said. "I think he has a couple things that he wants to make sure he rebounds from. Hopefully, we're at a day-to-day status now with him and we'll see how he feels tomorrow."
Since "just the movement of the glove" bothered Hamilton's shoulder, he said the throwing part of the rehab was pushed to the back, ensuring that he will begin at designated hitter before resuming his usual outfield duties.
"That'll be something to work on here in the next couple of days," Hamilton said.
Hamilton probably won't be in his customary cleanup spot, where he has started all but five games this season.
In Hamilton's absence, the Angels have turned to Howie Kendrick in the cleanup role, and he's responded by slashing .476/.511/.762 with 13 RBIs in his last 10 games. Kendrick has seven multihit games over that span and has added 14 points to his batting average.
"Don't know where he'd put me, but wouldn't think he'd have somebody who hasn't played for two weeks [batting cleanup]," Hamilton said. "Leave Howie where he's at. Leave all the guys who have been swinging the bat well, leave them where they're at, and fill me in somewhere."
The Angels have averaged 8.2 runs per game without Hamilton and have hit .315 without him.
"He'll most likely be in the lineup in a spot where he can get some at-bats and not have to carry the burden of hitting in the middle of the lineup," Scioscia said. "Although, at some point, we know our lineup needs him in the middle."
Hamilton likened his return this season to 2010, when he missed 24 games in September and returned just three games before the postseason. That year, Hamilton had five hits in his first 29 at-bats back (.172) before erupting for four home runs and a .350 average in the American League Championship Series, winning ALCS MVP honors.
"I talked to Scioscia about having the approach of, even before this injury, of kind of having the same approach of Spring Training: have good at-bats, see pitches, barrel balls up," Hamilton said. "During the season, you kind of get caught up in the numbers aspect of things. I'm at that point in the season now that I'm coming back and it's going to be like Spring Training."
Matthew DeFranks is an associate reporter for MLB.com. This story was not subject to the approval of Major League Baseball or its clubs.