Jeter has fond memories of Orioles, Showalter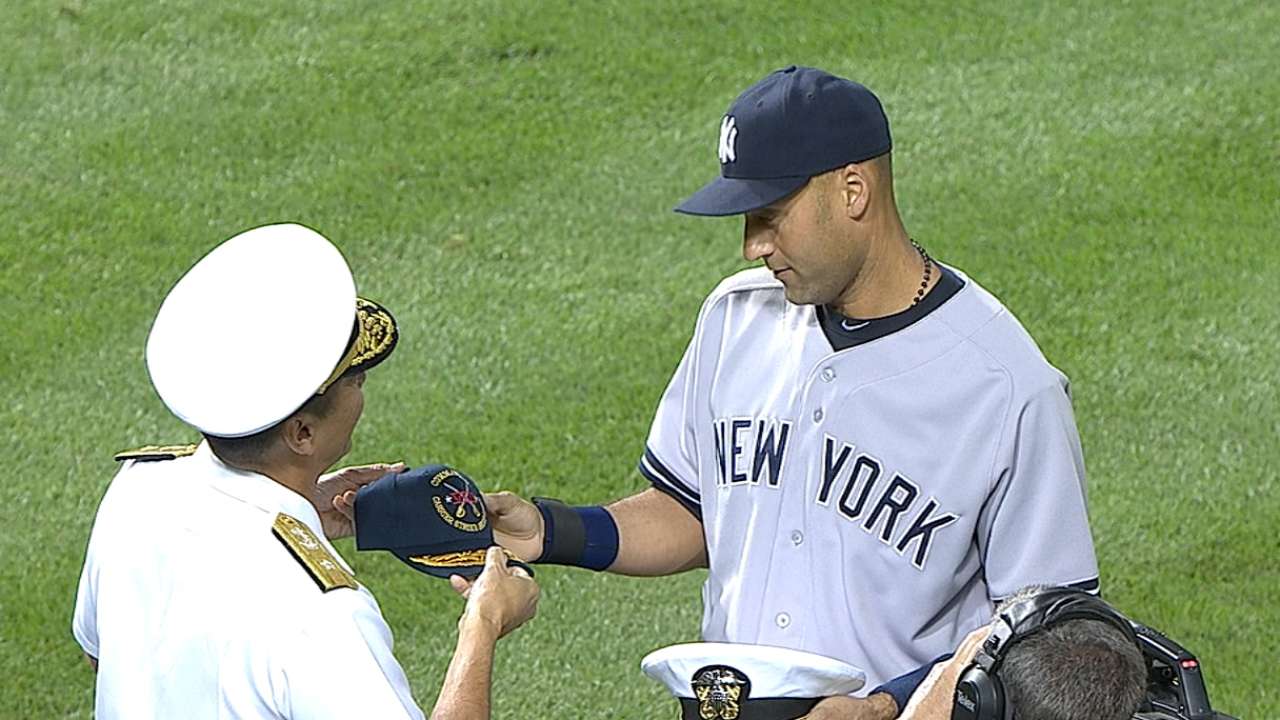 BALTIMORE -- One year ago this month, Derek Jeter trudged into the press conference room in the bowels of Camden Yards to discuss his least favorite topic -- not being in the lineup. In this case, his season was over, reluctantly completed due to a fourth stint on the disabled list.
On Sunday, Jeter followed those same footsteps for a much more preferable conversation. Refusing to let last season's injury-marred campaign be his final memories of a storied big league career, Jeter has had some performance highs and lows, but he is pleased to being ending his career on his own terms.
"I'm happy with the fact that, up until this point, I've been healthy and been able to play," Jeter said. "It's completely different circumstances here."
The Orioles paid tribute to Jeter's career in a pregame ceremony on Sunday evening. Jeter was presented with a United States Navy captain's hat, a bucket of jumbo steamed crabs by former Oriole Boog Powell, and an oversized crab mallet made out of the same wood as his Louisville Slugger bats.
Orioles manager Buck Showalter and outfielder Nick Markakis also helped offer Jeter an oversized cake depicting his jersey, and the club made a $10,000 donation in Jeter's name to the Miracle League of Manasota, a non-profit group that operates near the Orioles' spring home in Sarasota, Fla.
The American League East rivals have a complicated history with Jeter, who heard some boos from the home crowd during the first three games of this series -- rare around the league this year -- but Jeter said that he has very much enjoyed his contests at Camden Yards.
"I just love the stadium," Jeter said. "I love the playing surface. I love the atmosphere. Ever since I first came up, it was always pretty electric here in the stadium. We had to play some pretty tough Orioles teams in the playoffs. It's just a good feeling.
Showalter was in charge of the Yankees' clubhouse when Jeter received his first call to the big leagues, and though Jeter played only 15 games for the 1995 squad, he credits Showalter for allowing the wide-eyed rookie to travel with the team as an inactive player for the playoffs.
"Buck kept me around and allowed me to see what the postseason atmosphere was like, which I think helped me the following year going into the playoffs," Jeter said. "Even though I didn't get a chance to play [in '95], I got a chance to see and feel what the atmosphere was like. I owe him for that."
A year later, Jeter's Yankee Stadium fly ball was heading into the glove of Orioles right fielder Tony Tarasco when young fan Jeffrey Maier inserted himself into franchise history, a play that helped turn the tables in the 1996 American League Championship Series on the way to a World Series title.
"That's a long time ago. Sometimes it feels like it's not so long, but it was a very long time ago," Jeter said. "Those are the memories that I'll share with people ... playing those great teams."
Showalter suggested on Sunday that the Orioles should have given Jeter an enlargement of the Maier homer.
"I would've had Tony Tarasco come out and hand him the picture," Showalter quipped. "That's how we think of him. We're really excited he's retiring."
Jeter replied: "I've already reaped the benefits of it. I don't need a poster. I've had other reminders."
Orioles Hall of Famer Cal Ripken Jr., who paid tribute as a guest for Derek Jeter Day earlier in the Bronx, was also never far from Jeter's thoughts. As a youth, Jeter -- who'd grow to be 6-foot-3 -- would inevitably hear that larger players simply didn't play shortstop at the higher levels.
"Just growing up and playing shortstop and being tall, people would say, 'Well, shortstops aren't tall,'" Jeter said. "The first line of defense is Cal Ripken, and then everybody would shut up, you know what I'm saying? He set the standard."
Showalter said that when he thinks of Jeter's career, the image of him ranging into the hole and preparing to execute a jump throw flickers in his mind. Mostly, though, Showalter said he thinks about the five championship rings -- and without Jeter, the Yankees will lose some of that presence.
"It's a lesson to all of us. This game will move right on," Showalter said. "I think it's just that presence you lose, that voice of reason. You think about all the time he spent there, he never did anything that embarrassed his family, his team, his teammates, the organization, the city. That's real hard to do."
Jeter went 0-for-4 with a strikeout in Sunday's 3-2 Yankees loss, but he was able to leave one final mark at Camden Yards. On Mariano Rivera's last day there as a visiting player, the all-time saves leader used a marker to autograph an oversized MLB logo that hangs in the road clubhouse, adding the inscription "Last to wear #42." Every Orioles opponent has walked by it this year.
Late Sunday, as the Yankees were zipping their travel bags and preparing for the bus ride to the airport, the logo displayed a fresh new signature: "Derek Jeter, 9-14-14."
Bryan Hoch is a reporter for MLB.com. Follow him on Twitter @bryanhoch and read his MLBlog, Bombers Beat. This story was not subject to the approval of Major League Baseball or its clubs.