O's walk off vs. Yanks to trim magic number to three
Johnson's RBI double completes two-run rally in ninth inning vs. NY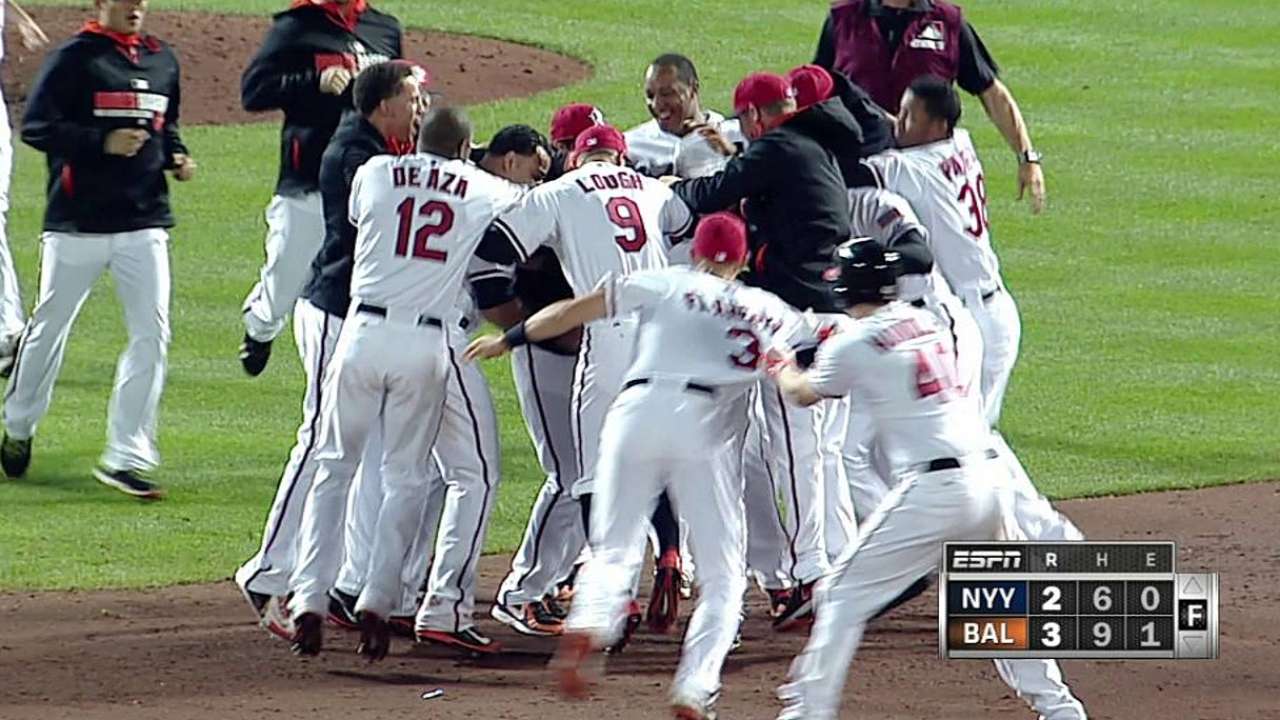 BALTIMORE -- They did it again. The Orioles, down a run with three outs to go, showed their moxie and rallied back to whittle their magic number down to three with a walk-off double from Kelly Johnson on Sunday night.
Ravaged by injuries and further depleted with Chris Davis' suspension, the first-place O's have shown no signs of slowing down as they continue to get contributions from unexpected places, the latest of which resulted in a 3-2 victory over the Yankees as the O's took three games in the four-game set.
"It feels like a first-place team -- [I] bounced around just a little bit now, and you just kind of get a feel that it's meant to be," Johnson, who wasn't even a part of the team a month ago, said of an Orioles team that could clinch the American League East by taking two of three in their next series against Toronto. "Things find a way to happen; you find a way to win rather than ways to lose. It's been pretty cool. I haven't been here long, but I've seen some things I haven't seen before."
Like Nelson Cruz, who opened the ninth-inning rally by hustling for a double, or Steve Pearce -- now an everyday player enjoying a career year -- driving in pinch-runner Quintin Berry with a two-bagger that raised his season average to .290.
Unconventional? Unexpected? Call this Orioles team what you want, they've take everything thrown at them this season and emerged better.
"You act certain ways when your back's against the wall," said center fielder Adam Jones, who doubled in the O's first run in the sixth inning. "The game's not over with, so we just play until that last out."
Johnson, acquired in a late-August trade with the Red Sox, made sure they never saw that out. After Pearce's double tied the game at 2, Johnson sent the first pitch he saw from closer David Robertson deep into right-center field to score Pearce and empty the home dugout out toward second base in jubilation.
"We knew when the ninth inning came around, we're not out of these games," Pearce said. "We're always one swing away, and we fought back and we did it again tonight."
Baltimore got a fantastic effort by Orioles starter Chris Tillman, followed by a rare run off reliever Darren O'Day, whose 2-0 sinker caught just enough of the plate for Yankees catcher Brian McCann to send it out to right field.
O'Day, who entered the game with a 1.30 ERA -- second best among AL relievers -- gave the Yankees a temporary lead until Johnson's heroics.
"He's just had a lot of experience in the American League East, and there's a lot of things you don't have to wonder about," Showalter said of Johnson. "He's been a home player in all the ballparks. You kind of know what you're getting. Kelly's a pro. …Good players execute in situations like that. Let's face it, too, we're trying to win our division, and they're also trying to make some impressions about the postseason, and everybody's grinding."
Tillman continues to pitch like a lock for the playoff rotation, extending his streak of allowing three earned runs or fewer to 19 consecutive games -- third longest in club history. Tillman surrendered only Martin Prado's leadoff homer in the second inning, striking out six in his 6 2/3-inning outing, which marked the O's 11th quality start in their last 13 games.
"You have to command the fastball to both sides, throw the offspeed when you need to," said Tillman, who has pitched to a 1.96 ERA in four starts against the Yankees this season. "Most of it's got to go to [Nick Hundley]. He's doing the pitch calling. He's been fantastic, and our defense has been the same."
Down one early, the O's finally broke through in the sixth, with Jones' double hitting off Prado's glove to stay fair and score Alejandro De Aza. It was the O's lone run off Yankees starter Hiroki Kuroda in his seven innings, as the righty matched Tillman all night.
"They have a good team, obviously. That goes without saying," said Yankees captain Derek Jeter, who was honored in a pregame ceremony before his last appearance at Camden Yards. "Their guys can pitch. Great bullpen. Guys are capable of hitting the ball out of the park, and they can put together some runs. They have many ways that they can beat you, and they showed that in this series."
Brittany Ghiroli is a reporter for MLB.com. Read her blog, Britt's Bird Watch, and follow her on Facebook and Twitter @britt_ghiroli. This story was not subject to the approval of Major League Baseball or its clubs.