Giants not panicking despite series loss to LA
San Francisco falls three games behind NL West-leading Dodgers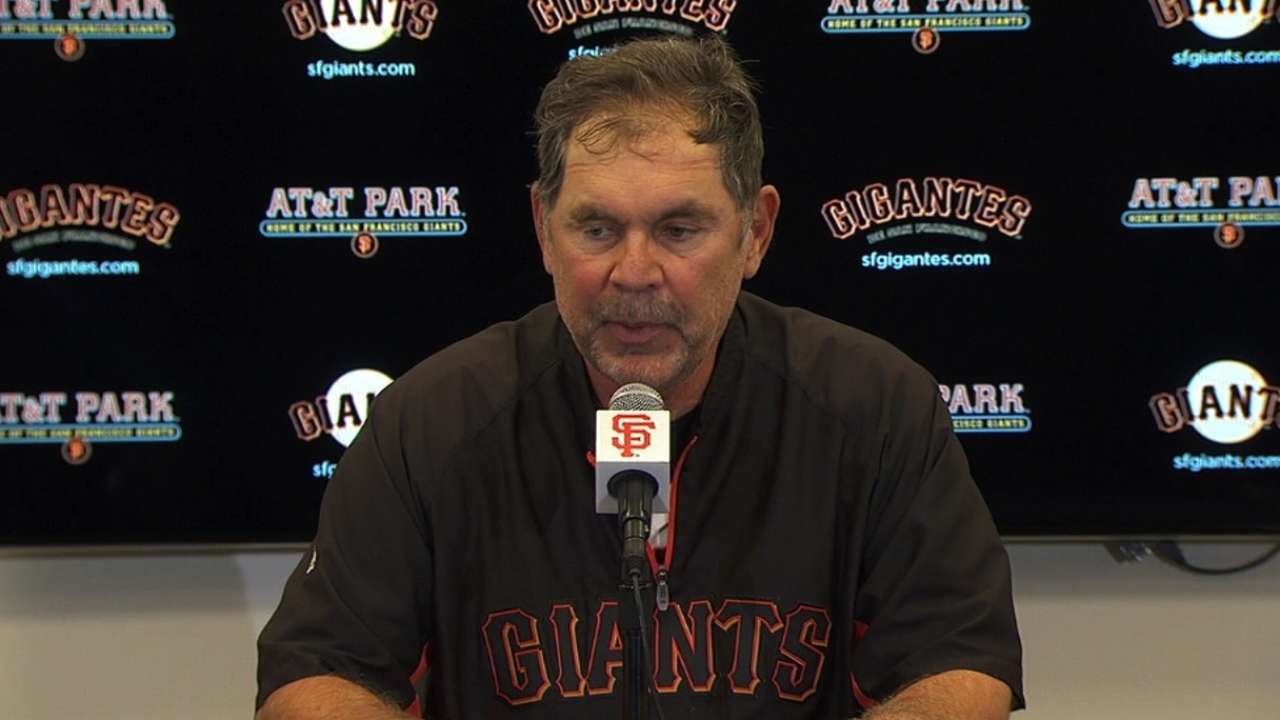 SAN FRANCISCO -- The Giants are assured of a rematch with the Dodgers, which is scheduled for Sept. 22-24. But because of their less-than-ideal performance in this weekend's showdown, which concluded Sunday with Los Angeles' 4-2 triumph, the Giants don't know what significance their return engagement will bear.
The Dodgers' second victory in the three-game set increased their National League West lead over the second-place Giants to three games. It's extremely possible that the rivals will arm-wrestle each other for the division title during their upcoming meeting at Dodger Stadium, where the Giants will conclude a three-city, nine-game trip. But the Giants could find themselves striving to secure a Wild Card postseason berth if the Dodgers continue to gain ground on them. The Giants lead Pittsburgh by three games in the race for the league's top Wild Card spot.
With two weeks remaining in the regular season, it's permissible to raise the subject of the Dodgers' magic number, which is 11. Any combination of Dodgers wins and Giants defeats adding up to 11 will seal the division title for Los Angeles.
Such calculation is premature, in the Giants' opinion.
"Sure, you hate to lose a series to the team in front of you," manager Bruce Bochy said. "But there's a lot of baseball left."
"I don't think anybody's panicking," left-hander Jeremy Affeldt said. "A lot can happen between now and two weeks from now."
However, the Giants realize that they can't let Los Angeles stray too far from them in the standings. Asked if the club must close the gap between themselves and the Dodgers before their next series, catcher-first baseman Buster Posey said, "It'd be nice."
At Dodger Stadium, the Giants must face the pair of starting pitchers who defeated them here: Zack Greinke, who pitched six innings in Saturday's 17-0 rout, and Clayton Kershaw, who maintained his typical dominance of San Francisco in Sunday's finale.
Kershaw (19-3) allowed two runs and seven hits in eight innings as he recorded his 16th consecutive quality start against the Giants -- the longest streak by any pitcher since the legendary Bob Gibson also sustained a 16-game streak from 1968-72. Kershaw improved to 13-5 lifetime against San Francisco, including 8-2 at AT&T Park.
Giants starter Yusmeiro Petit (5-4) worked seven innings, allowing all of Los Angeles' runs (one unearned) as well as eight hits. But a pair of throwing errors, including one he committed, helped the Dodgers score twice in the second inning. One inning later, Posey was thrown out trying to stretch a single into a double, a decision that could have been deemed questionable.
With one out in the second inning and Hanley Ramirez on first base via an infield single, Juan Uribe smashed a ground-ball single to right field. Hunter Pence attempted to throw out Ramirez at third base, but his wide toss eluded Pablo Sandoval. Petit, backing up the play, pounced on the ball and made an accurate throw home. But it grazed the sliding Ramirez and bounced away. Uribe advanced to third base and scored on A.J. Ellis' sacrifice fly. Pence and Petit received errors on the play.
The Giants halved the difference in the third but squandered a chance for a more fruitful inning. Kershaw lapsed by walking Petit, an .050 hitter, with one out. Joe Panik prolonged the inning with a two-out single. Up came Posey, who collected his 26th RBI in 22 games with his hit to left-center field. Unfortunately for the Giants, Posey proceeded toward second base and was thrown out by center fielder Yasiel Puig.
Other than mentioning that Posey lost track of the ball, Bochy declined to criticize his effort: "Sure, that's something you'd like to have back, but he's going all-out. Give them credit. They made a good throw to get him."
Said Posey, "Running to first, I didn't pick [the ball] up great. But he made a good play on it. I don't feel like it was a terrible mistake. I think if the throw's off-line a little bit, I'm safe."
Matt Kemp's two-run homer with one out in the sixth inning lengthened Los Angeles' lead to 4-1. Petit, who has issued one walk in his last 10 appearances, fell behind on the count to Kemp, 2-0, before the Dodgers slugger connected with a hanging slider.
The Giants shaved a run off their deficit on pinch-hitter Matt Duffy's two-out bloop single to center field in the seventh. But Kershaw and closer Kenley Jansen set down the final seven Giants batters.
Chris Haft is a reporter for MLB.com. Read his blog, Haft-Baked Ideas, and follow him on Twitter at @sfgiantsbeat. This story was not subject to the approval of Major League Baseball or its clubs.