Clark capitalizing on chances, aiding Crew's playoff push
Called up this month, outfielder delivers big homer in crucial victory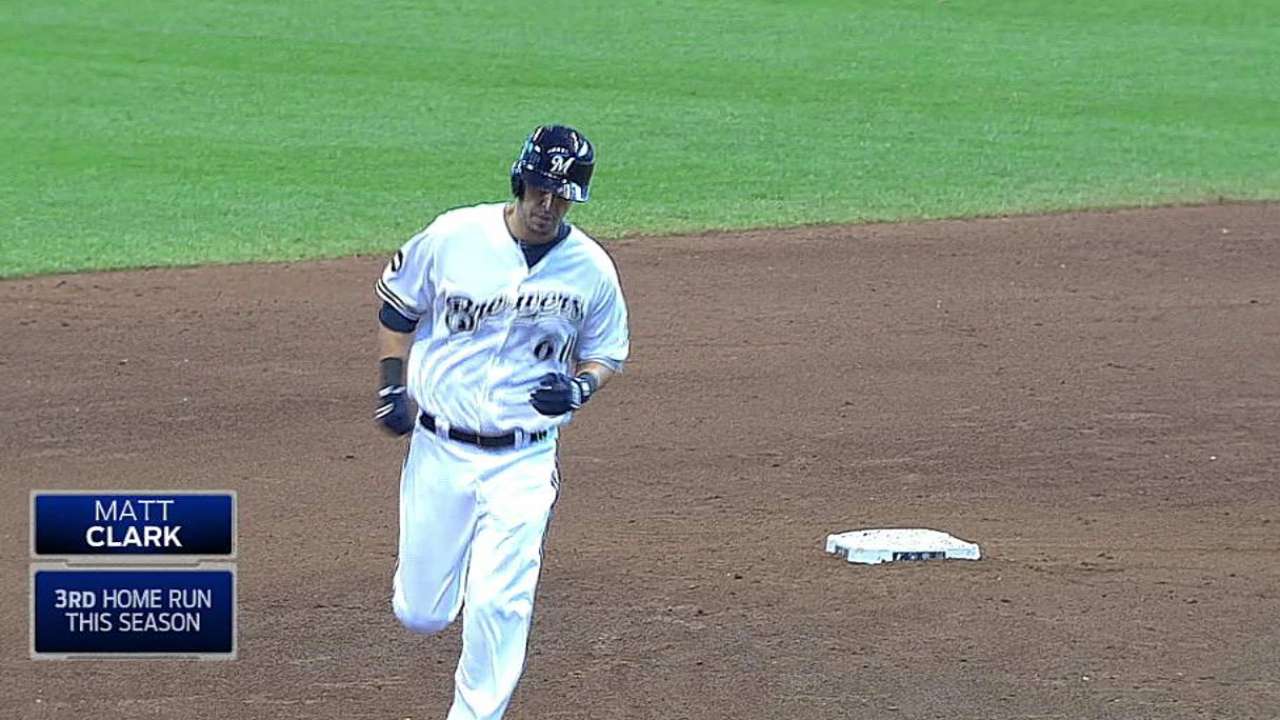 MILWAUKEE -- Mired in the Mets' organization at the Double-A level at midseason, Matt Clark hardly expected to find himself in the middle of a playoff push, much less be a significant contributor.
But Clark is making the most of his late-season opportunity with the Brewers.
Clark blasted a three-run homer Sunday -- his third home run in five days -- as the Brewers broke out their recent offensive doldrums with a 9-2 victory over the Reds.
"It definitely makes it worthwhile, makes it that much more fun," said Clark. "Makes it that much more interesting right now, especially with us going to play St. Louis and Pittsburgh on the next road trip. It's going to be really interesting."
The Brewers trail Pittsburgh by 1 1/2 games for the second National League Wild Card spot and are five games back of St. Louis in the NL Central. After an off-day, Milwaukee begins a crucial nine-game road trip, starting with three games each at St. Louis and then Pittsburgh.
After five years in the Padres' organization, Clark spent the 2013 season with the Chunichi Dragons in Japan, hitting 25 homers with 70 RBIs. He signed as a Minor League free agent with the Mets before this season, but ended up at Double-A Binghamton.
He was granted his release in June and picked up by the Brewers, who needed a first baseman at Triple-A Nashville after Hunter Morris suffered a broken arm.
Clark responded by hitting .313 with 16 homers in 53 games at Nashville, earning a September callup.
The Brewers' first-base situation is crowded with veterans Mark Reynolds and Lyle Overbay splitting much of the playing time. To keep his bat in the lineup, All-Star catcher Jonathan Lucroy also has been seeing action at first.
Reynolds drilled his 22nd home run Sunday, but his average has dipped to .196. The 37-year-old Overbay is hitting .240, but has peformed well off the bench.
Clark hit his first career home run in a 4-1 victory over Miami on ? and followed it up the next night with another homer in a 4-2 win over the Marlins. After being out of the starting lineup for two games, Clark returned Sunday and hit his game-breaking three-run shot.
"That's how they come," said Clark. "They come in bunches. You just try to ride the wave because you know it's not going to last that long. But [I] just keep trying to put good swings on it and see what happens."
Manager Ron Roenicke said Clark definitely is having an impact -- at least short term -- on the offense, which has struggled to produce runs in the second half.
"That's why we brought him up here, was with the idea that if the matchups were good and he did well, I'd be able to put him back out there," Roenicke said before Sunday's game. "With him continuing to swing the bat well, he's going to play a little bit more."
Jim Hoehn is a contributor to MLB.com. This story was not subject to the approval of Major League Baseball or its clubs.