Rockies strike out 16 times in loss to Cards
Lyles posts quality start; Colorado loses six games on road trip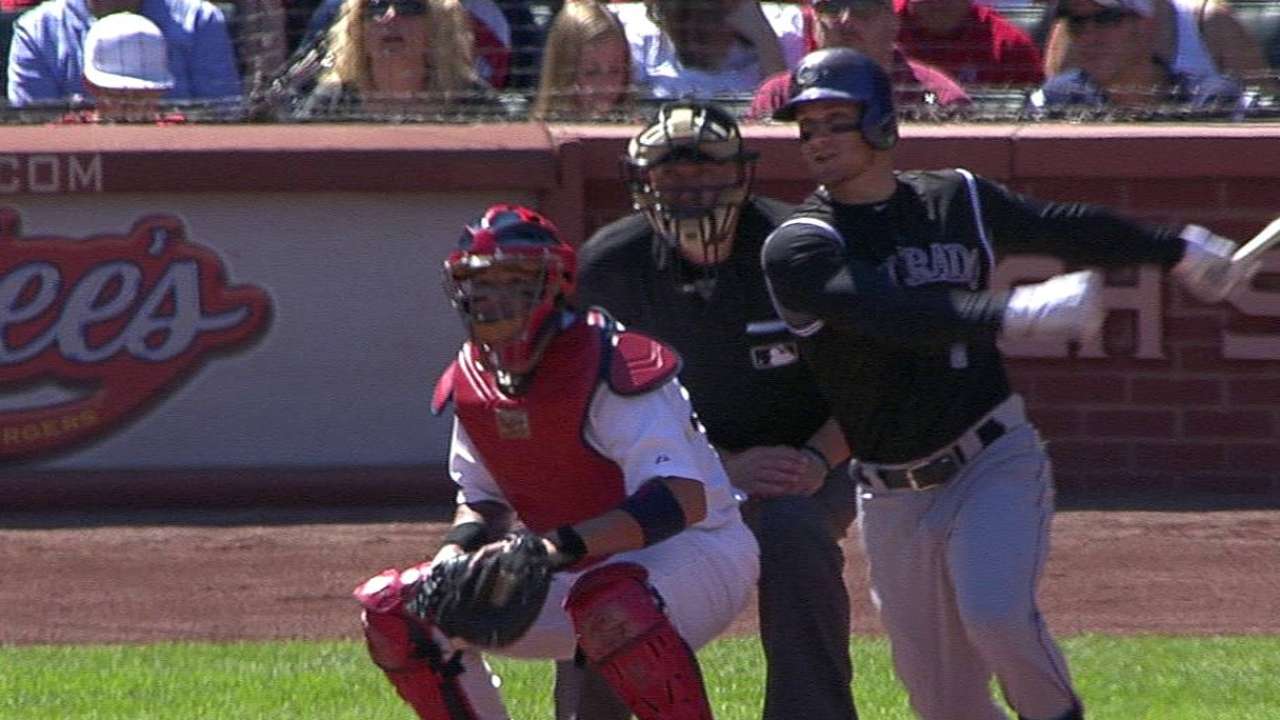 ST. LOUIS -- As the days dwindle this season, the Rockies' road trips seem longer.
A winless six-game trek came to an end Sunday afternoon with a 4-1 loss to the Cardinals, during which the Rockies struck out 16 times -- nine against Colorado high school product Marco Gonzales, a rookie left-hander.
"We can't strike out that many times and expect to do anything offensively," Rockies manager Walt Weiss said.
After being swept in three-game sets against the Mets and the National League Central-leading Cards, the Rockies fell to 20-55 on the road. Their 235 road runs are the fewest in the NL, their .632 road OPS is second lowest and their 678 road strikeouts are third most. Of their 20 road victories, eight came in April and just four have come since the All-Star break.
The Rockies return to Coors Field on Monday for their final homestand of the year, against the Dodgers and D-backs. But they finish the season on the road against the Padres and Dodgers.
The just-completed road trip saw the Rockies squander mostly passable starting pitching by exceeding two runs on offense just once. On Sunday, Jordan Lyles (6-3) went six innings and gave up three runs in the third on Matt Holliday's RBI double and Jhonny Peralta's 21st homer of the season
"It's obviously not good to lose every game on a road trip, but we can't find ways to score enough runs," said third baseman Nolan Arenado, who left the game before the bottom of the fourth with a chest contusion and is listed as day to day.
Brandon Barnes' RBI double, which came after Matt McBride's leadoff walk, gave the Rockies a 1-0 lead in the second inning. But that was it for the offense.
Gonzales (3-2) demonstrated growth from the last time he faced the Rockies, when he gave up five runs in five innings in a no-decision at Coors Field in his Major League debut on June 25.
"The first time we faced him, he was pretty much fastball-changeup, and when you can eliminate pitches it helps you narrow your scope of what you're looking for that day," Rockies outfielder Drew Stubbs said. "Today he mixed in a lot more breaking balls and a little cutter/slider pitch to keep us off his changeup and his fastball."
Gonzales skipped Triple-A before being called up for three starts in late June and early July. The Cardinals sent him to Triple-A Memphis, where he worked on his approach. Since his return he is 3-0 with a 1.80 ERA in four appearances (two starts).
"The curveball has been a big addition," said Gonzales, from Rocky Mountain High School in Fort Collins, Colo. "I think my stint in Triple-A really helped with that, and then back up here, just focusing on throwing it and not trying to do too much with it. I got some swings and misses with it today and got some ground balls."
Lyles pitched around nine hits and two walks. He finished with four strikeouts.
"That pitch to Holliday, that was a good piece of hitting, and he put it down the line," Lyles said. "I made a mistake to Peralta, and good hitters put good swings on bad pitches."
Holliday, who played for the Rockies from 2004-08, drove in five runs and homered twice in the series.
"Maybe his eyes light up when he sees this purple -- he had good years in Denver," Lyles said. "He's a good hitter. Good hitters get on good streaks."
The Rockies also allowed chances to slip away in the sixth and seventh innings. Michael McKenry and Barnes each singled off Gonzales to put runners at first and second with two outs in the sixth. But reliever Seth Maness fanned pinch-hitter Corey Dickerson.
In the seventh, Stubbs tripled to right-center off reliever Carlos Martinez with two outs. But Rafael Ynoa, who replaced Arenado, bounced to the mound. Trevor Rosenthal finished the day by striking out the side during a perfect ninth for his 44th save.
Thomas Harding is a reporter for MLB.com. Read his blog, Hardball in the Rockies, follow him on Twitter @harding_at_mlb, and like his Facebook page, Thomas Harding and Friends at www.Rockies.com. This story was not subject to the approval of Major League Baseball or its clubs.