Leake labors, cites 'dead arm' in loss to Brewers
Righty surpasses 200-innings mark for first time; bats, 'pen struggle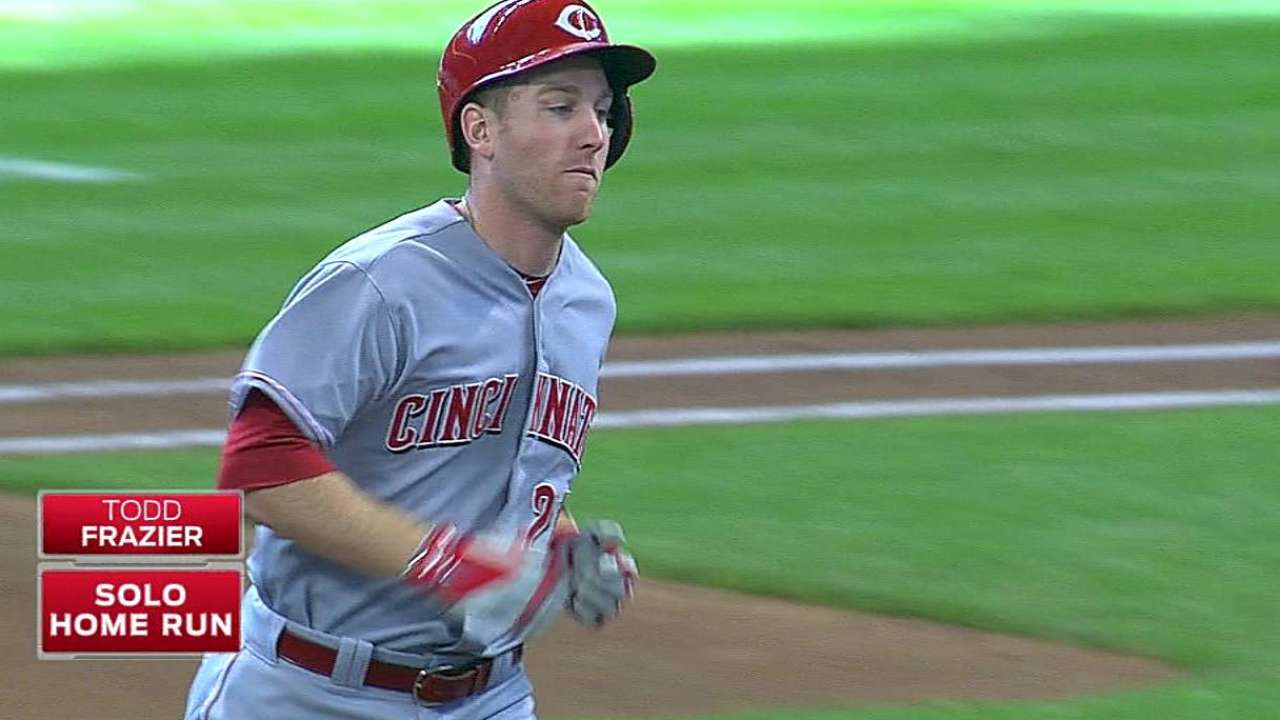 MILWAUKEE -- For the first time in his career, Reds pitcher Mike Leake crossed the 200-innings threshold Sunday afternoon as he faced the Brewers. It's something that the right-hander has sought to achieve, but the satisfaction of a victory did not come with it.
Leake's performance was rocky throughout a 9-2 loss as the Reds dropped two of three in the series at Miller Park. Over the six innings labored, he allowed three runs, eight hits and three walks and struck out three.
"I was trying to find the zone and trying to hit spots, but it was not easy today," Leake said. "I had a little dead arm today. I didn't have the full ability to give full effort today. Dead arm can get you. It's one of those things that's hard to explain, but everybody understands what it is."
In 202 1/3 innings while tying the career-high 31-start mark he reached last season, Leake is 11-12 with a 3.65 ERA.
"Coming into the season, [200 innings] wasn't my complete goal. But as I was approaching it, it became my one goal for this year," said Leake, who had 192 1/3 innings last season. "Now my next goal is try to get to 210. We'll see what happens."
Through the first two innings, Leake had already issued three walks and a pair of hits. He stranded six men on base and had only Carlos Gomez's second-inning sacrifice fly to have his club trailing, 1-0.
Leake was one strike from escaping a jam in the fourth with two runners on and two outs. He had Jonathan Lucroy down 0-2 when the All-Star catcher lined a two-run single to center field to make it a 3-0 game.
"Certainly not his best stuff, or more importantly, his best command," Reds manager Bryan Price said. "He was behind a lot, yanking a lot of pitches off the plate. That doesn't happen very often with Leaker. … They didn't expand their zone much and made him work."
Brewers starter Matt Garza gave up one run over six-plus innings on Todd Frazier's first-pitch homer to left field that led off the sixth. Billy Hamilton started the game with an infield single and stole second base, but Garza retired his next eight in a row. The next Reds hits didn't come until back-to-back, two-out singles from Jay Bruce and Ryan Ludwick in the fourth.
"He was down in the zone," Price said of Garza. "One thing about this series, this umpiring crew called that really low, bottom of the zone strike, and they called it consistently. Pitchers that were able to get the ball down there on the plate had a lot of success."
The game got away from Cincinnati once struggling reliever Logan Ondrusek entered in the five-run seventh. Ondrusek faced seven batters and was charged with all five earned runs and five hits, including Matt Clark's three-run homer that increased the deficit to seven runs.
In his last 9 2/3 innings since returning from the disabled list Aug. 18, Ondrusek has allowed 10 runs. Carlos Contreras gave up a single and two walks before getting the final out in the seventh.
Cincinnati emptied the bench in the one-run top of the ninth, including September callup Yorman Rodriguez getting his first big league hit. Rodriguez pinch-hit and led off with a single up the middle against reliever Rob Wooten and later scored.
Now 71-79 and 12 games out of first place, the Reds' elimination number is one -- meaning either the next win by the first-place Cardinals or another Reds loss eliminates them from contending for the National League Central.
Mark Sheldon is a reporter for MLB.com. Read his blog, Mark My Word, and follow him on Twitter @m_sheldon. This story was not subject to the approval of Major League Baseball or its clubs.