Brewers pound Reds, keep pace in Wild Card race
Clark's homer, Gomez's grab aid solid Garza; Crew 1 1/2 back of Bucs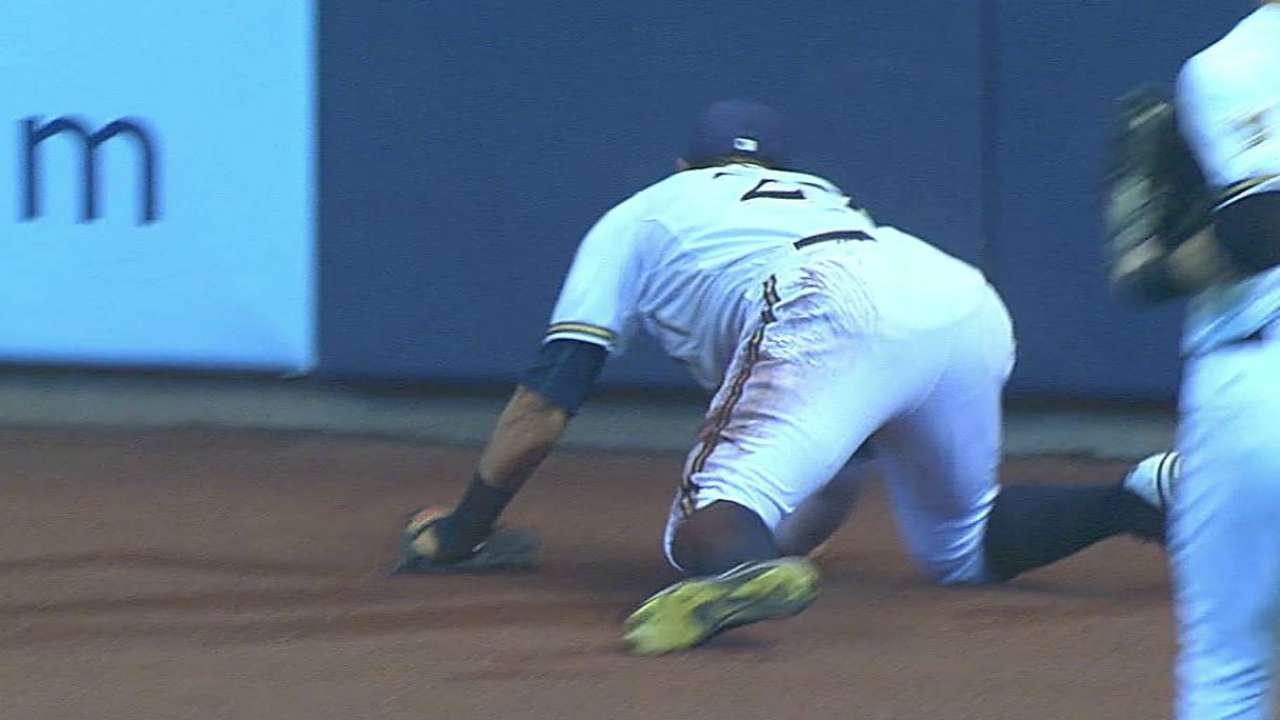 MILWAUKEE --- Just when they needed it most, the Brewers combined an offensive breakout, solid starting pitching and a standout defensive play to post a 9-2 victory over the Reds on Sunday afternoon, building momentum heading into a crucial road trip that includes the two teams ahead of them in the National League Central.
Matt Garza continued his dominance of the Reds and late-season callup Matt Clark belted his third home run in five days as Milwaukee kept pace for the second NL Wild Card spot.
"We're playing ball again," Garza said. "We've had some ugly ones that last couple weeks, so it was good to see everybody on the same page today and see if we can get this thing rolling."
The Brewers, who won for the fourth time in five games, remained 1 1/2 games behind Pittsburgh after the Pirates rallied past the Cubs, 7-3. Milwaukee remained five games back of St. Louis in the NL Central as the Cardinals defeated the Rockies, 4-1.
After an off-day, Milwaukee opens a crucial nine-game road trip against St. Louis on Tuesday at Busch Stadium, followed by series in Pittsburgh and Cincinnati.
"This is where it should come down," Brewers manager Ron Roenicke said. "It's there for us if we play good baseball and the other teams I'm sure feel the same way. It's good that we're playing in our division, which I've said before is what we should be like. And, whoever plays better is going to get in there."
Garza, who tossed a two-hit shutout against the Reds in July, allowed one run on four hits in six-plus innings in his best outing in three starts since returning from a strained left oblique. Garza has allowed two earned runs in 22 innings against Cincinnati this season.
"I thought he did a really good job of making good pitches with downward plane to the bottom of the zone," Reds manager Bryan Price said. "And he pitched ahead. When I looked up, the first 17 or 20 pitches, he had thrown two or three balls. He kind of kept that mentality throughout the course of his outing and didn't give us anything to hit."
Clark, called up Sept. 2 from Triple-A Nashville, keyed a five-run seventh that put the Brewers up, 8-1, delighting the fans at Miller Park. Ryan Braun and Khris Davis singled, then Clark sent a 1-1 pitch from Logan Ondrusek 438 feet into the right-field seats. Milwaukee then bunched three singles and a pair of walks to add two runs.
"That's how they come," said Clark, who spent the 2013 season in Japan. "They come in bunches. You just try to ride the wave because you know it's not going to last that long. But [I] just keep trying to put good swings on it and see what happens."
Mark Reynolds hit his 22nd home run to make it 9-1 in the eighth. The Reds scored a run in the ninth off Rob Wooten.
The nine runs were the most by the Brewers since a 10-1 victory over San Diego on Aug. 24, which was followed by a stretch in which they lost 13 of 14 games. Despite the offensive outburst, however, the game might have turned on a sterling defensive play by center fielder Carlos Gomez.
With the Brewers nursing a 1-0 lead, Cincinnati had runners on first and second with two outs in the fourth. But Gomez kept the Reds off the board, hauling in Zack Cozart's drive deep into the gap in right-center with a sensational running catch.
"That was huge," Garza said. "That takes the air out of their sails right there. If that ball lands, it's tied up and next you know, it could be a different ballgame. But that catch you could tell it just took the momentum right out of them. And then we just went to hitting. It was awesome."
The Brewers manufactured a station-to-station run in the second for a 1-0 lead. Reynolds walked to open and Segura singled to right. Both runners advanced on Garza's sacrifice and Reynolds scored on Gomez's sacrifice fly down the right-field line.
Jonathan Lucroy's two-out, two-run single in the fourth put Milwaukee up 3-0. Todd Frazier pulled the Reds within 3-1, lining the first pitch from Garza in the sixth over the left-field wall for his 26th homer.
Jim Hoehn is a contributor to MLB.com. This story was not subject to the approval of Major League Baseball or its clubs.