White Sox fall to Twins, all but out of playoff race
Abreu ties club's rookie record for HRs with 35th long ball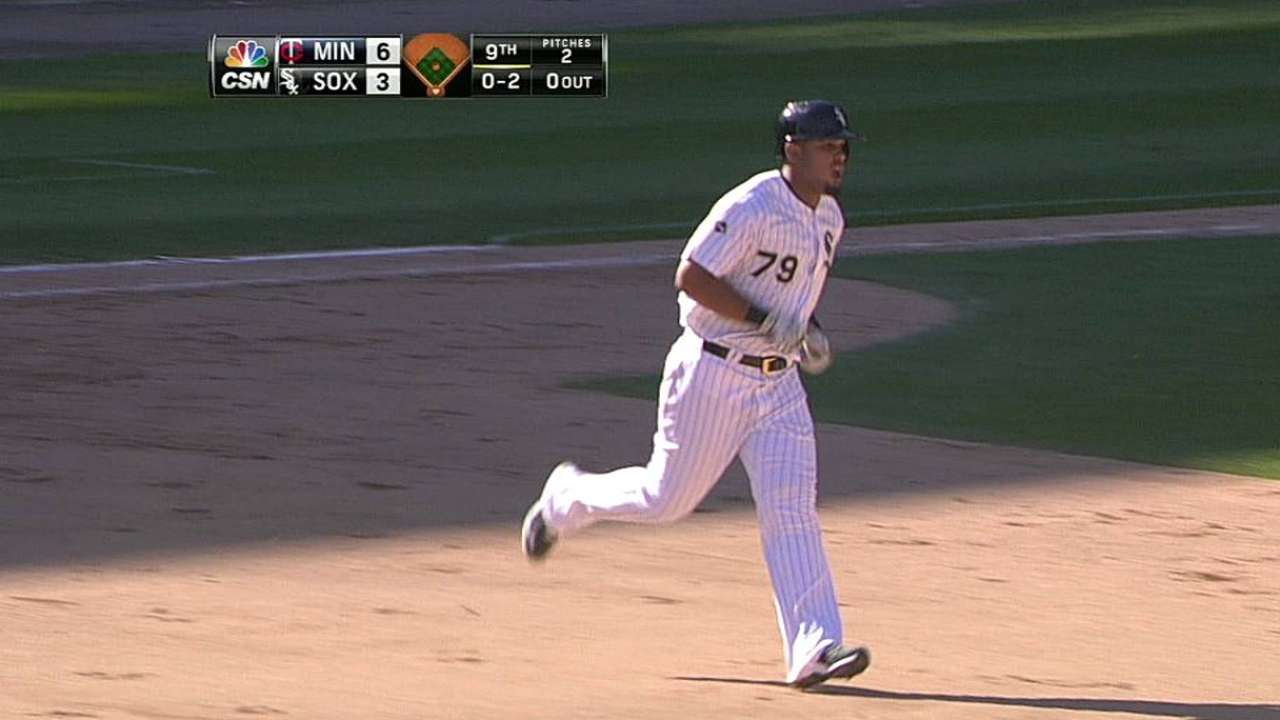 CHICAGO -- The White Sox were all but eliminated from postseason contention by virtue of a 6-4 loss to the Twins Sunday afternoon at U.S. Cellular Field, ending their four-game winning streak in the process.
This setback knocked them out of American League Central contention and the AL's first Wild Card, with an elimination number of one in the second Wild Card. Of course, the White Sox (68-81) didn't need that official "X" by their name in the standings to realize they weren't going to play in October. Their focus has been evaluating talent in September, but a 5-2 homestand still marked one of their top extended showings in recent weeks.
"It was great," said White Sox leadoff man and center fielder Adam Eaton of the team's week, which included three wins in four games against Oakland. "The overall enthusiasm in here and the overall drive to finish strong is here."
"You win some games, you play some tough teams, you play well against Oakland that's in the race," White Sox manager Robin Ventura said. "With the doubleheader, you never know what you're going to get. I thought the guys played tough. They're continuing to play hard, they're getting opportunities for the young guys and I think you're seeing that."
Jose Abreu provided one major highlight in Sunday's defeat, launching his 35th homer off closer Glen Perkins (34th save) leading off the ninth. Abreu opened the ninth by drawing a 14-pitch walk against Perkins on Saturday night, setting up Dayan Viciedo's walk-off shot, but this 0-2 connection tied the White Sox rookie record for home runs in a season with 35. Ron Kittle reached that number as well in 1983.
Abreu homered in back-to-back games for the fourth time this season and the first time since early June.
"I'm happy and proud of what has happened, how I've played this season," said Abreu through interpreter and White Sox director of public relations Lou Hernandez. "Thankful to god that I've been able to play and work the way I have and accomplish some of the things I have this season."
Trevor May (3-4) struck out a career-high 10 over six innings for the Twins, yielding three runs on five hits. May was perfect over the first three innings, before allowing four straight hits to start the fourth from Eaton, Alexei Ramirez, Abreu and Conor Gillaspie. Abreu singled home a run, while Gillaspie's single to left added a second.
But May struck out Avisail Garcia, Andy Wilkins and Viciedo to stall the rally.
"A couple guys hit good pitches, and I hung a curveball there to Alexei and he made me pay for it," May said. "It was weird that I was able to get the first nine guys [out] then gave up four straight hits. Just kind of limiting that as much as you can.
"Sometimes you've got to buckle down and just make one pitch at a time. I tried to do that and was able to get a couple strikeouts together."
Adrian Nieto's solo shot in the fifth, his second homer of the year, brought the White Sox within one, but it wasn't enough to topple the Twins (63-86). White Sox starter Hector Noesi (8-10) gave up five runs on eight hits over 6 2/3 innings, striking out three and walking two.
One of those runs came on Trevor Plouffe's solo homer in the second and two more scored on Jordan Schafer's home run in the fourth.
"I missed a few pitches," said Noesi, who threw 103 pitches. "And then they hit a few good pitches, too. I'm feeling fine. Just off a little bit with my mechanics. I'm trying to stay there and give my team six or seven innings."
Noesi hopes to finish this season strong, especially entering his first year of arbitration. The White Sox hope to do the same thing over the final two weeks, despite nothing more than personal pride on the overall agenda.
Scott Merkin is a reporter for MLB.com. Read his blog, Merk's Works, and follow him on Twitter @scottmerkin. This story was not subject to the approval of Major League Baseball or its clubs.