May fans career-high 10 as Twins top White Sox
Rookie allows three runs in six innings; Plouffe, Schafer crank HRs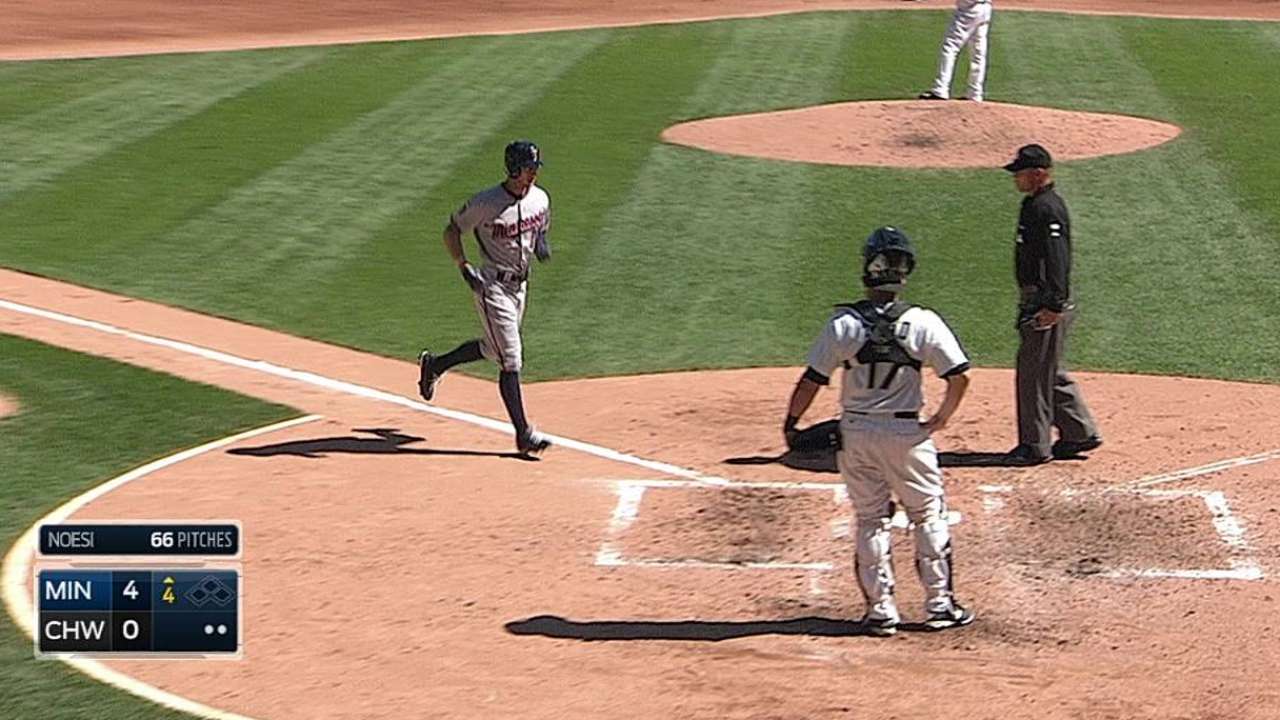 CHICAGO -- Rookie right-hander Trevor May admits that he got away from his approach over the course of his first month in the Majors.
But May said he returned to his aggressive tactics on Sunday -- overcoming a fourth-inning jam --and led the Twins to a 6-4 win over the White Sox to avoid a three-game sweep.
May tossed a career-high 10 strikeouts to the 23 batters he faced, and allowed three earned runs on five hits with no walks over six innings.
With no outs in the bottom of the fourth, May allowed two runs on four straight hits that prompted a mound meeting with pitching coach Rick Anderson, who urged May to "trust his stuff."
May struck out the next three batters on 10 pitches.
"I'm going to be aggressive all day," May said. "There's not going to be a point where I try to be too fine because that's hurt me in the past," said the rookie, who struck out the next three and stranded two to end the inning.
"I just told myself if they're going to score runs, they're going to score them because they're hitting the ball, not because I'm not going after them."
The 24-year-old threw 19 first-pitch strikes. He said his success was predicated on his curveball, what he called his second best pitch to the changeup, which he estimated was only used 10 times in the 93 pitches he threw.
"I used it early and I felt it was good in the bullpen, so we tried to get it going," May said. "Kurt [Suzuki] saw that it was going to be a big pitch for me today and we went with it."
May's six innings also prevented manager Ron Gardenhire from turning to the bullpen earlier than planned -- particularly important given that Anthony Swarzak, a relegated reliever, is slated to start Monday against the Tigers due to rotation attrition.
Jared Burton, Casey Fien and Glen Perkins -- who all pitched in Saturday's doubleheader -- tossed an inning each, and allowed a combined one earned run on two hits.
Jordan Schafer went 2-for-4, belting his first homer of the year, stealing two bases and manufacturing an insurance run in the ninth that helped the Twins hold on.
In 33 games with the Twins, Schafer is batting .300, with seven of his 32 hits going for extra bases. He was hitting .163 in 63 games when claimed off Braves waivers on Aug. 3.
"It's been awesome. I get to play every day, get at-bats," Schafer said of his stint in Minnesota. "Guys are great here in the clubhouse. Gardy [manager Ron Gardehire] has been great, Bruno [hitting coach Tom Brunansky], the coaches, so it's been a real treat to be here."
Schafer started the latter two games of the weekend series in center field, the post he played during the bulk of his career in Atlanta. He's largely been relegated to left during his Twins tenure.
"You try to get work in left field, but I've played so many games and innings in center that it's just kind of nice to be back there and play a couple games there," Schafer said.
Schafer helped the Twins create a 4-0 cushion for the second game in a row -- this time holding on against White Sox starter Hector Noesi.
Trevor Plouffe led off the second inning with his second homer in as many days, picking up his third RBI of the series. Eduardo Escobar hit a sacrifice fly an out later that scored Oswaldo Arcia to give the Twins a 2-0 lead.
Minnesota extended the margin to 4-0 on a two-run homer by Schafer with two outs in the fourth. It was Schafer's first homer since joining the Twins, and snapped a drought of 345 plate appearances without one dating back to June 23 of last year while with the Braves.
"Just off a little bit with my mechanics," Noesi said. "I'm trying to stay there and give my team six or seven innings."
He lasted 6 2/3 frames, allowing five earned runs on eight hits and two walks with three strikeouts.
The Twins return to Target Field for a three-game series against the Tigers riding the heels of a 2-4 road trip.
Daniel Kramer is an associate reporter for MLB.com. This story was not subject to the approval of Major League Baseball or its clubs.