Nava's go-ahead slam lifts Red Sox over Royals
Bogaerts also goes deep as part of career-best four-RBI effort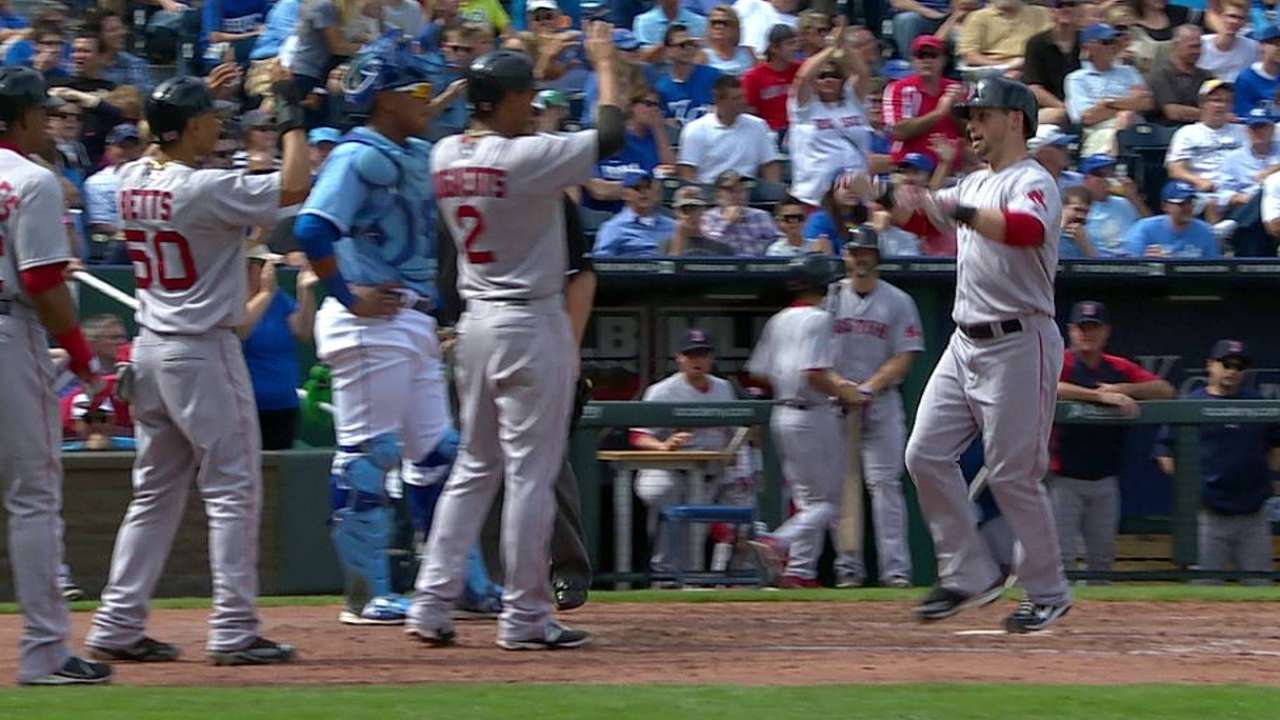 KANSAS CITY -- Daniel Nava's second career grand slam might not have come with the historical significance that his first did, but it was equally, if not more, pivotal.
Nava erased a 4-3 sixth-inning deficit with a slam off Royals reliever Aaron Crow in Boston's 8-4 series-finale win on Sunday at Kauffman Stadium. The Red Sox took three of four from Kansas City, which entered the series atop the American League Central.
Xander Bogaerts joined Nava on the offensive attack with a three-run jack off starter Jason Vargas in the third inning, and a career-high four RBIs. The two homers were enough for Sox starter Joe Kelly, who shook off a four-run KC second inning for his second win with the team.
Nava's first career grand slam is rather famous. The switch-hitter launched it on June 12, 2010, in his first Major League game, at-bat and pitch faced.
"I think the first one holds a little more personal significance than today did. Not to diminish what happened today -- that's just your first at-bat," Nava said.
Back-to-back singles by Mookie Betts and Bogaerts in the top of the sixth set up the go-ahead blast. Vargas retired David Ortiz for the first out, but with two right-handers due up, manager Ned Yost opted to go with Crow.
Crow walked Yoenis Cespedes and then struck out Allen Craig, bringing up Nava. Batting from his stronger left side, Nava skied the first offering from Crow to right field, the ball barely slipping out to put Boston ahead, 7-4.
Yost chose not to bring on a left-hander to face Nava -- who entered Sunday hitting .158 versus southpaws -- for fear that Red Sox manager John Farrell would have countered with Mike Napoli as a pinch-hitter.
"Nava wasn't going to face a lefty. With the bases loaded there, I thought we'd have seen Napoli," Yost said.
Nava can thank the resiliency of Kelly, who rebounded from an early three-run homer from Eric Hosmer, for his opportunity to play hero. After the four-run, five-hit second, Kelly held Kansas City scoreless and hitless through the sixth.
"He had a five-hitter span where they did a pretty good job of getting into some fastball counts, and I think after the second inning he and [catcher] David [Ross] clearly made an adjustment by using his curveball a little bit more," Farrell said. "He's got such electric stuff that he settled in and pitched a solid six innings for us."
While Kelly gained steam as the game progressed, Vargas was strongest from the onset. When Bogaerts dug into the batter's box in the third, Vargas had five strikeouts. Against the 10 batters he had faced to that point, he collected nine swinging misses, including five on his changeup.
Vargas started the duel by coaxing whiff No. 10 on Bogaerts with a sinking change. The left-hander then returned to the pitch on his 0-1 offering, but Bogaerts was prepared this time.
"I swung at the first one, and I missed it," Bogaerts said. "I just thought, 'Let's get a base hit right field' so I could see the ball a bit longer, and I saw it a lot longer and hit it out.'"
Bogaerts cut the deficit to 4-3, as his 12th dinger of the season extended his hitting streak to eight games. He has three home runs during that stretch.
Bogaerts tacked on the Red Sox's final run with a sacrifice fly in the eighth.
Ortiz left the game in the seventh inning to attend to a personal matter.
"He got called away from this game -- there was a family emergency that he had to attend to and he jumped on a flight late this afternoon," Farrell said. "He should meet us in Pittsburgh, but this is something he had to get to."
Jackson Alexander is an associate reporter for MLB.com. This story was not subject to the approval of Major League Baseball or its clubs.