Bullpen hiccup costs Royals ground in Central race
Crow gives up go-ahead slam as KC falls 1 1/2 games behind Detroit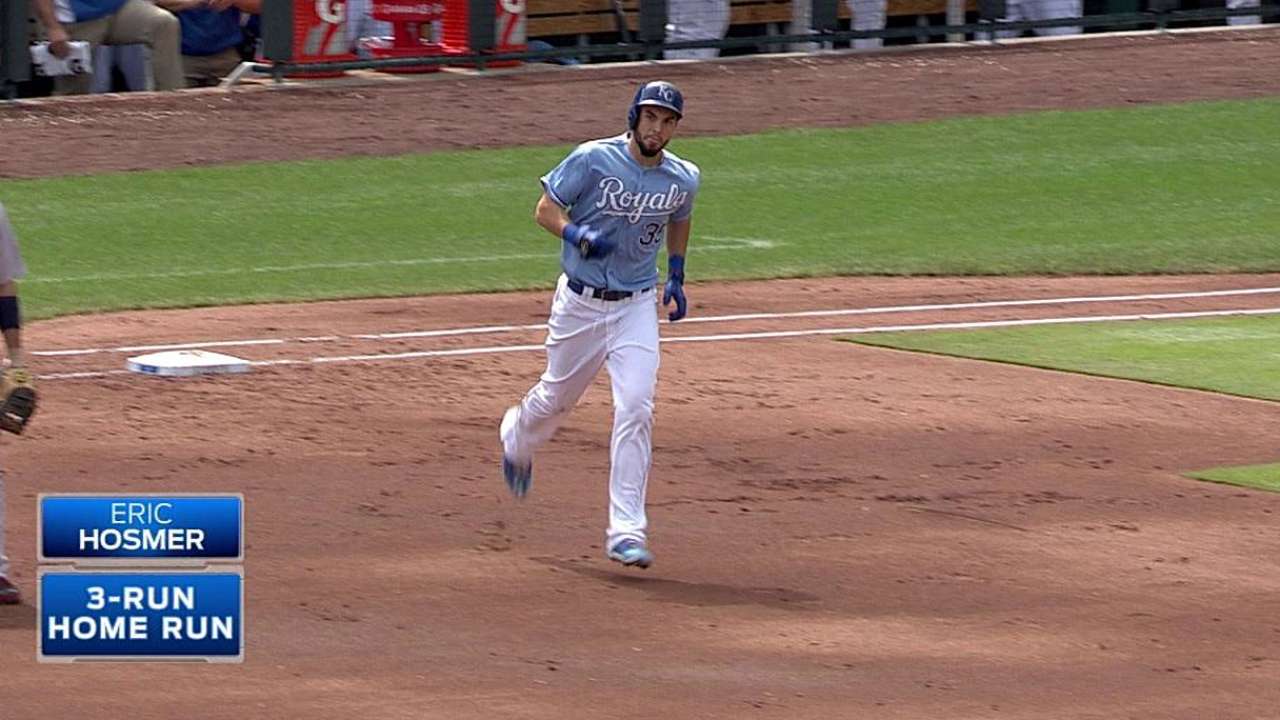 KANSAS CITY -- This is definitely not what the Royals had in mind when the lowly Boston Red Sox came into town for four games. Not three losses.
Yet that's what happened as the Red Sox, with an 8-4 victory on Sunday afternoon, took three of four games in the series, putting a crimp into the Royals' postseason aspirations.
Kansas City was on top of the American League Central by one game when Boston arrived. With Detroit completing a sweep at Cleveland on Sunday, the Royals now trail the first-place Tigers by 1 1/2 games while leading the race for the second AL Wild Card spot by one game.
"Do I think this is going to cause us to fade?" losing pitcher Jason Vargas said. "No, but we need to play better ball, that's for sure, because we're running out of games. When we've had success, we've played top to bottom good ball, and that's what we have to do."
The Royals have lost six of their last nine games. Fourteen games remain -- including a suspended game with Cleveland that they're losing, 4-2, going into the bottom of the 10th.
"You never expect to lose three out of four, especially this late in the season when time's winding down," said Eric Hosmer. "But it's nothing that this team hasn't been through before. We can bounce back from this. There's still time left. ... Two weeks doesn't seem like a long time, but it really is in baseball."
Two big home runs carried the Red Sox on a pleasant 70-degree afternoon with 19,065 fans at Kauffman Stadium.
The Royals' reconfigured batting order, which worked so well in Saturday night's 7-1 victory, was tried again. And it worked quickly again, although not in the first inning this time. No, Royals fans had to wait until the second inning when some of the middle-of-the-order heavyweights got busy.
Alex Gordon and Salvador Perez each singled and, when the count went to 2-0 on Hosmer, he sent Joe Kelly's next pitch sailing high over the center-field wall. A three-run blast, the ball landed about 411 feet away, over the clawing glove of center fielder Jackie Bradley Jr.
The Royals weren't quite finished. Omar Infante and Mike Moustakas each singled and Infante scored as Jarrod Dyson grounded out for a 4-0 lead.
"It was a good start, put us ahead early and Vargy was really cruising there a little bit," Hosmer said. "Xander Bogaerts put a good swing on a pitch and really got them back in the game. We just lost control of it from there on."
In the third inning, Bogaerts pounded a three-run homer into the left-field bullpen to cut the Royals' lead to 4-3.
More trouble surfaced in the sixth with two on and one out. Royals manager Ned Yost decided to replace Vargas with right-hander Aaron Crow.
"I'm looking for a strikeout there and I just thought the matchup was more favorable to strike out Yoenis Cespedes with his changeup and his two-seamer, so we went with it," Yost said.
Crow, though, walked Cespedes to load the bases, fanned Allen Craig for the second out and then gave up a grand slam to Daniel Nava -- a drive into the right-field bullpen that put Boston ahead, 7-4.
"With Cespedes, I fell behind 2-0 and at that point, there was an open base so if I end up walking him, it's not a big deal," Crow said. "It puts a double play in order and an easy way to get out of the inning. I ended up getting Craig out, and with Nava, I just threw a sinker and it really didn't do what I wanted it to and it stayed up and it happened."
Yost was asked why he didn't bring in Kelvin Herrera, who is more of a strikeout pitcher.
"Because I had confidence in Aaron Crow, that's why. And Aaron Crow's inning is the sixth inning, Kelvin's is the seventh," Yost said.
Another option was to use a left-handed reliever to face Nava, a switch-hitter who was hitting just .158 against lefties. Yost believed, however, that the Red Sox would simply pinch-hit a bigger power threat in right-handed-hitting Mike Napoli.
"Nava wasn't going to face a lefty," Yost said. "With the bases loaded there, I thought we'd have seen Napoli."
It was Nava's second slam. His first came in 2010 on the first pitch of his first Major League at-bat.
"I think the first one holds a little more personal significance than today did," Nava said. "Not to diminish what happened today, [but] that's just your first at bat."
The Royals had one last shot, loading the bases in the ninth inning with two outs. Lorenzo Cain was up but was called out on strikes.
"The ball was about a foot outside but, I mean, what can you do?" Cain said. "A tough out."
A tough series for the Royals. Could they afford, Yost was asked, to lose three of four games to a last-place team?
"No," he said. "No, no."
Dick Kaegel is a reporter for MLB.com. This story was not subject to the approval of Major League Baseball or its clubs.