After ninth-inning heroics, Toronto falls in 10
Blue Jays remain four games back of second AL Wild Card spot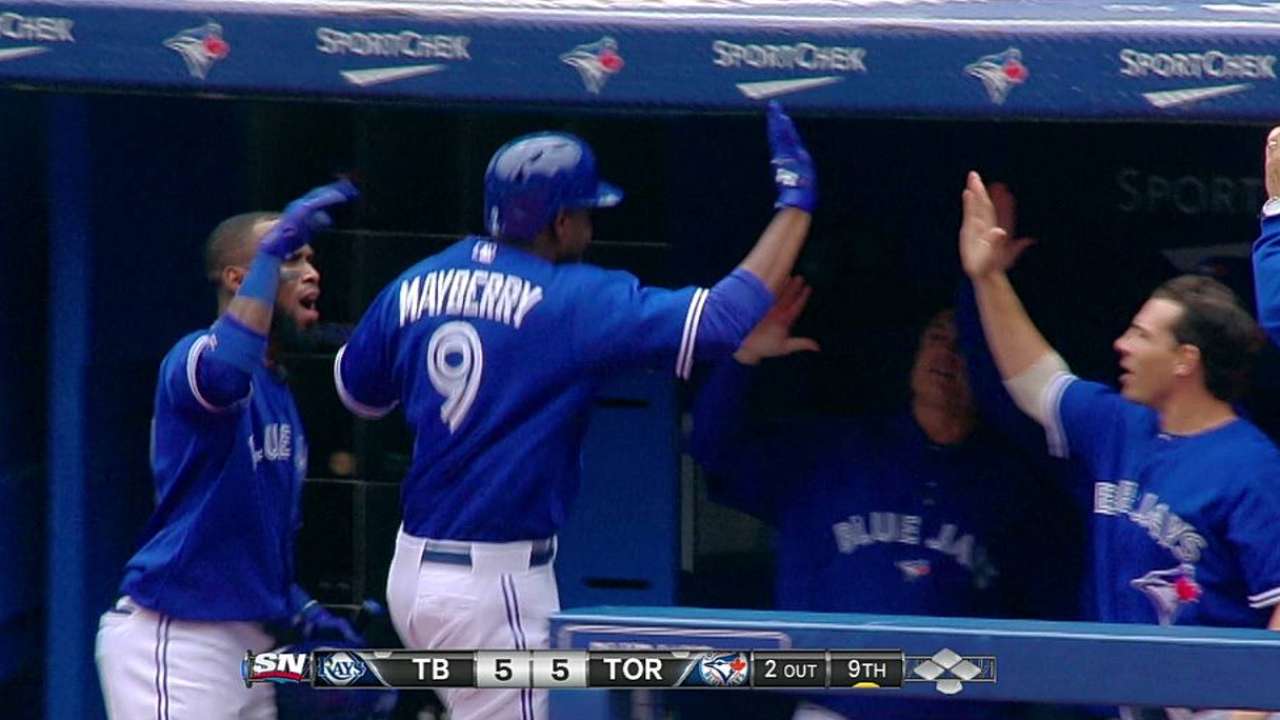 TORONTO -- Every loss hurts, but when it's coming down to the wire in a Wild Card race, they can sting a little bit more. The Blue Jays battled back from a four-run deficit late, but couldn't complete the comeback in a 10-inning, 6-5 loss to the Rays at Rogers Centre on Sunday.
"This time of year, where we're at, there's really no room for error," said Blue Jays manager John Gibbons, whose squad lost an opportunity to gain ground in the American League Wild Card race, remaining four games behind for the second spot.
"It's always tough, too, when you battle back and it's one of those games where not much is happening, and you strike quick. The momentum's on your side, and everyone is upbeat. ... You end up dropping it like that, those are always tough. This time of year, considering where we're at, it's especially tough."
For 7 1/2 innings, it looked like the Rays were on their way to an easy series-clinching victory, carrying a 5-1 lead into the bottom of the eighth. But the Blue Jays wouldn't roll over and rallied for three in the eighth on an Adam Lind homer, before John Mayberry Jr. swatted a two-out, solo shot in the bottom of the ninth to knot the game at 5 and send it to extra innings.
It was Mayberry's fourth pinch-hit homer of the season, which came on a fourth-pitch, 98-mph fastball from Jake McGee.
"Today, if the ball goes an inch or two lower, it's not a home run. Just today, I definitely missed my spot," said McGee, who was the winning pitcher on the afternoon, despite registering his fourth blown save.
Luckily for him, the Rays were able to scrape together one more run in the top of the 10th. Blue Jays reliever Brandon Morrow walked Wil Myers to lead off the inning, before Myers advanced to third on a single from Logan Forsythe, giving Tampa Bay runners on the corners with no outs. Former Blue Jays shortstop Yunel Escobar, despite a chorus of boos, walked to load the bases, and Sean Rodriguez brought home the winning run with a sac fly.
Brandon Gomes and Jeff Beliveau combined for a scoreless inning in the bottom half to shut down the top of the Toronto order, clinching the series for the Rays.
Toronto starter Mark Buehrle, who'd had considerable success against the Rays this season, was knocked around for nine hits and four runs, and Todd Redmond allowed a solo shot to Escobar in the top of the eighth.
Buehrle said that considering the Blue Jays' position in the playoff race, a close loss is a bitter pill to swallow.
"Obviously, we don't like the position we're in with the teams in front of us," said Buehrle, who worked six innings. "If there is one in front of us for a playoff position, it would be a different story. But I think we all know we're not in a good position, and we need some help from other teams, but at the same time, we have to worry about ourselves and win the games we're playing."
After allowing two in the third, Buehrle gave up two more earned runs in the fourth.
Rays starter Chris Archer, meanwhile, was nearly flawless through six innings, allowing only a pair of singles and a pair of walks. It wasn't until the seventh that the Blue Jays' offense showed signs of life, when Edwin Encarnacion went deep to left with a solo shot to make it a 4-1 game.
After Escobar launched his solo shot to left in the eighth, it was 5-1 until the Blue Jays went to work on reliever Grant Balfour. Jose Reyes and Jose Bautista swatted back-to-back singles to give Toronto a pair of runners with one away, before Lind made it a one-run game with a three-run shot to left, preceding Mayberry's homer to send the game to extra innings.
The Blue Jays hit the road for a seven-game road trip to Baltimore and New York before returning home next Monday for their final homestand of the season.
Jamie Ross is an associate reporter for MLB.com. This story was not subject to the approval of Major League Baseball or its clubs.