Mariners miss chance to gain ground
Young solid, but Wild Card hopefuls shut down by A's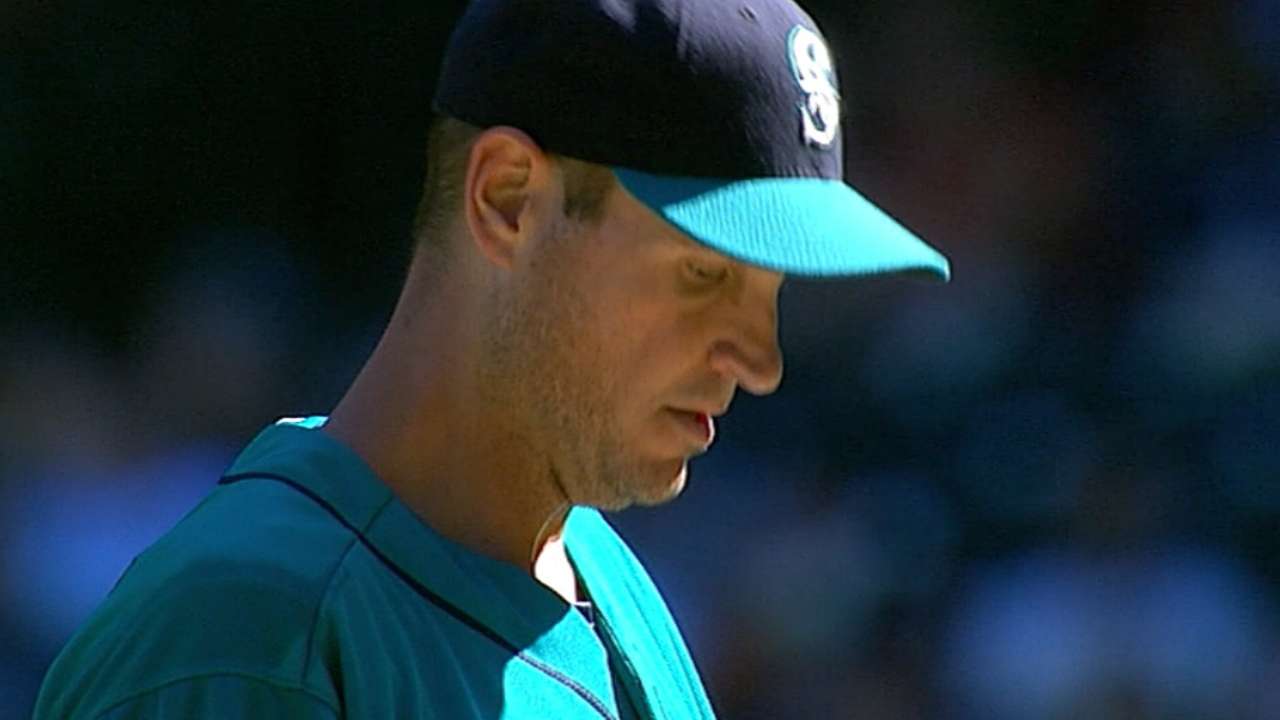 SEATTLE -- The Mariners had plenty of opportunities to earn a series win over the Athletics on Sunday afternoon at Safeco Field. Converting was the problem.
The Mariners pressured Oakland ace Jon Lester early and often, putting runners in scoring position in each of the first five innings, which forced the dominant southpaw to leave the game after throwing 110 pitches in six rocky frames. The offense, though, reverted to its season-long struggles to score runs at home, and the Mariners fell to the A's, 4-0.
In their final game before embarking on an 11-game road trip, Seattle got a solid six-plus innings from Chris Young, but went 0-for-13 with runners in scoring position and left 11 men on base. It was the 17th time the Mariners have been shut out this season.
The loss dropped the Mariners to 80-68 on the season and 2-4 on their latest homestand, but it didn't cripple their chances of making the postseason. The Royals lost to the Red Sox on Sunday, so Seattle stayed one game behind Kansas City for the second American League Wild Card berth.
The loss did, however, hurt the Mariners' chances of catching the A's, who they faced for the final time Sunday. With 14 games left in the season, Seattle is now 2 1/2 games behind Oakland for the top AL Wild Card spot.
"I've always said this, and I think it bears out: You start making too much of a series, you get bit in the next one," Mariners manager Lloyd McClendon said. "For me, the biggest series is the one before and the one after. Not [this] one. We played well. Obviously, we wanted to take two out of three, and it didn't happen."
The series finale came to a head with the Mariners trailing, 2-0, in the bottom of the seventh inning. Endy Chavez and Logan Morrison, pinch-hitting against A's reliever Dan Otero, led off with singles. A wild pitch advanced them to second and third, but Austin Jackson then grounded out. After Michael Saunders fanned, an intentional walk to Robinson Cano loaded the bases.
Kendrys Morales then flied out to end Seattle's last rally.
"I've always said there's never one thing to make you lose a ballgame," McClendon said. "From the first inning on, we had opportunities and obviously the seventh inning was a big, big big opportunity and we just couldn't cash in."
The Mariners were playing from behind from the start after Young's eventful first inning. He struck out leadoff man Coco Crisp before Sam Fuld hit a home run that cleared the right-field wall by a few feet. Young then fanned Josh Donaldson and Adam Dunn, but the A's had a 1-0 lead.
Young's only other major mistake came when Brandon Moss added a home run to begin the seventh. A Jed Lowrie single later, the 6-foot-10 righty was out of the game. Young (12-8) struck out five and walked two in six-plus innings but lost his first home start since the A's beat him July 13.
"Not good enough. We lost the game," said Young, who is 8-4 with a 2.40 ERA in 14 starts at Safeco Field. "Going up against a tough pitcher and he was better than me today. I made a couple mistakes and he didn't."
And Young didn't get much help.
They squandered a chance in the second inning when Justin Smoak walked after Kyle Seager's one-out single. Lester then fanned Chris Taylor and Jesus Sucre.
With two outs in the third, Corey Hart, playing left field for the injured Dustin Ackley, grounded out meekly to first base, leaving Chris Denorfia stranded on third.
In the fourth, Taylor drew a two-out walk and stole second, but Sucre grounded out to end the inning. The fifth ended when Morales struck out with Jackson on second.
"[Lester is] just a tough pitcher," Jackson said after going 2-for-5 and tying a career-high with two stolen bases. When we did get those opportunities, we just weren't able to get that big hit when we needed it."
Oakland added two runs (one earned) in the eighth off Taijuan Walker.
The Mariners are just 38-40 this season at Safeco Field. So maybe it's a good thing 11 of their last 14 games are on the road, where they own an AL best 42-28 record.
"You want to talk about improbable, that's probably as improbable as you can get, so it is what it is," McClendon said. "We haven't been good at home. This was not a good homestand. What the heck are we gonna do? We're going to go on the road and try to win."
Adam Lewis is an associate reporter for MLB.com. This story was not subject to the approval of Major League Baseball or its clubs.