Lester helps A's pad Wild Card lead
Lefty leads combined shutout against Mariners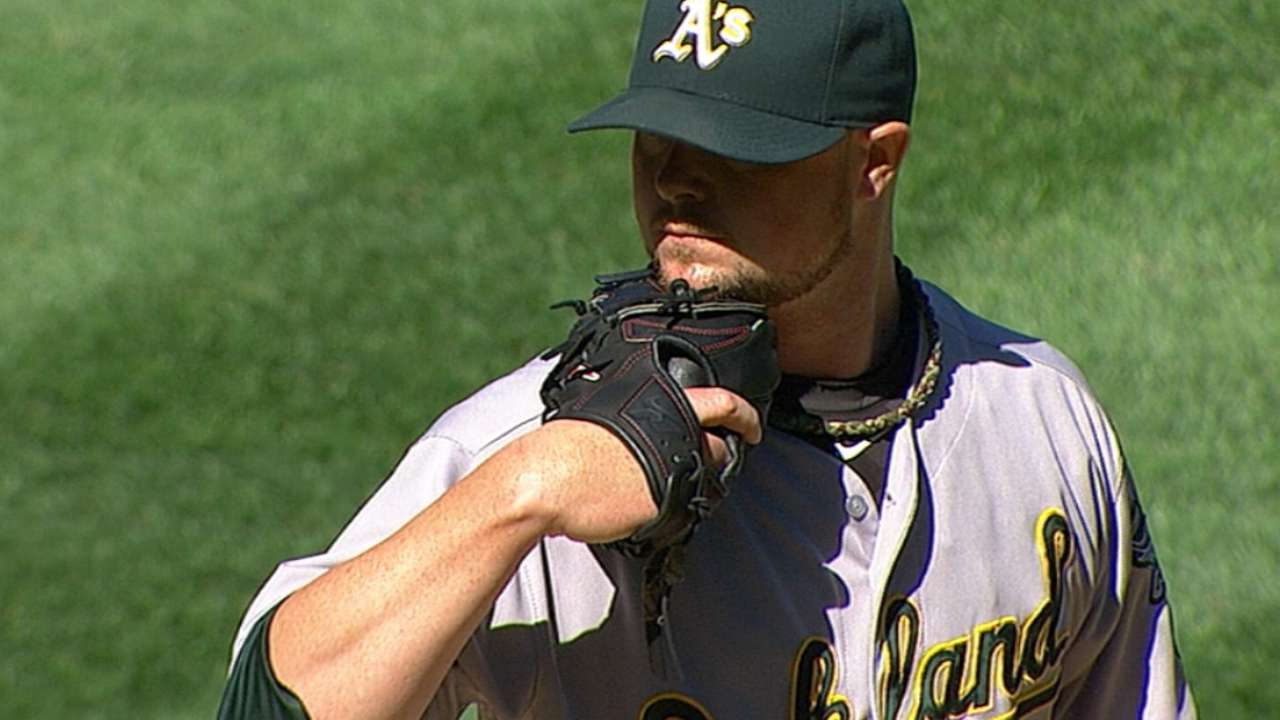 SEATTLE -- Lefty Jon Lester navigated his way through consistent turbulence with ace-like savvy, and the A's gave him two solo home runs from Sam Fuld and Brandon Moss to help put away the Mariners, 4-0, on Sunday and claim this pivotal three-game set at Safeco Field.
It's the first time since Aug. 22-23 the A's have won back-to-back games, ensuring they enter their final off-day of the regular season with a 1 1/2-game lead over the Royals for the top American League Wild Card spot with 13 to play. Seattle sits 2 1/2 back.
"If there was a series we needed to win, it was this one," said Moss. "You don't want to be sitting there a half-game up or whatever it might be on those guys, especially with Detroit and Kansas City playing the way they're playing.
"You can't depend on other people to take care of your business for you. You have to go out and win the games you're supposed to win. We did a good job of that this series."
Fuld provided the first run of the day with a one-out homer in the first off Chris Young and was also responsible for Oakland's third run via an RBI single in the eighth, but it was Moss' seventh-inning long ball off Young that proved most encouraging for these fighting A's, who had dropped 21 of 30 games entering the series.
Moss had not homered since July 24, a week before Lester arrived, snapping a 39-game homerless streak -- his longest with the Athletics. That's why he alerted teammate Jonny Gomes, "Finally, I'm not 0-for-Lester anymore."
He hadn't been doing much of anything, really, following a torrid, 21-homer first half that resulted in his first All-Star appearance. Since that time, leading into Sunday's affair, he had two home runs and a .176 average.
"A relief for everyone, certainly for him," said manager Bob Melvin. "His comment to me was, 'Boy, that felt good.' We've seen him do it many times, but the longer you go in a draught like that, the more it kind of gets in your head to an extent. He's been taking some good swings recently, but that's the type of swing you're used to seeing."
"Thank the Lord," said Moss, smiling. "Goodness gracious.
"I felt lately that my approach was better and that my plan was better and my path was better, it was just that I was just missing balls or hitting them to the wrong part of the yard. None of that really matters to me except for results, because it's that point of the year where a good approach with an out doesn't really do anybody any good. I definitely think, now, I can stop pressing about how long it's been since I hit one. I'm not gonna lie, it gets in your head a little bit."
Moss' ability to regain his power stroke in the final two weeks of play will be crucial for a hot-and-cold A's offense that's often struggled to keep up with the club's typically stellar pitching.
Lester was neither dominant nor efficient, but he was undoubtedly gritty in Sunday's win, his 15th of the season and fifth in nine tries since his trade from Boston. The lefty walked four and racked up 110 pitches but he also allowed just four hits and fanned seven in six innings, stranding seven baserunners along the way.
It's the 17th consecutive quality start recorded by Lester, who has a 1.71 ERA in that span. His season ERA is down to 2.45, which ties him with Cleveland's Corey Kluber for the third-best mark in the AL.
"Not his usual stuff, but gosh, he battled so well," said Fuld. "To throw six shutout innings when you don't necessarily have your best command or your best stuff, it says a lot about him."
"It was a grind from pitch one, trying to get into a rhythm, trying to keep baserunners off," said Lester. "Just one of those starts where nothing feels good but you somehow make good pitches when you need to and find a way. Obviously having the lead early is huge, kinda takes pressure off everyone."
As Lester did for much of the day, righty reliever Dan Otero worked his way out of a jam in the seventh to leave the bases loaded. His immediate thought upon leaving the mound was: "How did I do that?"
"That's the game right there," said Lester.
The A's responded with two runs in the eighth on RBI hits from Fuld and Adam Dunn, and Luke Gregerson and Sean Doolittle combined for two scoreless to secure the A's 12th shutout of the season.
"It was a battle, which it always is with them," said Moss, "but we took two of three, which is huge."
Jane Lee is a reporter for MLB.com. This story was not subject to the approval of Major League Baseball or its clubs.