Konerko hopes to return by Tampa Bay series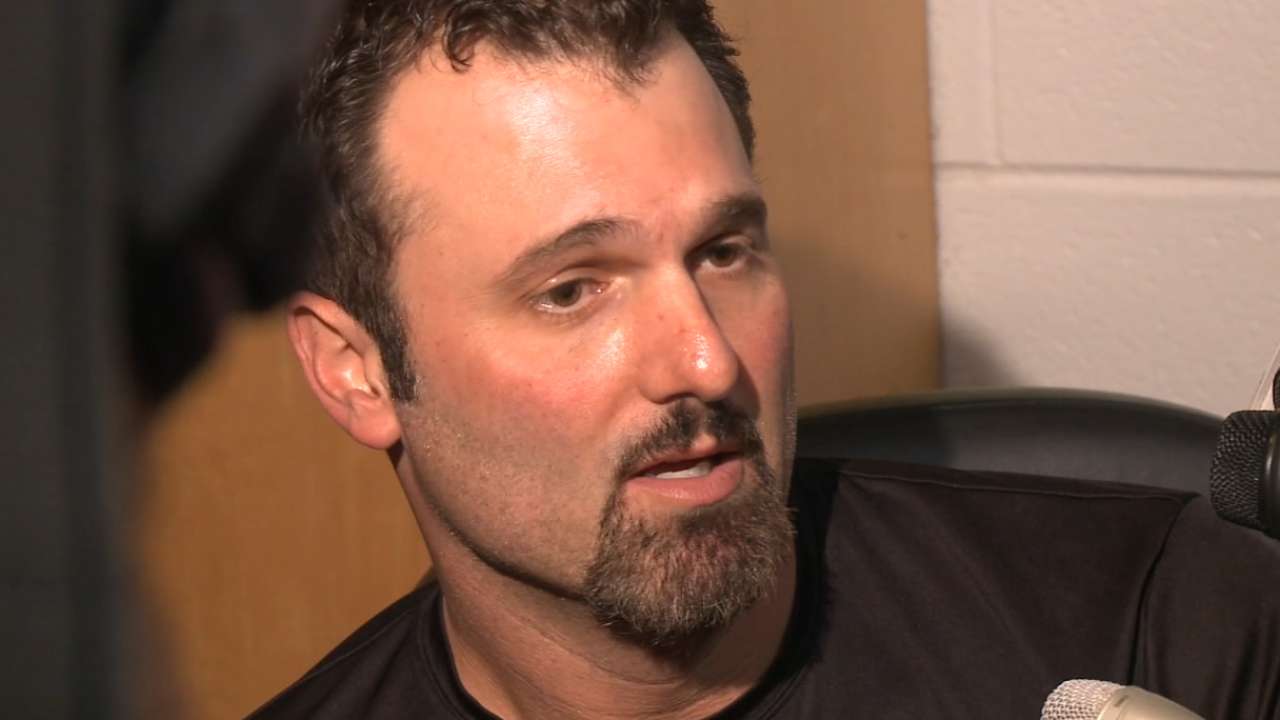 CHICAGO -- Paul Konerko took about 30-40 swings Saturday, both off a tee and via soft toss, and feels he's in a pretty good spot in terms of pain management for the fractured sesamoid bone in his left hand.
Konerko believes that if he isn't able to play at the start of this nine-game road trip in Kansas City, he'll be in the lineup by a weekend set at the Rays after an off-day Thursday.
"It's a little sore today, but it's soreness that I know. It's not that I went backward. It was expected," Konerko said. "So I think now, for me, I have no worries that I'm going to get back out there this week.
"I'd like to be available in Kansas City. But hand aside, I haven't seen a pitch or taken a ground ball or even taken BP or anything. Even if I knew this is 100 percent today, I need to have a little bit of work for a day or two, even just to try to get my bearings, maybe stand in on some bullpens. It's just tough when you haven't seen a pitch in a while. I'd like to try to get an at-bat at least before the off-day [Thursday], but I know if that doesn't happen, I feel like I'll be back right after it."
Konerko doesn't feel as if the affected area will need medical attention after the season. It simply will benefit from four to six weeks of rest and inactivity.
Testing his running and maybe even sliding is important for Konerko, who has not played since suffering the injury off a tag play at Target Field on Sept. 2. He almost certainly will be on the field during the final four games of the 2014 campaign against the Royals at U.S. Cellular Field, not to mention the final four games of Konerko's illustrious career, with Paul Konerko Day set for Sept. 27.
"When I did this, it was so swollen I couldn't move it. Once we got all that out, what was it going to leave me?" Konerko said. "What it has left me is something that's manageable. But we'll see.
"Again, impact's a big thing. You have to account for if you're going to check-swing or hit a ball off the end, get jammed, and be able to come back the next at-bat, the next day. There's always a little bit of holding your breath and I've held my breath a lot on certain things.
"You just want to make sure that you're not going to go out there and have one swing that goes off the end of the at-bat and the next thing you know you're on the ground in pain," Konerko said. "I don't think that will be the case, but you want to test it out as much as you can before that happens."
Scott Merkin is a reporter for MLB.com. Read his blog, Merk's Works, and follow him on Twitter @scottmerkin. This story was not subject to the approval of Major League Baseball or its clubs.