Swarzak will get Monday start vs. Tigers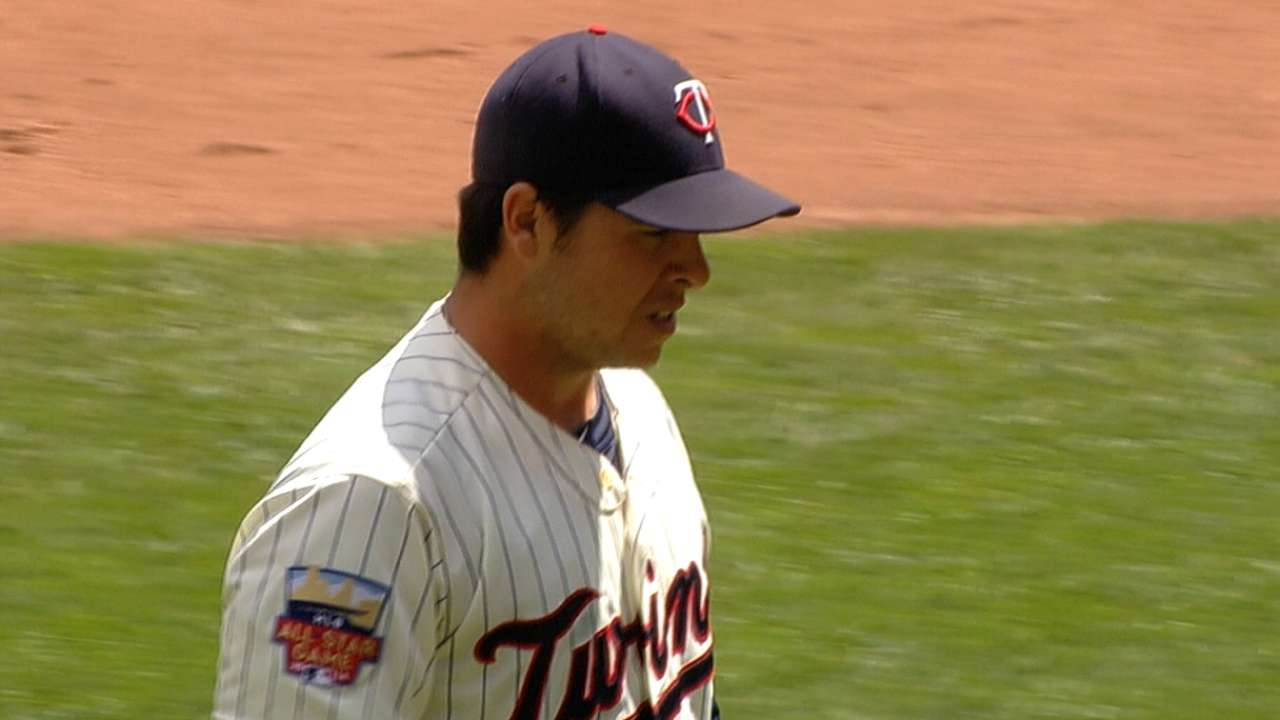 CHICAGO -- Right-handed Anthony Swarzak will make his second start for the Twins in Monday's three-game series opener against the Tigers, facing off against Max Scherzer.
A relegated reliever, Swarzak was the likely candidate announced by manager Ron Gardenhire on Saturday, but not confirmed in case he was needed out of the bullpen.
Swarzak threw 74 pitches over five innings in a spot start versus the Indians on July 23, allowing one earned run on two hits and a walk while fanning three.
Gardenhire said he has no apprehension on Swarzak's durability for Monday.
"I don't worry about Swarzy," Gardenhire said before Sunday's series finale against the White Sox. "He can go. He'll tell you he can keep going and he'll tell us, also, when he's about out of gas. We're going to hold him back, hopefully he won't have to go today and we'll go from there."
Swarzak takes the spot of lefty Tommy Milone, who is still recovering from a sore neck that's bothered him the bulk of the season, dating back to his tenure with the A's.
Milone, dealt to the Twins on July 31, tried to throw a bullpen session Saturday but was still bothered by his neck
"He would like to pitch and we would like to see him pitch, but you know, injuries are part of the game and he's not going to be able to make it out there," Gardenhire said, "so I think he's probably more disappointed than anybody."
Milone is 0-1 with a 7.40 ERA in five starts with the Twins.
Worth noting
• Slugging Twins rookie Kennys Vargas was given Sunday to rest after playing in both doubleheaders the last three days.
"I just think, like everybody else, he played a doubleheader last night and I think he gets a little worn down … This is a lot of baseball, two doubleheaders in a matter of what, three or four days here? And [he's] played pretty much every inning," Gardenhire said.
• The Twins and White Sox combined for 45 strikeouts in Saturday's doubleheader, a Major League record for a doubleheader with games that didn't exceed nine innings.
"The first game, we all know, the shadows and everything were pretty tough," Gardenhire said. "The ball was disappearing and not to take away from the pitchers. Hughesy can throw some strikeouts up there every once in awhile and we've seen Quintana do that too, with his changeup and breaking balls, but the sightlines weren't good yesterday.
"The second game could be as easy as guys a little worn out from a long day and some pretty good pitching going on. Guys threw the ball pretty decent, but it was just one of those days and it happens."
• Gardenhire shared insights on White Sox icon Paul Konerko, who is retiring at season's end in two weeks. Gardenhire was the third-base coach with the Twins when Konerko joined the White Sox in 1999.
"I've had the unpleasant experience of watching him round the bases a few too many times on us," Gardenhire said. "But you know, he's just that professional guy that's handled himself on and off the field as well as anybody. Clutch hitter, always big in those big situations for you. And a guy that you hated to see come up from our side in RBI situations, because he was the man. He wasn't going to miss.
"As his career went along he got where he would even shoot the ball the other way. He was a pull-pull guy. You got where he'd fire the ball the other way to get a run in and all those things. He's been their leader over there for a long time."
Daniel Kramer is an associate reporter for MLB.com. This story was not subject to the approval of Major League Baseball or its clubs.