As swing-and-miss stuff improves, so do Nathan's results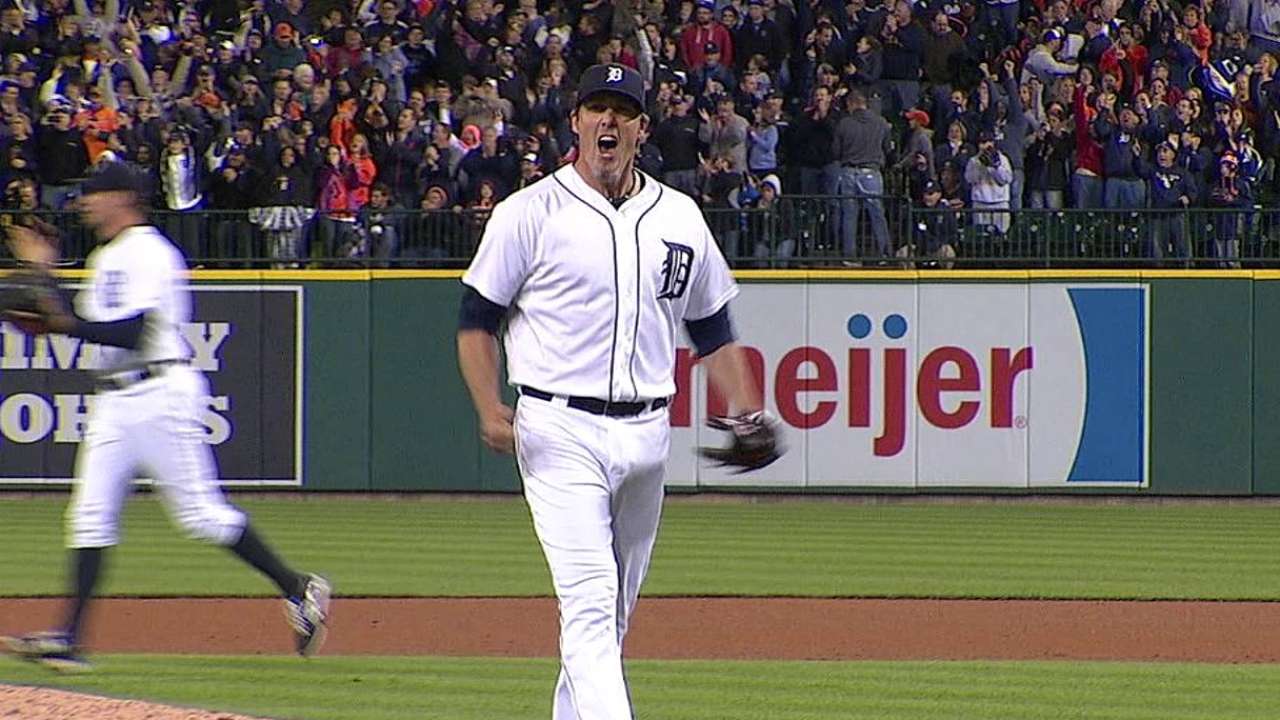 DETROIT -- Joe Nathan executed one of his best pitches of the year in the midst of chaos earlier this week. Before the Royals' ill-fated attempt at a double-steal Tuesday, Nathan fell behind All-Star outfielder Alex Gordon with runners on first and second and nobody out following back-to-back infield singles.
Nathan needed a swing-and-miss pitch, and he got it with a full-count slider that started low and inside and dove into the ground.
"It had to be one of the better ones of the season," Nathan said. "Where it started was right where I wanted it to start. A lot of times, wanting it to start there and getting it there are two different things, but that's where I envisioned starting it. I put it in a place where it was very hard for him not to swing in that situation, but in a spot that he was going to have a difficult time getting the bat on it."
Without that swing, there would've been no pickoff play, not with the bases loaded and nobody out for cleanup hitter Salvador Perez. It's the type of result Nathan has been seeking.
The results for the season won't be pretty, but Nathan's improvement over the past month had given some stability to a situation that seemed untenable going into the stretch run. He ran into more trouble in Sunday's 6-4 win over the Indians, but he made a couple pitches when he needed to escape.
"Not my sharpest," Nathan said. "I definitely wasn't fresh -- just trying to make pitches."
Nathan's six consecutive outings without allowing a run came to an end after a Michael Brantley single and Carlos Santana RBI double. Brantley's single came off the slider.
Once Nathan lost Jason Kipnis from an 0-2 count to a walk, the Indians had the tying run on base. He went from another 0-2 hole to a full count on Yan Gomes, but he executed a slider inside to induce a double play before getting Jason Giambi to fly out.
"Made some decent pitches to the first two guys, but they've got my number," Nathan said. "I'm kind of glad we're done with the Indians for the season. A tough at-bat with Gomes; fortunately I get a ground ball when we needed it."
Before Sunday, Nathan had been getting better reactions from hitters to his stuff. His opponents' batting average on balls put in play stood at .340 on July 19, along with a .429 slugging percentage. Those rates are at .294 and .242 since.
The rate of swings and misses, meanwhile, has picked up a tick, from nine to 10 percent, even though the strikeout rate and his percentage of strikes thrown have both fallen. The slider was a pitch Nathan worked on during his midseason mechanical work. It earned him another big strikeout Saturday, when David Murphy -- who homered off a Nathan curveball back in May -- struck out on a slider to end the game for Nathan's 31st save.
"Since the start of June, when I was tweaking some mechanical things, that was the beginning of the process," Nathan said. "Through that time, you get more and more comfortable with it. You stop thinking about it. You go out there now, and it's second nature. Now I can concentrate on making pitches and trying to get outs."
Jason Beck is a reporter for MLB.com. Read Beck's Blog and follow him on Twitter @beckjason. This story was not subject to the approval of Major League Baseball or its clubs.