Minor struggles as Braves lose ground in WC race
Lefty allows five runs over 4 2/3 innings in Atlanta's third straight loss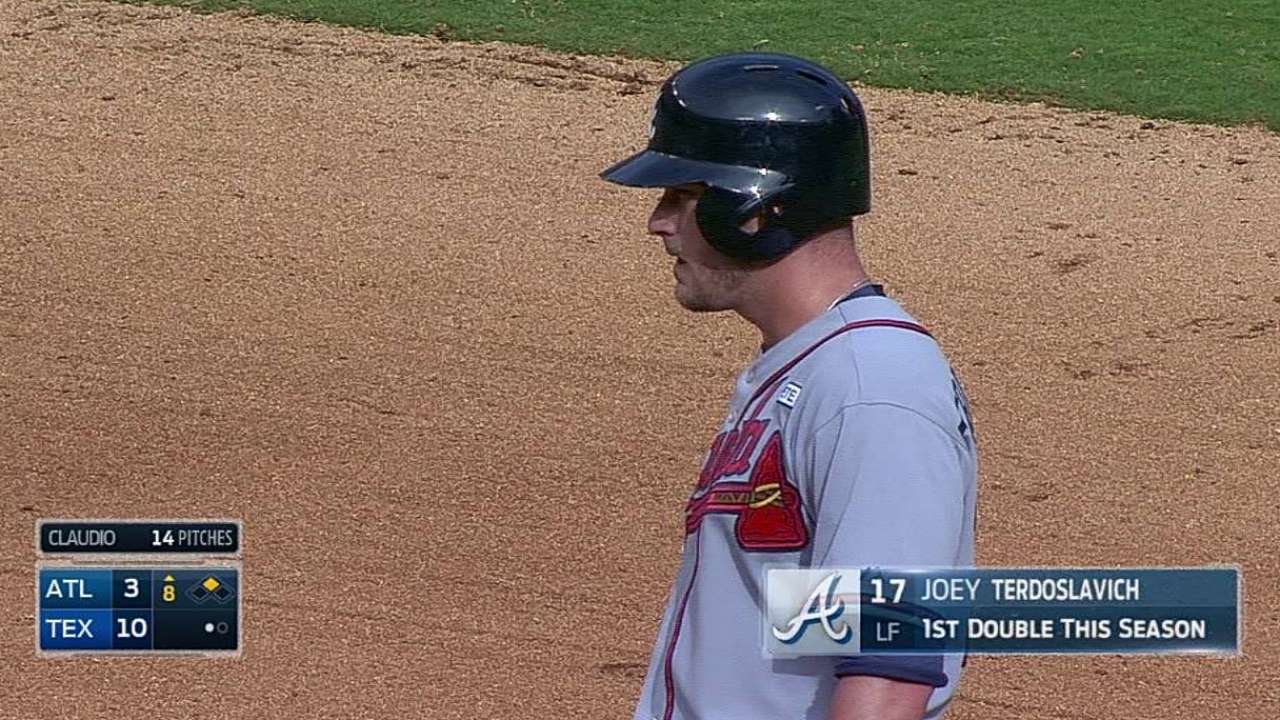 ARLINGTON -- A three-game series against the worst team in baseball seemed to be exactly what the Braves needed to break out of their September slump.
Instead, the Braves became just the second team swept by the Rangers this season and the first since April while falling to four games back in the National League Wild Card race. Left-hander Mike Minor, who entered the game with six straight quality starts, couldn't stop the bleeding during a six-run fifth inning for the Rangers, who handed the Braves a 10-3 loss at Globe Life Park on Sunday afternoon.
"We've got to step it up," Braves manager Fredi Gonzalez said. "We're not playing good baseball. It's not the way we're used to playing. It's a shame. We've played 140 games, but now these last couple weeks, we're not playing good baseball."
A day after a sinking liner went in and out of his glove during a pivotal three-run sixth inning, Justin Upton saw a ball ricochet on a hop off his leg and onto the center field warning track during the second inning. The result was an RBI triple for Michael Choice and a 1-0 Rangers lead.
Minor gave up an RBI double to Luis Sardinas to make it 2-0 in the fourth before the Braves fell apart in the fifth. The inning started harmlessly enough, with Minor striking out J.P. Arencibia and getting Adrian Beltre to foul out. But the next seven Rangers reached base, the first three off Minor and the next four off reliever David Hale, six of them scoring.
The Rangers, who entered this series having lost 11 of their previous 12 games, got an RBI bloop single from Robinison Chirinos to begin the fifth-inning rally. Sardinas, who also delivered a two-run double in the sixth, singled to bring Chirinos home in the fifth before Choice doubled home two more to make it 6-0.
"They absolutely erupted with two outs in the fifth," Rangers right-hander Colby Lewis said. "[Ryan] Rua started it off with that double and it kind of just escalated. It was a good time, especially scoring that many runs and going out there trying to pound the strike zone."
"Everybody has their bad days. It just [stinks] that it happened today," said Minor, who threw first-pitch strikes to just 12 of the 25 batters he faced. "The sinkers I usually throw were off today. I was working 1-0, 2-0 behind every batter. I felt like my curveball wasn't as sharp… It just [stinks] that we got swept."
That was it for Minor, who allowed five runs on eight hits, striking out one while walking three and hitting two as he lost his third straight start. But it wasn't the end for the Rangers, who tacked on two more with an RBI single from Leonys Martin and an RBI double from Elvis Andrus.
"We just couldn't get that third out and they dropped a six-spot," Gonzalez said. "He's rattled off five or six good starts and this was just one of those starts where he might have left the ball out over the plate. A lot of pitches in five innings, 107 pitches, he just got in some deep counts."
The Braves scored only six runs -- one on Ryan Doumit's seventh-inning solo shot and two more on Joey Terdoslavich's double in the eighth Sunday -- during this three-game series as their offensive woes continued. They have scored just 32 runs in their last 14 games, going 4-10 during that stretch.
"Our pitchers have to pitch a perfect game every time, pretty much," Freedie Freeman said. "We're not scoring any runs. That puts a lot of pressure on the pitchers and that's not something you want to do every single day… When you have early opportunities, you have to get those guys in. We haven't been able to do that for the last couple weeks."
More importantly, the Braves are now four games behind the Pirates in the race for the second NL Wild Card spot with 13 regular season games remaining. The Brewers, like the Pirates, won Sunday and currently sit two games ahead of the Braves, who are hoping a 10-game homestand that starts Monday will help them get back on track.
"We're putting ourselves back up against a wall," Gonzalez said. "It's not a good feeling. It's not the way we play baseball. You see one or two good at-bats here, but up and down the lineup we haven't really put anything together."
Christian Corona is a contributor to MLB.com. This story was not subject to the approval of Major League Baseball or its clubs.