Cards to skip Lackey during series vs. Brewers
Righty dealing with a dead arm; Lynn, Wainwright, Miller lined up to start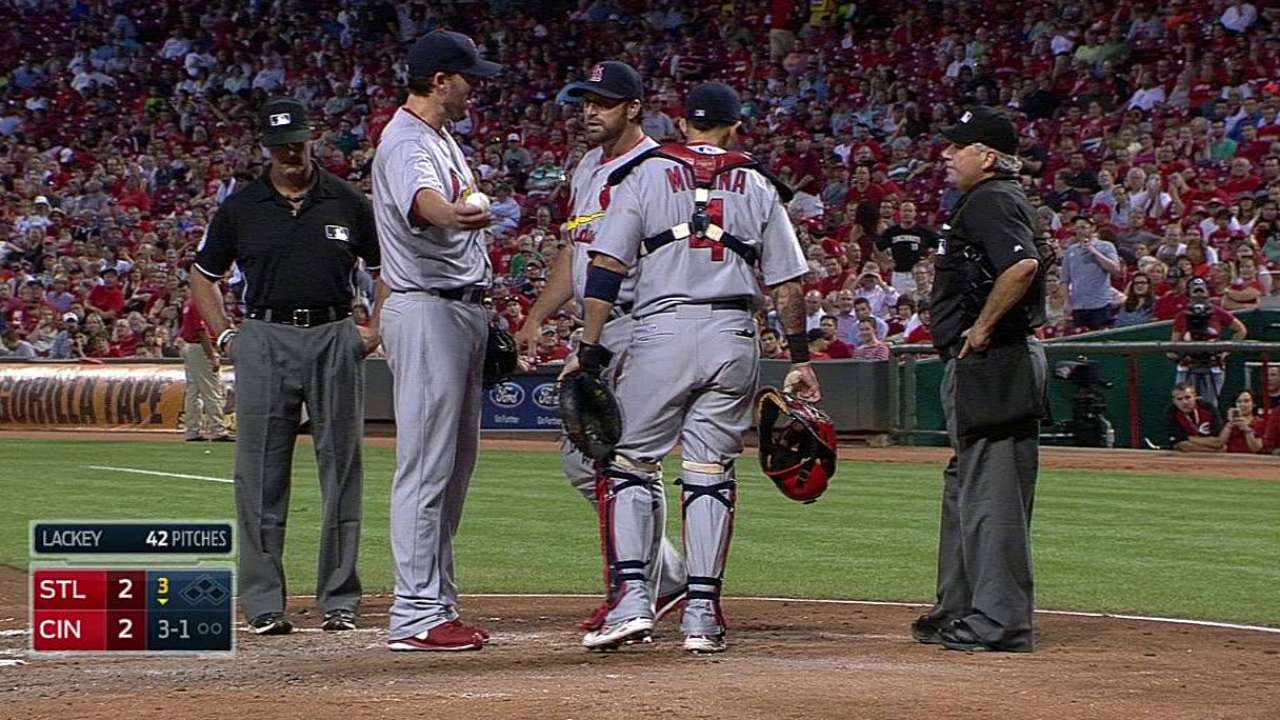 ST. LOUIS -- The Cardinals announced late Saturday that Lance Lynn, Adam Wainwright and Shelby Miller will be the starters against the Brewers from Tuesday-Thursday. With the off-day Monday, all three starters will be pitching on normal rest, and John Lackey will have his scheduled start on Tuesday skipped.
Lackey has struggled of late, giving up 13 runs (10 earned) over 14 1/3 innings in his last three starts. He was ejected in the third inning of his last start for arguing balls and strikes.
Cardinals manager Mike Matheny said Lackey has been dealing with stiffness and a dead arm.
"He's not really excited about this, and I get that, too," Matheny said. "The guy wants the ball. We're in September and we're pushing down to the end here and he should want to be in there, every single one of those guys should, and we get that. We just have to figure out what gives us the best chance, and sometimes it's helping a guy take a rest when he doesn't even want it."
Barring any setbacks, Lackey is expected to pitch against Cincinnati in the final series of the homestand.
"Starting pitchers, they get beat down," Matheny said. "That's just part of it. Not the first time, I'm sure, for him, either. He's been through this before. You've got to push through it when you can. You've got to take a little break when you can."
The move gives the Cardinals their three hottest starters for the Milwaukee series. The Brewers entered Sunday five games behind St. Louis in the National League Central.
Joe Harris is a contributor to MLB.com. This story was not subject to the approval of Major League Baseball or its clubs.