Rangers' bats break out to finish sweep of Braves
Texas pushes across six runs in the fifth, giving Lewis plenty of room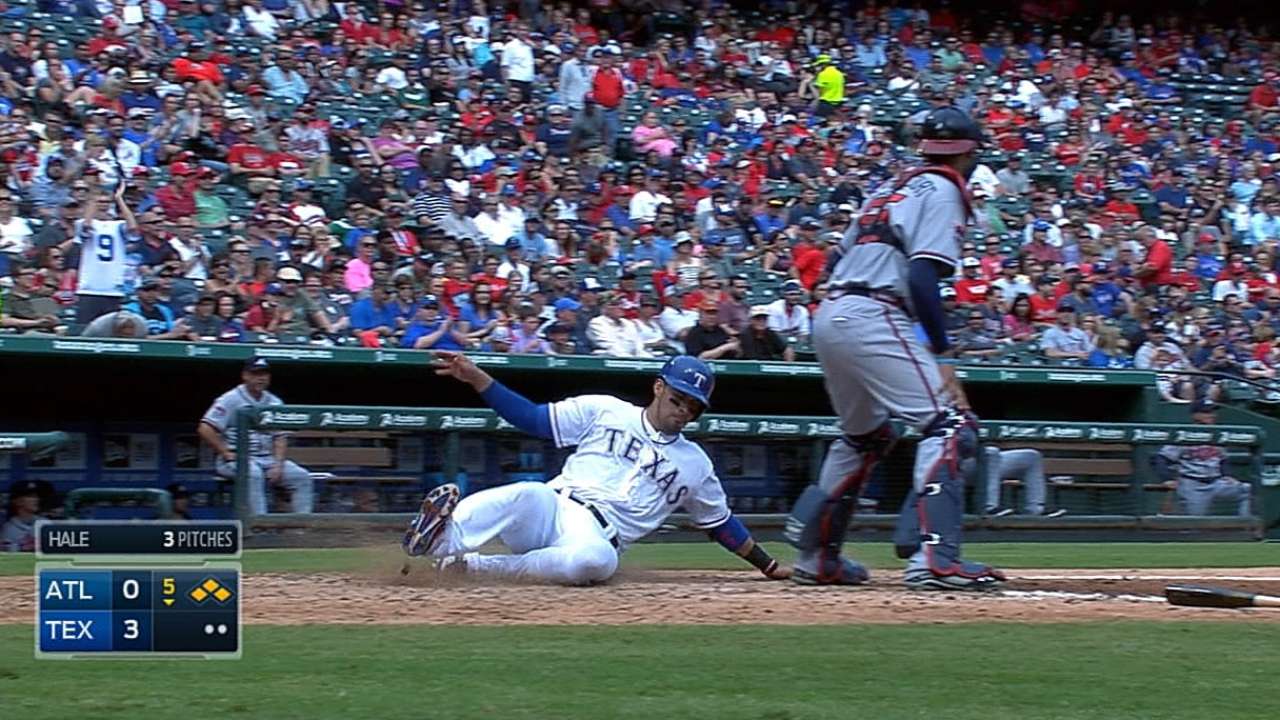 ARLINGTON -- Before Sunday, the last time the Rangers swept a series, Alex Rios, Prince Fielder and Mitch Moreland were the 3-4-5 hitters, Martin Perez threw a shutout and Texas improved to six games above .500.
That was five months ago. All those key players, and many more, have since been lost to season-ending injuries and the Sept. 14 Rangers look hardly anything like the April 23 Rangers who swept the A's in Oakland. Nonetheless, when Sunday's 10-3 victory over the Braves was over, the Rangers could finally celebrate a sweep again even if all it did was get them back to 35 games under .500.
The Rangers gave up just six runs in three games thanks to strong outings from starters Derek Holland, Lisalverto Bonilla and Colby Lewis, who allowed one run in seven innings Sunday.
"We haven't had a lot of positive to lay our hats on and this was a big deal for us," Rangers manager Tim Bogar said. "That's a good team over there and we ended up getting three great pitching performances in a row and it gave us the opportunity to get the sweep."
Second baseman Luis Sardinas -- who had been in the Majors all of three days when the Rangers swept Oakland -- went 3-for-5 with four RBIs, the first multi-RBI game of his career in his 36th big league contest.
"Of course it was a good day for me," Sardinas said. "The first thing is I was having a good day with my at-bats. It's been a long time since we've scored that many runs. For us to have men on base and bring them in was something we haven't done lately so that was a good day."
Lewis pitched admirably in seven innings, allowing only Ryan Doumit's seventh-inning solo homer. Lewis scattered five hits, walked one and struck out two.
"He wanted to keep going and he was strong enough to do that," Bogar said. "Watching Colby go out there and pitch the way he was capable of just makes you really understand what kind of guy he is and how important he is to this team."
The Braves left seven men on base Sunday and had men in scoring position in each of the first five innings against Lewis.
"We had our opportunities," Atlanta first baseman Freddie Freeman said. "We hit balls hard, innings one through nine. It was just one of those things that seemed like they were in the right place… I felt like we had pitches to hit all day and we just didn't hit them today."
The Rangers scored three runs or less in 13 of the past 14 games, a stretch in which they averaged just 2.1 runs per game. So a double-digit offensive outburst was a welcome surprise.
Texas got production out of the bottom of the lineup, with the combination of Adam Rosales, Sardinas and Michael Choice reaching base the first nine times they came to the plate. They scored a combined five runs in the first five innings before Choice departed with a strained left hamstring sustained as he headed to second on a two-run double.
Sardinas scored the game's first run after reaching on a fielder's choice. No. 9 hitter Choice, who entered Sunday hitting .176, ripped a ball to the gap in left field; left fielder Justin Upton kicked it toward center trying to field it on the run and Choice was credited with an RBI triple.
Rosales singled and scored from first in the fourth inning, barreling home on Sardinas' double to right. Sardinas added a two-run double in the sixth in his final at-bat.
"It was really nice to see him swing the bat well," Bogar said. "Right-handed it looks like his swing's a little bit stronger, so it was really nice to see him get that left-handed base hit up the middle at the end of the game and give him some confidence left-handed. He's got survival skills. He's a kid that can go up there and battle and battle and maybe get a little bit abused early, but he makes adjustments really fast."
In the fifth, Robinson Chirinos drove in Ryan Rua, who had doubled, with a broken-bat single. Atlanta starter Mike Minor departed after walking Chirinos, the next batter, and the Rangers piled on relievers David Hale and James Russell for five more runs in the inning to put the game away.
"It's easy to go out there and throw strikes after that," Lewis said.
In the end, the combination of an effective Lewis and a prolific offense gave the Rangers the kind of win they haven't had in a long time.
"It's been awhile," Lewis said.
Dave Sessions is a contributor to MLB.com. This story was not subject to the approval of Major League Baseball or its clubs.