Marlins will begin monitoring workload on young arms closely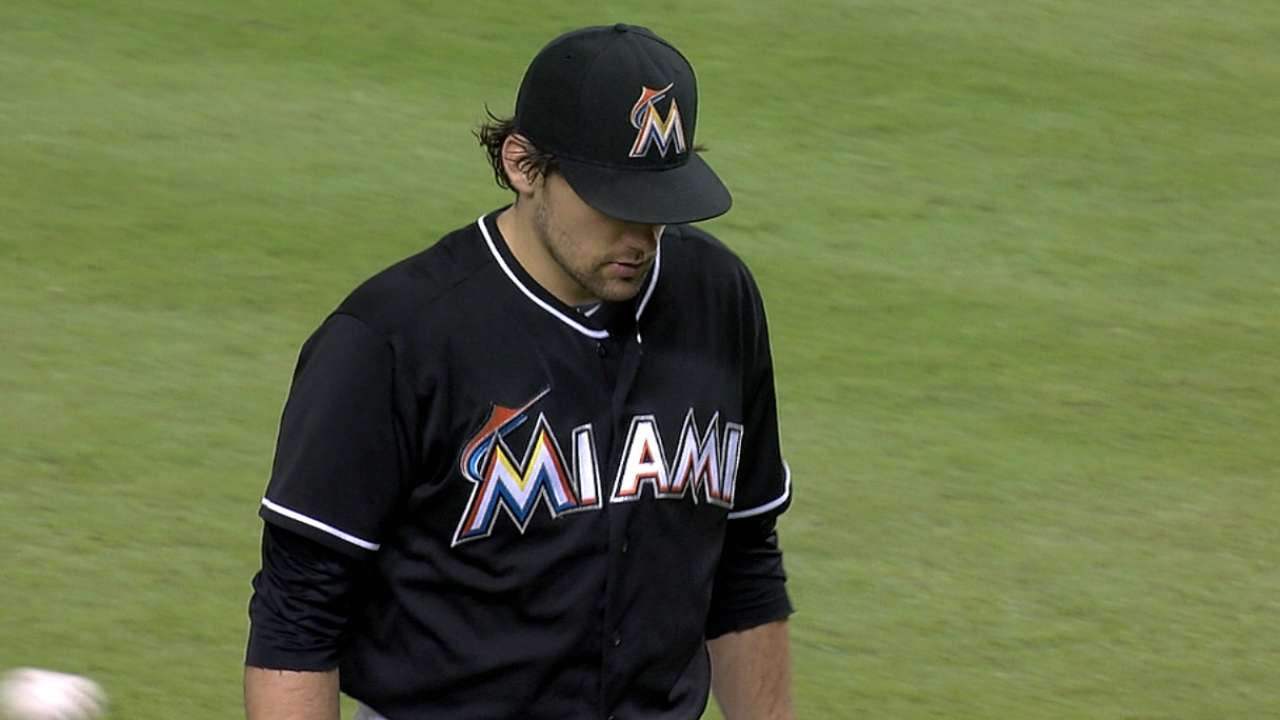 PHILADELPHIA -- Until they are mathematically eliminated, the Marlins remain on a mission to fight as much as possible to remain in the race. But they are doing so with a watchful eye on the workloads of their starting pitching.
The rotation is the foundation for not only the rest of the season, but next year as well. And a number of starters are reaching or surpassing innings marks they've never touched before.
Pitching coach Chuck Hernandez and manager Mike Redmond have the luxury of September callups as options to spell the starters.
"We've had this conversation basically this entire road trip," general manager Dan Jennings said. "We've talked about it. We're getting into some uncharted waters now. Chucky has such a great feel for these guys."
Nathan Eovaldi, for example, is at 182 1/3 innings, after he logged 106 1/3 in an injury-interrupted 2013.
Tom Koehler, after six solid innings on Sunday in Philadelphia, has tossed 179 1/3 innings this year. He tossed 166 in '13 when you combine his MLB and Minor League innings. Henderson Alvarez is sitting at 166 1/3 innings, compared to 102 2/3 a year ago. Brad Hand, including work in the Minors, is at 133 innings (99 with Miami).
Jarred Cosart has logged 163 innings, with 46 2/3 of them coming after being traded from Houston to the Marlins on July 31.
"It's now really about the high-stress innings," Jennings said. "We're trying to monitor that. Essentially, we're letting Red and Chucky use the common-sense approach. Sometimes guys go out there and they cruise through, but you might have to take them out in the high-stress inning.
"I think having the extra pieces, and being able to stretch some of those bullpen guys out is going to be huge to not stretch your starters to a point where you can potentially hurt them."
Andrew Heaney, the team's top prospect, is one of the callups. But the organization is closely monitoring the left-hander, who has thrown 137 1/3 innings in the Minors, and another 20 2/3 innings in the big leagues.
Heaney has yet to pitch in September, and there are no immediate plans to give him a start.
The club wants him to experience the Wild Card chase, and work on some mechanical issues with Hernandez.
"There may be spots where you can maybe work him in to get an inning or two here," Jennings said. "Honestly, if he throws no more innings this year, we're good with his number going into next year. He is where he needs to be. Now, it's getting him around this atmosphere. Let him feel comfortable. Get some one-on-one with Chuck."
Joe Frisaro is a reporter for MLB.com. He writes a blog, called The Fish Pond. Follow him on Twitter @JoeFrisaro. This story was not subject to the approval of Major League Baseball or its clubs.