Lobstein's spot in rotation uncertain for final stretch
Off-day gives Tigers opportunity to skip rookie for series vs. Royals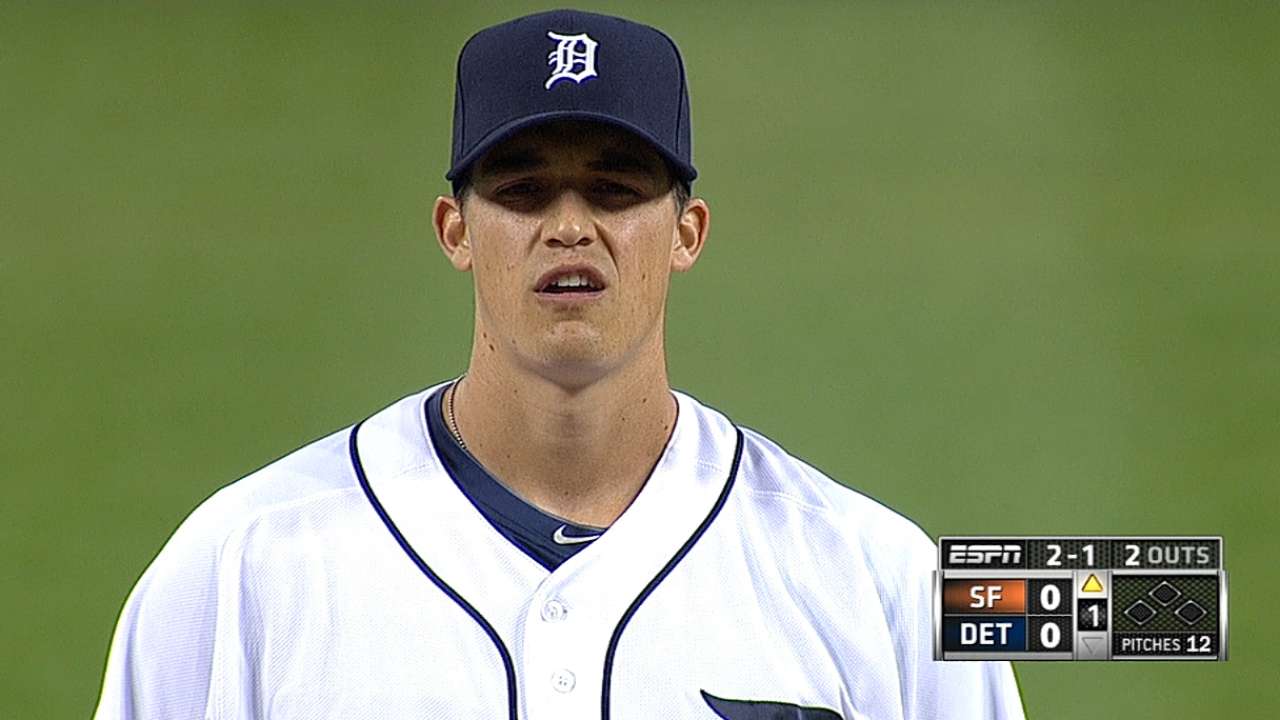 DETROIT -- Kyle Lobstein's five innings with four runs allowed Saturday marked the worst of his five Major League appearances so far, but he kept the Tigers close enough to have a chance to win late. Whether Lobstein gets another chance remains to be seen for two reasons.
If the Tigers' rotation stays in order, Lobstein's next turn in the rotation would come next Friday in Kansas City to open Detroit's final American League Central showdown with the Royals. With the Tigers off Thursday, however, they have the option of skipping Lobstein and moving the rest of their starters up a day.
Skipping Lobstein would put Justin Verlander, Max Scherzer and Rick Porcello in line to face the Royals next weekend. Of course, it would also deny the veteran starters an extra day of rest as the Tigers prepare for what they hope is another extended postseason run.
Detroit manager Brad Ausmus wasn't giving any hints when asked about Lobstein's next start.
"I'm not going to commit either way on that right now," Ausmus said after Saturday's game.
The answer will most likely become clear in the next day or so at Minnesota. If Lobstein is skipped for a start, he'll likely become an option in the bullpen, where he worked as a long reliever during the Tigers' last visit to the Twins a few weeks ago.
Beyond that, Anibal Sanchez's rehab from a right pectoral muscle strain could also play into Lobstein's situation. Sanchez threw long-toss again on Sunday, and he is scheduled to throw a bullpen session off a mound Monday. While the Tigers aren't giving an official timetable, saying everything hinges on how Sanchez feels, Sanchez has been increasingly upbeat about how he feels.
If all goes well, Sanchez could face hitters later in the week and put himself in line to rejoin the rotation for the final week of the regular season. The Tigers don't need a fifth starter until next Tuesday against the White Sox at Comerica Park.
If Sanchez could fill that spot, he could make two starts before the end of the regular season, giving him a chance to not only pitch in meaningful games, but stretch out his arm and see if he could cover enough innings to warrant inclusion in the postseason rotation.
Thus, it's possible that Lobstein doesn't start again this season. If so, the fact that the Tigers won all four of his starts makes his contribution much bigger than simply filling a slot.
Jason Beck is a reporter for MLB.com. Read Beck's Blog and follow him on Twitter @beckjason. This story was not subject to the approval of Major League Baseball or its clubs.