Kiermaier's manufactured run highlights his hustle
Outfielder took second on throw, scored on wild pitch in Saturday's game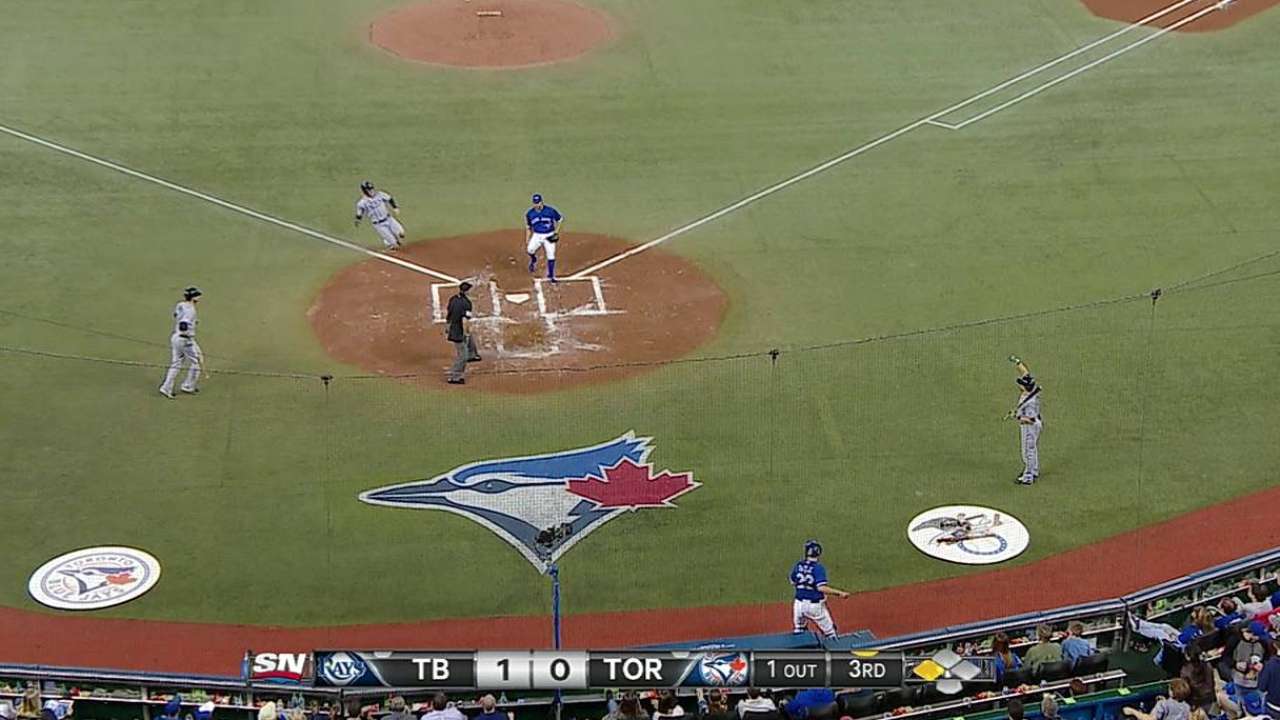 TORONTO -- Kevin Kiermaier continues to impress with his hustle. In Saturday afternoon's 6-3 loss to the Blue Jays, he singled to right to lead off the third and took second after Blue Jays right fielder Jose Bautista threw behind him.
"I knew if I made a big turn and got my shuffles, kept everything square, I could make a decision to go either way," Kiermaier said. "... Bautista likes to throw, and I like to run. I liked my chances right there. Big turn, second baseman was over. I think about this all the time. I wish I could do it more. But there's no way the right fielder is going to throw all the way to first base and the first baseman is going to throw me out at second."
Kiermaier's heads-up play paid off, as he moved to third on a groundout, then scored the Rays' second run when R.A. Dickey uncorked a knuckleball that went to the backstop.
Kiermaier thought about the possibility of making such a play prior to it actually taking place.
"Bautista has a cannon, and I expected him to throw to first right there," Kiermaier said. "And he did, and that worked out in my favor right there."
Kiermaier knows the thinking of a right fielder with a strong arm since he is the same creature. He smiled when asked if he might fall for the same play.
"Yeah, I hope not," Kiermaier said. "Who knows, you don't see that very often."
Rays manager Joe Maddon loves Kiermaier's aggressiveness and does not want to do anything to reign it in, even though it occasionally gets him into trouble.
"There's going to be that next moment that comes up when [Kiermaier] does something like that and he gets caught and everybody's going to call for his head," Maddon said. "And that's my point -- you don't want to coach aggressiveness out of a good athlete. He's a young player. [Saturday afternoon] he made a great play. Had it turned out differently, public opinion would have turned against him.
"But I like what he's doing. He's young. He's going to keep learning to do those things and make less mistakes with those moments. So I'm all for it. And again, I'm telling you: Don't coach the aggressiveness out of a good athlete. You'll be sorry."
Kiermaier appreciates Maddon's approach.
"Yeah, it's great," Kiermaier said. "They tell me if you're going to make a mistake, make an aggressive one. It's nice, because they don't want us to be passive. They want us to be aggressive on the bases."
Bill Chastain is a reporter for MLB.com. This story was not subject to the approval of Major League Baseball or its clubs.