Eveland finished for the season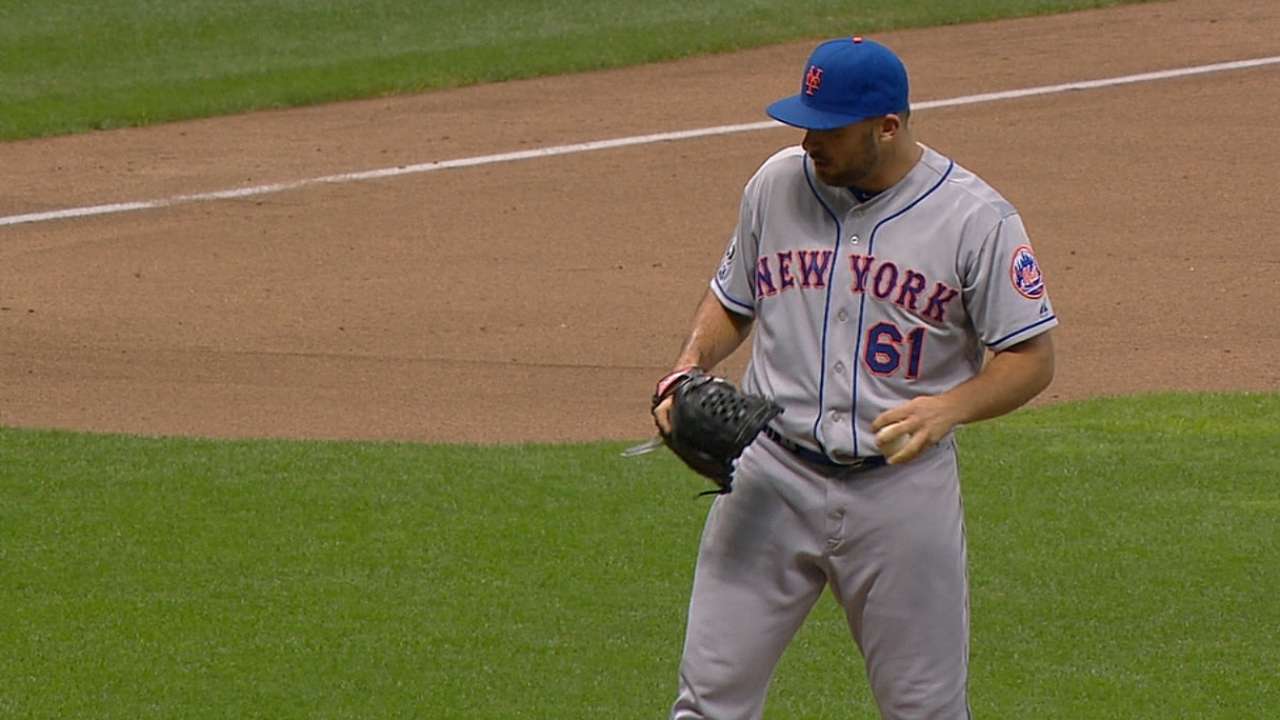 NEW YORK -- Dana Eveland's season is over. The left-handed reliever, who has been battling elbow inflammation as of late and pitched only once this month, will head home to California on Sunday to begin his offseason and a rehabilitation program.
"[Manager] Terry [Collins] brought me in yesterday and said there's really no reason for me to try to push it and try to get back," Eveland said. "So he said as opposed to taking me on the road trip and taking up space, send me home and let me start my rehab at home.
"[The elbow is] feeling better every day. I hate to leave here, because I do feel like, you know, maybe in another week or so I'd probably be able to pitch again."
So ends what is arguably the best season of Eveland's nine-year Major League career. He will finish with a career-best ERA (2.63), WHIP (1.10) and strikeout-to-walk rate (4.50), while fanning about one batter per inning.
Eveland picked up a save and a pair of holds in 27 1/3 innings over 30 games, after signing with the Mets as a Minor League free agent in Spring Training. He was called up to the big leagues in June.
There isn't anything structurally wrong with the elbow, according to Eveland. It's more just the wear and tear of nearly 1,500 innings in a decade-plus as a pro. The elbow has been enough of an issue that for the last few months he has iced it three times daily in an effort to keep the inflammation down.
Eveland will be a free agent this winter.
Worth noting
• Vic Black said he will get a "precautionary" MRI on Monday, after complaining to Collins of an "achy" right shoulder on Saturday. It's worrisome, given that Black missed two weeks recently with a herniated disk -- a series of injuries similar to those experienced by Bobby Parnell, who eventually needed surgery.
"You're asking a layman about doctor stuff, but it is a similar situation," Collins said. "We're concerned about it, there's no question. This guy lives and dies with power stuff. Even though there's nothing wrong with 93 [miles per hour], that's not Vic Black. We're certainly going to be very careful with it."
Added Black: "If it's fatigued, then I think probably just not doing any more [pitching] would be the best decision."
• Matt den Dekker beat out a pinch-hit, infield single in the ninth inning of the Mets' 3-0 loss to the Nationals on Sunday, his first at-bat since Tuesday, when he was hit in the hand by a pitch. He has dealt with bruising since.
Collins is hopeful the outfielder will return to the lineup on Monday against the Marlins.
Tim Healey is an associate reporter for MLB.com. This story was not subject to the approval of Major League Baseball or its clubs.