Marlins' improbable comeback caps emotional week
Miami plates four in the ninth off Jonathan Papelbon to steal finale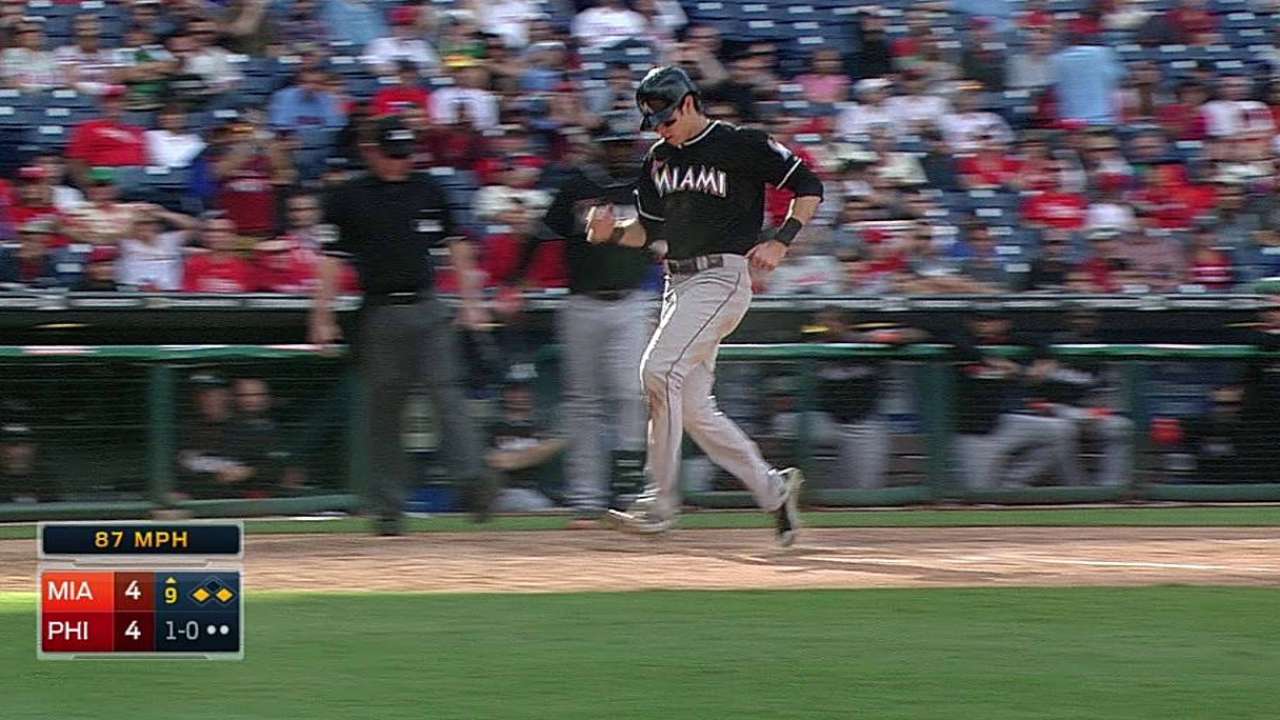 PHILADELPHIA -- A stagnant Marlins' offense, still reeling in the aftermath of Giancarlo Stanton's injury, finally woke up in the ninth inning on Sunday against Jonathan Papelbon, who had never previously blown a save against Miami.
Jordany Valdespin, Christian Yelich and Justin Bour each collected RBIs in the ninth inning, and Papelbon's wild pitch with two outs allowed the decisive run to race home in the Marlins' improbable 5-4 victory over the Phillies at Citizens Bank Park.
"That's by far the biggest win of the year for us," Miami manager Mike Redmond said. "Not only just for the situation, but, for what we've gone through the last couple of days. It's been emotional. I know it's been weighing on guys. We needed a win. There is not a better way than to get one the way we did it today. That's kind of our style -- Fish style."
On the brink of being swept, the Marlins rallied for four runs in their last at-bat off a closer that was a perfect 18-for-18 previously in save chances against them. Miami's 27th comeback victory snapped a four-game losing streak and helped the club regain sole possession of third place in the National League East.
"That was crazy," Yelich said. "I don't even know what just happened. You know you have to get three runs off Papelbon, and that's not an easy task. We kind of just chipped away, chipped away."
Steve Cishek worked out of a jam in the ninth for his 35th save in 39 chances.
Miami improved to 33-24 in one-run games, and ended up 3-7 at Citizens Bank Park. But the comeback came the hard way.
Jarrod Saltalamacchia's double got the ninth rolling. With the bases full and no outs, Valdespin worked a 12-pitch at-bat that culminated with a run-scoring groundout to first.
Yelich reached on an infield RBI single and Bour tied it with a line-drive single to center. After Casey McGehee struck out, Papelbon threw a wild pitch, which brought home Yelich.
"I was just catching too much of the plate today and wasn't as sharp as I have been here for most of the year," Papelbon said. "It was just one of those days I didn't have much on the baseball today, much control."
After the inning ended, Papelbon, who threw 38 pitches, made a gesture to the crowd and was ejected by second-base umpire Joe West.
The Phillies made it interesting in the ninth as Freddy Galvis walked and Cody Asche singled to start the inning. But Cishek responded to strike out Ben Revere, Maikel Franco and Chase Utley to enable Miami to salvage the series finale.
"Obviously, you don't want to go into a game with first and second with no outs, and a lot of lefties coming," Cishek said. "Utley is not someone you want to face with the game on the line. I got myself into a tougher situation than I wanted to."
Miami had managed just two runs in the first two games, and had just one run on the board heading into the ninth inning.
Until the wild finish, runs were tough to come by.
Miami right-hander Tom Koehler gave up three runs, with two earned, in six innings. It was his 19th quality start of the season.
"If we had been swept after losing [Stanton], who I believe is the MVP of the league, it would be tough to right that ship," Koehler said. "We've got to sit here, and we've got to believe in each other, still."
Philadelphia's David Buchanan limited Miami to an Enrique Hernandez home run in 6 1/3 innings.
Hernandez, acquired from the Astros on July 31, had spent much of the second half at Triple-A New Orleans. He was 0-for-8 with Miami since the trade before his blast to right field.
The homer was emotional on a personal side for Hernandez, who had a close friend pass away recently. A few weeks ago, the second baseman returned to Puerto Rico for a few days to pay his respects.
"That was probably the most meaningful home run of my life," Hernandez said. "Not my career. My life. When I said bye to his mom, she told me, 'If you go back to Miami, you're going to hit a home run in your first game, and it's going to be for him.' As soon as I hit it, I got the chills."
Joe Frisaro is a reporter for MLB.com. He writes a blog, called The Fish Pond. Follow him on Twitter @JoeFrisaro. This story was not subject to the approval of Major League Baseball or its clubs.