Two for three: another late homer gives Tigers sweep
Kinsler delivers Detroit's second go-ahead blast in as many days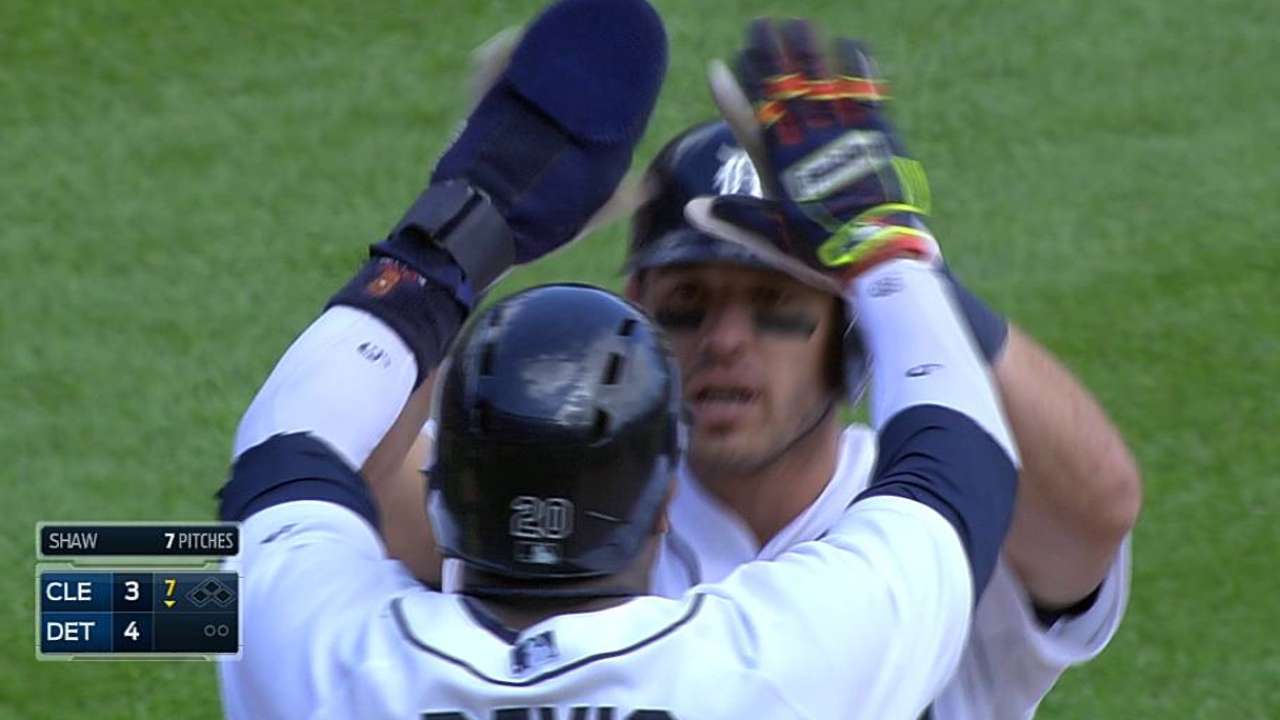 DETROIT -- Momentum in pennant races can change on a dime.
A few moments after Boston's Daniel Nava dealt a glancing blow to the Royals' American League Central title chances with a grand slam, Ian Kinsler ignited those of the Tigers. His first home run of September came at an ideal time, as, for the second straight day, his club was trailing the Indians by one run. The two-run blast gave Detroit a 6-4 win on Sunday afternoon at Comerica Park, bailing out Blaine Hardy, who struggled out of the bullpen.
The Tigers' division lead is now 1 1/2 games, which represents their largest margin since Aug. 9.
Kinsler had some help in sparking the Tigers' offense, a night after Alex Avila provided the boost with a game-winning homer. In the fourth inning, J.D. Martinez hit a towering shot off Cleveland starter Trevor Bauer that sailed into the center-field shrubbery -- an area of the ballpark typically reserved for Miguel Cabrera roundtrippers.
"You don't see many guys reach those bushes out there," Tigers manager Brad Ausmus said. "But we've known since we called him up there that, in terms of raw power, he's right up there with anyone in the Major Leagues."
But Cleveland responded immediately in the fifth. Tigers starter Justin Verlander walked Michael Bourn, who went to third on a single by Michael Brantley. The next batter, Carlos Santana, hit a deep sac fly to center that scored the game-tying run.
Verlander exited the game in the sixth inning after a mostly effective 5 2/3 innings, in which he struck out six.
"He didn't have his best stuff today," Ausmus said, "but he gutted it out. He made pitches when he had to. He mixed up his pitches as much as I've seen him."
Hardy replaced Verlander, who was bothered by a blister, and that's when it looked like the Tigers might collapse.
With runners on the corners following two hits off Verlander, Hardy walked the first batter he faced. Jose Ramirez hit a sharp grounder that was stopped by diving shortstop Andrew Romine, but he had no play -- the go-ahead run crossed the plate.
Hardy couldn't stop the bleeding there. He hit Brantley, the next batter, allowing another run to score that was also charged to Verlander.
The Tigers got one of the two runs back in the sixth inning. Cabrera singled to begin the frame, and Victor Martinez reached via an error. J.D. Martinez picked up his second RBI of the day, continuing his season-long assault on Indians pitching, with a single to center.
"Any time we're down like that early in the game and we're able to come back, it just speaks volumes about this team," J.D. Martinez said.
Cleveland reliever Bryan Shaw entered to pitch the seventh after giving up Avila's massive home run Saturday night. This time, with Kinsler up, it wasn't a hanging curveball, but a cut fastball up in the zone that left the yard and eventually crippled the Indians' playoff hopes.
"He's had a great year," Kinsler said of Shaw. "That's not normal, and we'll take it. We're usually not able to get to that guy as easily. The last few days we were, and we pulled out a couple wins."
Cleveland tried to climb back into the game against Detroit closer Joe Nathan, and it almost succeeded. Consecutive base hits to begin the ninth plated one run, cutting the deficit to two. Nathan walked the next batter, but he managed to get a double play and a flyout of Jason Giambi before breathing a massive sigh of relief.
"I'm kind of glad we're done with the Indians for the season," Nathan said. "It's a team that has played us tough all season."
Matt Slovin is an associate reporter for MLB.com. This story was not subject to the approval of Major League Baseball or its clubs.