Tribe tagged again by late homer, falls back in race
Shaw surrenders go-ahead two-run shot for second straight day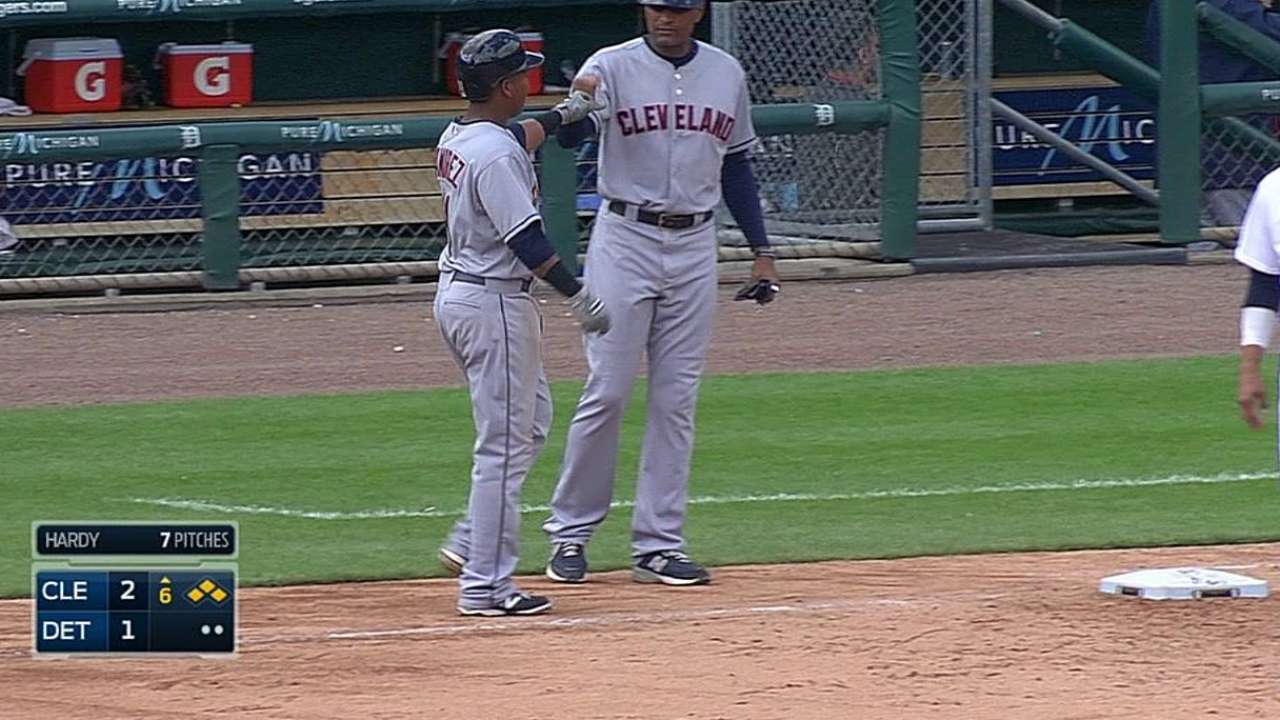 DETROIT -- The Indians did not want to be in a position where another miracle was required. Following a three-game sweep at the hands of the Tigers this weekend, that is precisely what Cleveland needs if it wants to take its season off life support.
The Tribe arrived in the Motor City with a chance to cut into its deficit in both the American League Central and Wild Card standings, but the club limped out of town on the heels of three disheartening defeats. Cleveland's stalwart bullpen collapsed on Sunday afternoon, sending the Indians to a 6-4 loss that has heightened the importance of every pitch from here on out.
Really, the Indians only have one option now.
"We've got to deal with what's in front of us, which is to not lose games," Indians veteran Jason Giambi said. "It's that pure and simple. We've just got to play to win every single night and see what the universe has in store for us."
Last fall, Cleveland also needed a miracle and then reeled off 21 wins in September, finished the season with a 10-game winning streak and captured the AL's top Wild Card spot. With 14 games left on the regular-season schedule, the Indians will need a similarly strong finish to fend off the cluster of Wild Card contenders this year.
The latest loss in Detroit knocked third-place Cleveland 6 1/2 games back of the first-place Tigers in the AL Central. In the chase for the league's second Wild Card slot, the Indians face a five-game deficit behind the Royals, though the A's, Mariners, Blue Jays and Yankees are also jockeying for position in the standings.
"A lot of things that can happen in a short swing in baseball -- ups and downs," Tigers second baseman Ian Kinsler said. "You add up a bunch of wins and anything can happen. At the same time, the other team can do the same. It's going to be a battle all the way to the end."
Maybe so, but there was no sugarcoating what took place in Detroit this weekend.
"We desperately need to win games so bad," Indians manager Terry Francona said.
A year after going 4-15 against Detroit, which finished one game above the Tribe in the division in 2013, Cleveland wrapped up its season series its rivals with a 8-11 slate. While it represented an improvement over the Tigers, it also marked the first time that Cleveland has dropped consecutive season series against the Detroit since the 1992-93 seasons.
The Tigers won seven of the last eight meetings between the clubs this year.
"Give them credit," Francona said. "There's a couple games they knocked us around, but for the most part, every game, a lot of games, we had leads going into the games late. Our bullpen's been such a strength, but give them credit, they have guys that are very dangerous."
Sunday was the kind of game described by Francona.
Cleveland manufactured a run against Tigers starter Justin Verlander in the fifth inning and then struck for two (Jose Ramirez had an RBI single and Michael Brantley was hit by a pitch with the bases loaded) with reliever Blaine Hardy on the mound in the sixth. Carlos Santana added an RBI double off closer Joe Nathan in the ninth, but Detroit had already mounted an effective comeback.
Detroit's resident Tribe tormentor, J.D. Martinez, drove a 1-0 changeup from Indians starter Trevor Bauer (five innings, one earned run) to dead center in the fourth inning and then delivered an RBI single off the righty in the sixth. Martinez hit .328 with seven home runs, 20 RBIs and a .728 slugging percentage in 16 games against Cleveland this season.
"I'm trying to be careful in that situation -- two guys on, nobody out," Bauer said of Martinez's single in the sixth. "You don't want to throw him something he can hit out and then you're down. At the same time, you don't want to be too careful with him and put him on base. Now you're bases loaded and nobody out. It's just a real tough position."
Clinging to a 3-2 lead, Francona turned to setup man Bryan Shaw for the seventh inning. Shaw, who surrendered a two-run home run to Alex Avila in the eighth on Saturday night, served up a two-run shot to Kinsler this time around, putting Cleveland in a 4-3 hole. Detroit added two key insurance runs against rookie C.C. Lee in the eighth, sending the Indians on their way to the loss.
In the eighth, Lee found himself in a one-out jam with runners on second and third base and Kinsler at the plate. While trying to intentionally walk Kinsler, the young reliever fired a wild pitch that sailed off catcher Chris Gimenez's glove and allowed Don Kelly to sprint home from third base.
"Obviously, it was a huge play in that game," Gimenez said. "I feel bad for him, because he was trying to work through some stuff right there and that's not really much of a confidence-booster for him. He's got to learn from it."
Gimenez's last comment might also apply to the Indians in the wake of the sweep.
"They hurt a lot," Francona said of the three losses. "But now they're over. So now we've got to go to Houston and gather ourselves in a hurry, and continue to play. ... The only alternative is to show up tomorrow and win. I don't doubt that we'll show up and give everything we have."
Jordan Bastian is a reporter for MLB.com. Read his blog, Major League Bastian, and follow him on Twitter @MLBastian. This story was not subject to the approval of Major League Baseball or its clubs.