MLB.com Columnist
Lyle Spencer
Kemp giving Dodgers lift with bat, arm
Outfielder looking comfortable in right, at plate with hitting hot streak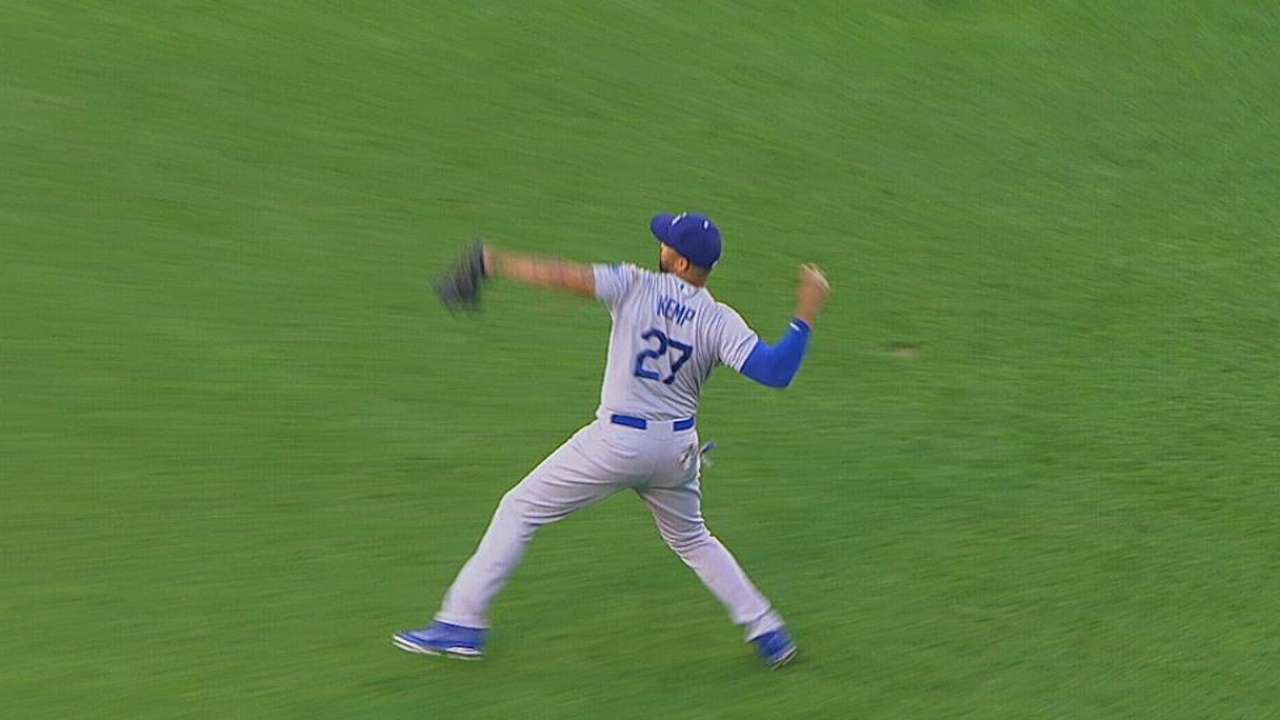 SAN FRANCISCO -- Matt Kemp is so cool he can chew gum, blow bubbles and throw out runners at home at the same time. Now that is the brand of versatile athlete you're looking for in the heat of a pennant race -- right there with a pitcher along the lines of Zack Greinke, who can create as many total bases with his bat as he allows with his arm.
Not long after his two-out RBI double in the first inning had the Dodgers rolling toward four runs off Tim Hudson in Saturday night's 17-0 thrashing of the Giants at AT&T Park, Kemp put the cherry on top with his strike from right field erasing Angel Pagan at the plate on Buster Posey's single.
Kemp blew a bubble, big as life, right before Pagan got the bad news from home-plate umpire Adam Hamari.
"Did I?" Kemp said in the afterglow when asked about the spontaneous bubble. "My mom just texted me: 'You blew a bubble when you were throwing him out.' I don't know; I wasn't really paying attention."
By the end of the third inning, Kemp had two run-producing doubles and an RBI single, and Los Angeles enjoying a much-needed laugher. Not that the locals saw any humor whatsoever in any of it.
Back in front of the Giants by two games in their National League West race, the Dodgers have Clayton Kershaw lined up for Sunday's finale against Yusmeiro Petit.
Bubbles included, the Dodgers are delighted to have the real Matt Kemp back in form, surgeries on his left shoulder and left ankle having restored the glow in his game. His booming bat and athleticism in the field and on the bases furnish their World Series championship aspirations with a more realistic varnish.
Arguably the sport's best player as recently as 2011, Kemp has busted out since the All-Star break, batting .308 and slugging .578 with 37 RBIs in 51 games.
"I think it's huge," Greinke said, having homered and doubled amid the 24-hit storm created by Los Angeles' offense. "It's really good for not just now but thinking about the future.
"He's been slowed down by some of his injuries, but he's been good for a while now. After two weeks, it might be a hot streak. But he's been good for so long now you have to think it's real."
Kemp departed after fouling a pitch off his foot before striking out. No worries, he maintained.
"My toe is fine," Kemp said, smiling.
Judging by the throw that seemed to deflate the Giants, Kemp's right arm is more than fine. Comfortable and content in right after spending most of his career in center, he is flourishing with Yasiel Puig patrolling center.
"I was surprised [Pagan was sent home] because the ball was hit pretty hard by Posey," Kemp said. "I had to make a good throw, put it on target. We were only up four-nothing. Maybe if I don't throw him out, they get some momentum."
It very quickly became clear that the middle game of this weekend showdown by the Bay was going to be nothing like the Giants' walk in the park Friday night. And it kept getting worse for the hometown team.
It appeared that some blood might have been boiling in the third inning after Puig threw himself at San Francisco shortstop Brandon Crawford at second base attempting to break up a potential double play with an eight-run lead. If so, what else is new?
It's the Giants and Dodgers in September with everything on the line. What else would we expect?
What couldn't have been expected was a home run by a pitcher, but Greinke is no normal pitcher. He's a reigning NL Silver Slugger, an athlete who could have been a successful Major League infielder if that had been his destiny.
When Greinke banged one off the wall in left-center, 390 feet away, in the fourth, he apparently decided he could do better. In the sixth, facing lefty Mike Kickham, Greinke lifted one into the seats in left, making it 13-0.
With his arm, Greinke was close to flawless, holding the Giants to four hits with five strikeouts across six innings. He matched their six total bases against him. Greinke is 15-8 and would be the ace on roughly 25 clubs. Inside the division, he is 10-0 with a 1.67 ERA in 13 starts.
Hudson, so vital to San Francisco, slipped to 9-11 with the briefest start of his superb career.
Posey, making a serious run at what would be his second NL Most Valuable Player Award in three years, was removed after three innings. By the sixth, a Cactus League game had broken out, unfamiliar names all over the field.
Giants manager Bruce Bochy, who has no superior in his fraternity, made a memory in the sixth. With the bases loaded and two down, he summoned a young right-hander for his debut. In came Brett Bochy. It had not happened before, a Major League manager handing the baseball to his son on the mound.
In the movie script, Brett blows the hitter away. He walked Juan Uribe, the ex-Giant who'd homered in the fourth, to force home a run. But young Bochy left three runners stranded when he retired A.J. Ellis on a popup.
This was a really nice scene in a grim affair best forgotten, swiftly, by San Francisco.
No visitor in the history of the gorgeous ballpark had scored so many runs or produced so many hits.
Bring on Kershaw. After 17-0, anything has to be an improvement from the Giants' perspective.
Lyle Spencer is a reporter for MLB.com. This story was not subject to the approval of Major League Baseball or its clubs.