Since promotion, Finnegan making strong impression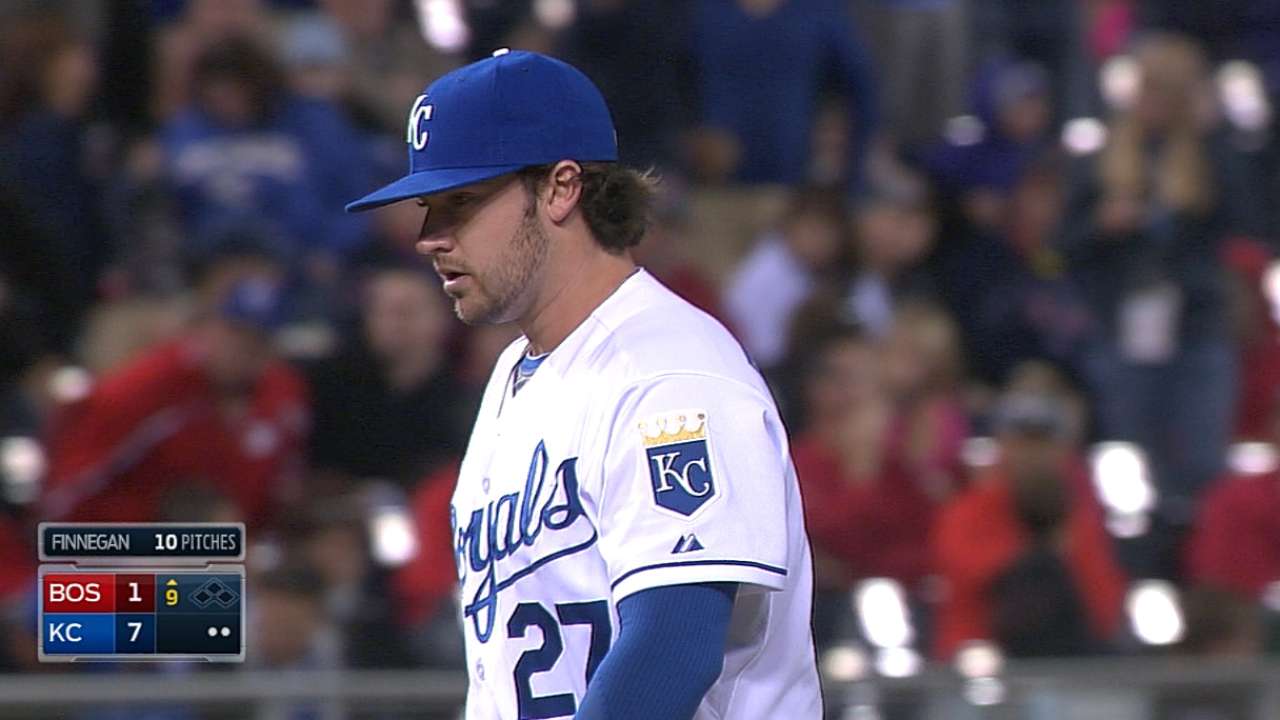 KANSAS CITY -- Rookie left-hander Brandon Finnegan is not perfect after all.
Finnegan, the Royals' first-round pick of the 2014 First-Year Player Draft, had retired all eight batters he'd faced since being called up to the Majors this month. But in pitching a scoreless ninth inning to finish up a 7-1 victory over the Red Sox on Saturday night, Finnegan surrendered a single to pinch-hitter Allen Craig.
That came after he struck out two celebrated batsmen in David Ortiz and Yoenis Cespedes, extending a string of Red Sox outs to 19. Starter Jeremy Guthrie had retired the previous 17 batters in succession.
Postgame interview plus an ice bucket...welcome to the Majors, @bfinny29! pic.twitter.com/RAyWSNUvXH

- Kansas City Royals (@Royals) September 14, 2014
"Guthrie threw well. It was a lot of fun to watch that," said Finnegan who is the club's No. 6-ranked prospect. "Watching guys like that pitch, it's hard to explain how it feels. Just playing with all the guys you watched growing up, especially watching them deal with the same team you're with, it's a lot of fun."
After Craig's single, Finnegan got Mike Napoli on a groundout to end the game.
"It was a six-run lead in the ninth inning, but the ninth inning is the ninth inning," manager Ned Yost said. "Closing out a game is not easy, even with a six-run lead. I like what he's doing."
Finnegan broke in at Yankee Stadium on Sept. 6 by retiring all six batters he faced, striking out both Derek Jeter and Jacoby Ellsbury. His next appearance was on Thursday night against the Red Sox when he also retired Ortiz and Cespedes.
"Today was easier than the first day," Finnegan said. "I'm a big fan of Ortiz, so the first day was a little nerve-wracking. When I get to the mound, all that has to go away. Yeah, he was one of my idols growing up and you have to forget about that when you're on the mound. Some of the other guys were probably saying the same thing when they were watching Jeter before they got up here. That's the exact same thing."
Dick Kaegel is a reporter for MLB.com. This story was not subject to the approval of Major League Baseball or its clubs.