Torii saves game with outstanding diving catch
Gold Glove Award winner prevents two runs from scoring in pivotal eighth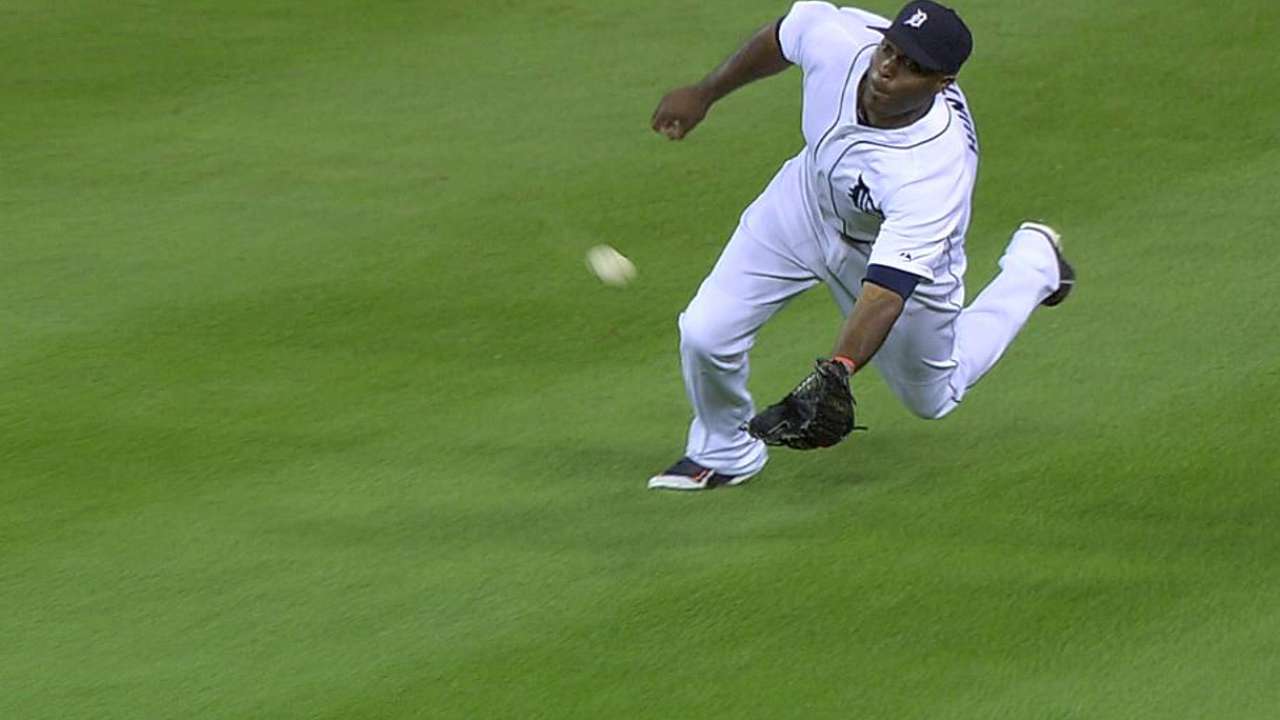 DETROIT -- Torii Hunter has a son who plays wide receiver at Notre Dame and another son starting at free safety for Arkansas State. They're the ones who are supposed to make big catches on Saturdays.
He'll be a proud parent watching them soon enough. Right now, he's still working on weekends. If Hunter is still working into October, his diving catch to end the top of the eighth inning Saturday might loom as a big reason behind it.
"Torii Hunter catches that ball that saves two runs," Indians manager Terry Francona lamented after the Tigers' 5-4 comeback win.
Without Hunter, the Tigers are down three runs, not one, as Alex Avila steps to the plate with two outs and a runner in scoring position. They would have needed another run after Avila's two-run homer.
If they didn't get it, they would've fallen back behind the Royals in the American League Central. Add it all up, and Hunter's catch might have been more than a game-saver.
"Excellent play by old man Torii Hunter in right field," Tigers manager Brad Ausmus said.
It's why a sellout crowd at Comerica Park was chanting Hunter's name. It's why Joba Chamberlain lingered to tip his cap to Hunter, then gave him a pat on his backside as he headed back into the dugout.
"That was a playoff atmosphere," Hunter said of the crowd's reaction. "We call it Sept-ober."
Hunter has been through enough of these to know. He helped break Tigers fans' hearts when the Twins rallied to take the division in 2006. He made enough clutch late-season plays over the years to help win nine consecutive American League Gold Glove Awards in the previous decade, but at 39, that defense isn't the same.
These past few weeks, however, he has had his share, from running catches in the gap to clutch plays in. When Yan Gomes took a hack at Chamberlain's full-count offering with runners at second and third in the eighth, Hunter's read was as important as the dive that followed.
"Off the bat, he had a nice big swing," Hunter said, "so I kind of just paused for a second. And then I heard the sound, it was like a 'dud' sound, and I was able to get a good jump on it. I knew it would be in front of me."
The situation played a big role as well. At some point, he had to weigh whether to make the diving attempt or let it bounce and try to hold the second runner. With two outs, however, he didn't like his chances at that, even with Carlos Santana as the trail runner.
"I couldn't pull up," Hunter said. "I'm trying to win. Everybody's trying to win. The ball was staying up and I knew I had a chance to get under it, so I was going to do whatever I could. It was up and it was coming straight down, so if I dive and miss it, it's only going to stay there.
"I did everything I could right there to get under that ball. It was sinking pretty fast, but I said, 'Feet, don't fail me now.'"
Jason Beck is a reporter for MLB.com. Read Beck's Blog and follow him on Twitter @beckjason. This story was not subject to the approval of Major League Baseball or its clubs.