Postseason Picture for Sunday, Sept. 14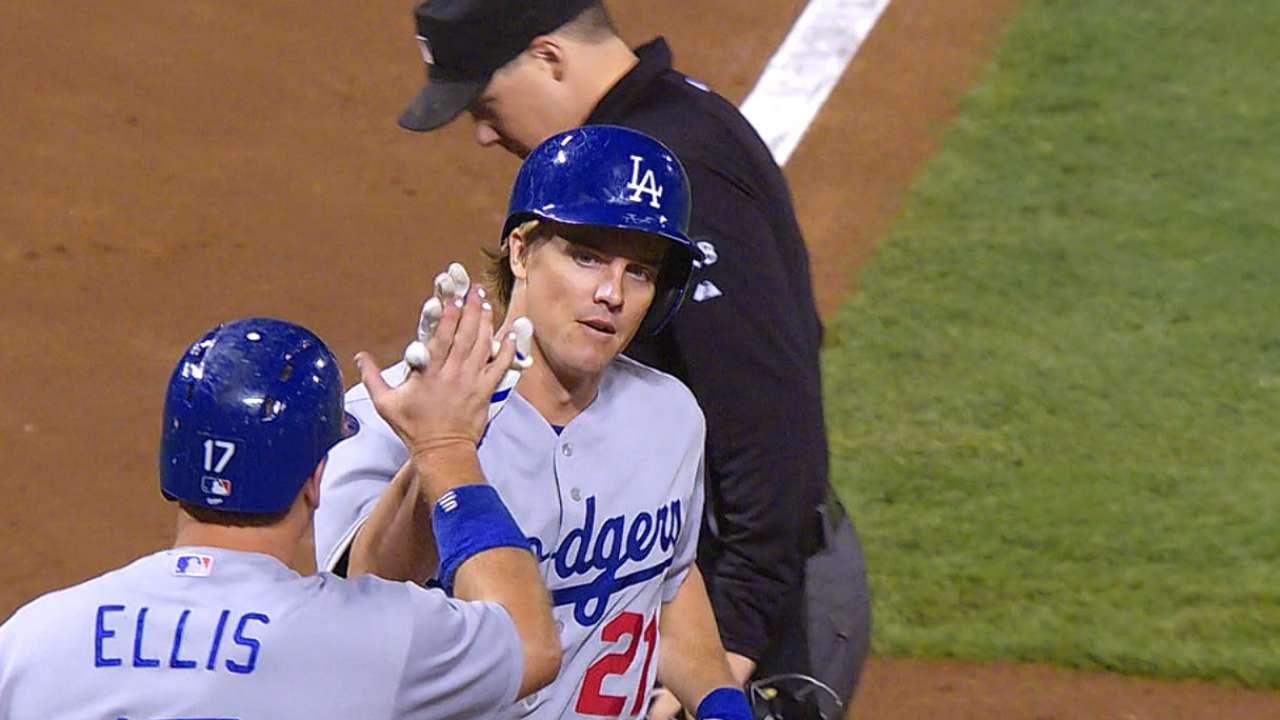 All three National League division leaders moved closer to their ultimate goal Saturday night, and no one made a bigger statement than the Dodgers, whose 17 runs against the Giants at AT&T Park were the most ever by a visiting team.
Meanwhile, in the American League, the Central and Wild Card races continue to look like they'll come down to the season's final weekend.
On a night for making statements, the A's made a loud one of their own, knocking off the Mariners, 3-2, in 10 innings. Temporarily at least, Oakland put a halt to its freefall, and kept a firm grip on the AL's top Wild Card spot.
IF THE POSTSEASON STARTED TODAY ...
American League
Wild Card: Royals at A's
Division Series: Wild Card at Angels | Tigers at Orioles
National League
Wild Card: Pirates at Giants
Division Series: Wild Card at Nationals | Cardinals at Dodgers
Saturday's action began with a pair of AL East battles that saw both the Yankees and Blue Jays keep their slim postseason hopes alive. Toronto sits four games back of Kansas City for the second Wild Card spot, while the Yankees' deficit is five.
By holding off the Orioles in a thriller at Camden Yards, the Yankees made certain Baltimore's magic number to clinch the division remains at five games.
The Central divisions then took center stage, as daytime turned to the evening. And no one delivered a bigger blow than the Tigers' Alex Avila, whose two-run shot off Bryan Shaw put Detroit ahead by one in the bottom of the eighth.
Clutch, Alex Avila. Very clutch: http://t.co/btfSsBfcpV pic.twitter.com/jj13xqVL7a

- MLB (@MLB) September 14, 2014
Avila's homer proved extremely pivotal for the Tigers, as the Royals kept pace behind eight dominant innings from Jeremy Guthrie, who allowed just an unearned run on three hits. Kansas City sits half a game back of Detroit entering play Sunday.
#Royals win 7-1! Win #11 for #11, @TheRealJGuts. pic.twitter.com/xR9JwjUbbC

- Kansas City Royals (@Royals) September 14, 2014
In the National League, the Cardinals held off a furious late challenge from the Rockies to hang on for a 5-4 victory. They gained another game on both the Brewers and Pirates, who each lost Saturday evening.
St. Louis could be close to putting things away in the NL Central with a 3 1/2-game lead and 15 left to play. That would leave the Pirates, Brewers and Braves to fight for the final Wild Card spot. Pittsburgh currently leads Milwaukee by 1 1/2, and Atlanta, which also lost Saturday, by three.
Divisional showdowns in San Francisco and Seattle closed out the night, but the game in San Francisco was never really much of a contest.
The Dodgers crush the Giants, 17-0! Their largest margin of victory over the Giants since 1958, when both teams moved west.

- Los Angeles Dodgers (@Dodgers) September 14, 2014
The Dodgers' 17-0 victory over the Giants was their largest victory over their archrivals since 1958. They also recorded 24 hits -- the most ever at AT&T Park. Two of those knocks from an unlikely source: starter Zack Greinke.
#Dodgers Greinke narrowly misses HR in left center, off the wall. He's a reigning Silver Slugger. Shortstop prospect in HS.

- Lyle Spencer (@LyleMSpencer) September 14, 2014
Zack Greinke just hit a bomb into the seats in left center. Who does he think he is, @Trouty20? 13 runs season high for #Dodgers.

- Lyle Spencer (@LyleMSpencer) September 14, 2014
Meanwhile, in Seattle, the A's held on to win a thriller when a loss would have dropped them out of the playoff picture for the first time since April.
Instead, the A's plated a run in the top of the 10th inning on four walks by Mariners pitching, and Sean Doolittle slammed the door for his 21st save. Oakland holds a half game edge over Kansas City for the first Wild Card spot and a 1 1/2 game lead over Seattle as well.
The two clubs meet for a pivotal rubber match on Sunday, as do the Dodgers and Giants. Those games could go a long way toward setting up this year's Postseason Picture.
TODAY'S KEY GAMES TO WATCH (all times ET)
Indians (Bauer 5-8, 4.12) at Tigers (Verlander 13-12, 4.82), 1:08, p.m. Preview
The Tigers are clinging to a half-game lead in the AL Central, and they have a chance to bury the pesky third-place Indians with a win.
Cubs (Turner 5-9, 5.84) at Pirates (Volquez 11-7, 3.36), 1:35 p.m. Preview
If the Pirates hope to make a run at the NL Central, they'll need to take to take care of the Cubs Sunday. Right now their Wild Card lead sits at 1 1/2.
Red Sox (Kelly 3-4, 4.14) at Royals (Vargas 11-8, 3.25), 2:10 p.m. Preview
The Royals are looking to get back on top in the AL Central. They hand the ball to Jason Vargas, who has lost three of his last four starts.
Reds (Leake 11-11, 3.62) at Brewers (Garza 7-8, 3.83), 2:10 p.m. Preview
Milwaukee's division hopes are fading, but the Crew is still very alive for the Wild Card, trailing Pittsburgh by a game and a half.
Rockies (Lyles 6-2, 4.20) at Cardinals (Gonzales 2-2, 5.01), 2:15 p.m. Preview
The Cards continue to pad their division lead, and they may even have a shot at grabbing home field in the NLDS.
Dodgers (Kershaw 18-3, 1.67) at Giants (Petit 5-3, 3.62), 4:05 p.m. Preview
The rubber match of this heated rivalry features Cy Young Award favorite Clayton Kershaw, and a red-hot Yusmeiro Petit, who has allowed just one earned run in two of his last three starts.
A's (Lester 14-10, 2.52) at Mariners (Young 12-7, 3.35), 4:10 p.m. Preview
With a win Sunday, the A's would go a long way toward solidifying their standing as the AL's top Wild Card club -- which comes with home field in the Wild Card game.
Yankees (Kuroda 10-9, 3.91) at Orioles (Tillman 12-5, 3.36), 8 p.m. Preview
The Yankees' playoff hopes are alive, but only barely. Meanwhile, Baltimore's magic number has dwindled to five, and the O's send reliable righty Chris Tillman to the hill.
MAGIC NUMBERS
To calculate a team's magic number, take the number of games it has remaining and add one. Then subtract the difference in the number of losses between that team and its closest pursuer.
AL East: Orioles 5 over Blue Jays
AL Central: Tigers 15 over Royals
AL West: Angels 4 over A's
AL Wild Card 1: A's 15 over Royals
AL Wild Card 2: Royals 15 over Mariners
NL East: Nationals 6 over Braves
NL Central: Cardinals 11 over Pirates
NL West: Dodgers 13 over Giants
NL Wild Card 1: Giants 11 over Pirates
NL Wild Card 2: Pirates 13 over Brewers
TIEBREAKER SCENARIOS
A tiebreaker game will be played to determine a division winner, even if the tied clubs are assured of participating in the postseason. If a division championship tiebreaker is necessary, the head-to-head record between the clubs will determine home-field advantage. If the head-to-head record is tied, then division record will be the next tiebreaker.
If two clubs are tied for the two Wild Card berths, home-field advantage will be determined by the head-to-head record between the clubs. If the head-to-head record is tied, then division record will be the next tiebreaker.
AJ Cassavell is a reporter for MLB.com. Follow him on Twitter @ajcassavell. This story was not subject to the approval of Major League Baseball or its clubs.