Abreu makes rookie history by reaching 100 RBIs
Fourth all-time to hit century mark with 30 doubles and 30 HRs in first season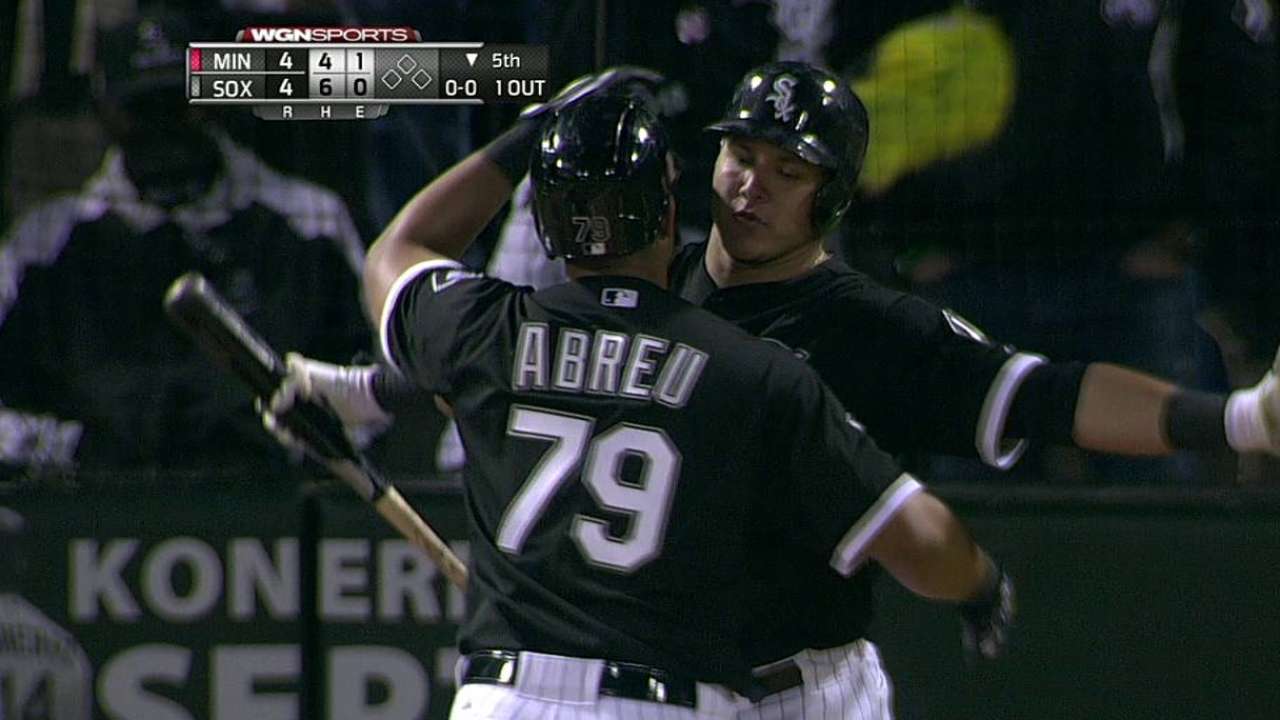 CHICAGO -- With one fifth-inning swing of the bat by Jose Abreu during the White Sox 7-6 Game 2 victory over the Twins on Saturday night, the rookie designated hitter ended a long home run drought and made history at the same time.
Abreu's 34th home run, traveling 411 feet to center field off Minnesota's Logan Darnell, snapped a stretch of 69 at-bats, 80 plate appearances and 18 games without going deep. This .321 hitter, who had four hits and four runs scored in Saturday's doubleheader sweep, also has 35 doubles to go with his 34 homers and 100 RBIs. He joins Hal Trosky (1934), Ted Williams (1939) and Albert Pujols (2001) as the only rookies in Major League history to record at least 30 doubles, 30 homers and 100 RBIs.
The homer moved Abreu within one of the single-season White Sox rookie home run record, set by Ron Kittle at 35 in 1983. He also became the fourth rookie in White Sox history to reach 100 RBIs, joining Kittle (100, 1983), Smead Jolley (114, 1930) and Zeke Bonura (110, 1934).
"The thing I'm most thankful for is this organization for the opportunity to play this game at this level," Abreu said through interpreter and White Sox director of public relations Lou Hernandez. "I'm happy about 100 RBIs. I'm happy about 34 home runs. I'm just happy how I've been able to do this, this season. I'm happy my family is here with me. I'm happy for my success."
Abreu showed off another side of his excellence leading off the ninth against Twins closer Glen Perkins by battling for 14 pitches, including eight straight foul balls, before working a walk that set up Dayan Viciedo's walk-off two-run homer one out later. Even when Abreu wasn't going deep, as he hadn't in September prior to Saturday, he was providing these sorts of quality at-bats.
"For him, just the bat speed, everything else, it's there," White Sox manager Robin Ventura said of Abreu. "It's a long season, but in the end, you know he's the guy you want to put your buck on. He continues to have great at-bats, learning how to do it, but he's also shown guys how to do it, which is great. He's a leader -- that's what he is."
Scott Merkin is a reporter for MLB.com. Read his blog, Merk's Works, and follow him on Twitter @scottmerkin. This story was not subject to the approval of Major League Baseball or its clubs.